While the above photo may look like a Miley Cyrus Wrecking Ball music video remake, I was actually climbing up a tree in Longmont's Thompson Park. Tree Climbing Colorado is a company that guides tree climbing novices and pros up into the leaves.
Harv Tietelbaum, owner of Tree Climbing Colorado and Nicole Nicole "Luciérnaga" Olalla, climbing facilitator, were methodic and funny while teaching our class of mostly children how to climb up, up and away. Not only was this class fun and exciting, it's a great full-body workout as you move yourself up the rope using the double rope technique.
After a quick arm warm-up and demonstrations, climbers take turns heading up the tree. Ropes are suspended from thick branches of trees that climbers slide up. Sitting in a harness and clipped to the rope, climbers use their own body strength to push and pull themselves up the ropes and into the trees. The motion is pretty easy once you get the hang of it. It's basically just standing up on the rope and then just sitting back down.
Open classes cost around $35 per climber, but rates vary depending on which parks and recreation district the climb is in. In addition to the public open class we took, Tree Climbing Colorado offers private group classes starting at $280, special custom climbs in the wilderness or special climbing area, a basic tree climbing course and courses to qualify you to be an instructor and/or facilitator. The tree we shimmied up, known as "The Jolly Green Giant" as Tietelbaum calls it, was a regal and strong green ash tree, the type of tree baseball bats are made out of. Teitelbaum has a name for each tree; he even has a tree-climbing name for himself, "Ponderosa." Climbs are facilitated primarily on ash, cottonwood and ponderosa trees, and while many trees stretch up to 90 feet in height or more, lines for climbers reach about 40-50 feet. However, Teitelbaum said the height is relative to the climber.
 "Well you can tell your friends anything you like and we'll back you up," Teitelbaum said
Indeed, it felt much more like 50 or 60 feet high when I was climbing up.
"Trees are great. We mostly know trees from the first couple of feet up just from walking around, but this gives you an opportunity to know most of the parts of the tree and actually experience the tree from different angles, different perspectives," Teitelbaum said. "It's a living, breathing thing you get to experience in a new way. It's almost a coming home because we, as primates, used to live up there and there's something really special about getting up in the trees, I think."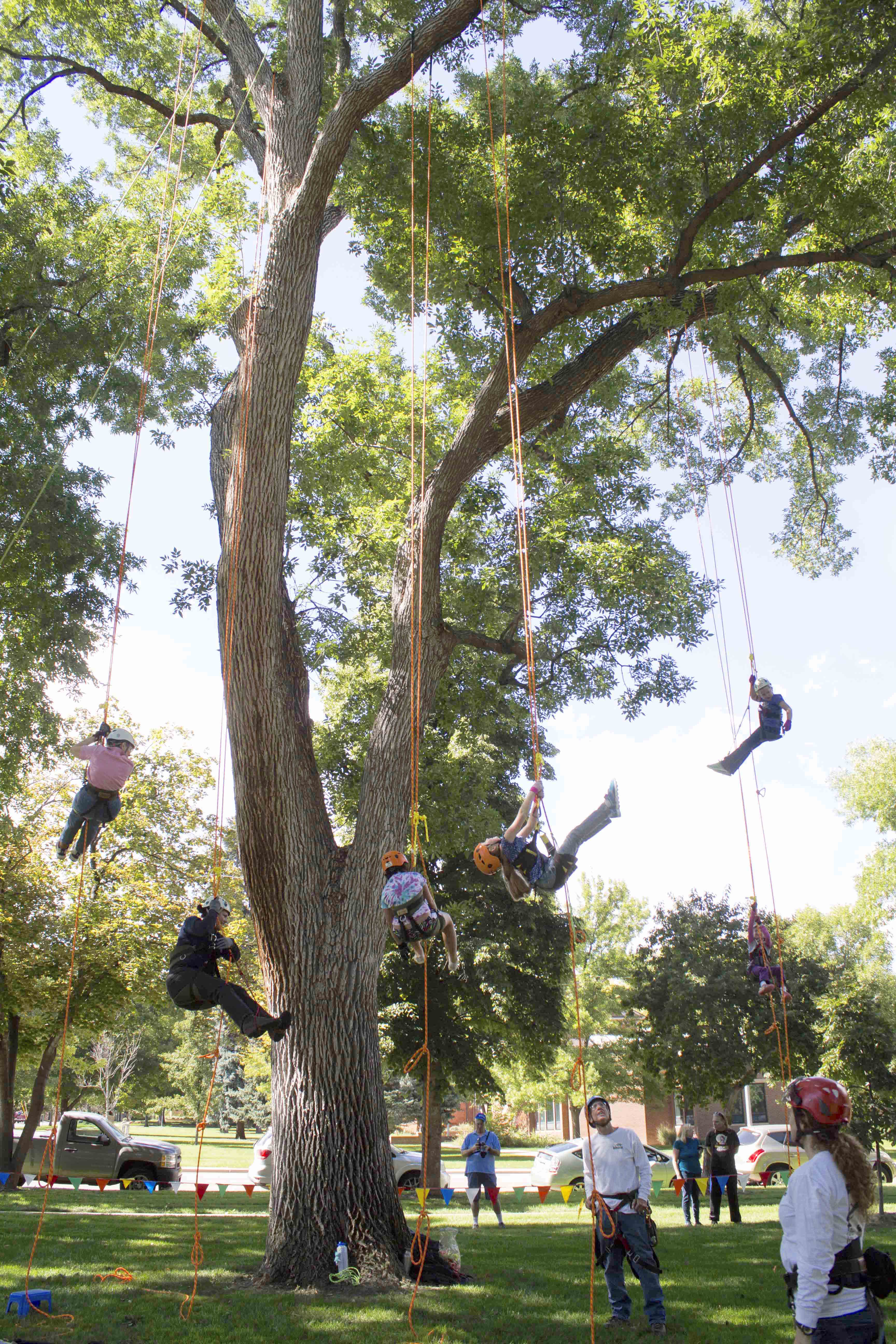 Teitelbaum is right; you get to experience a completely new side of a tree — and the surrounding areas, especially upside down. While climbing up the hanging ropes, participants can hang upside down in mid-air —  truly a freeing feeling. Being up 50 feet right-side-up is just as much of a thrill with leaves within your grasp.
"You get up there and you see things nobody has ever seen before," Teitelbaum said.
Joan Nestor-Roses enjoyed the climbing class she took with Teitelbaum in South Platte Park so much she came back for a second climb, driving two hours from Woodland Park with her friend Sam Kaffine.
"My friend Sam is a former firefighter, and she's also a tree sawyer; she chops 'em down. And I thought maybe we could talk her into cutting down high trees," Nestor-Roses said.
Nestor-Roses, 61, was slow and steady, climbing up about 55 feet, higher than anyone else in the class. Kaffine, who is afraid of heights and hovered at about 15 feet, still felt the class was an accomplishment and a fun thrill.
"It's scary; you'll hate it; you need to do it," Kaffine said.
Though Teitelbaum said there are great trees to climb in the Mile High City, unfortunately there is no tree climbing in Denver, but Harv guides climbers up trees in Lafayette, Golden, Longmont and Littleton.