From a bike-touring duo to a full-fledged band celebrating their third album release, Blind Pilot shared their timeless discography with the crowd at the Ogden on September 7, 2016. Lead singer Israel Nebeker stole the show with his whispery yet solid vocals, while the band was able to hold their ground and showcase their talents with the adoring fans.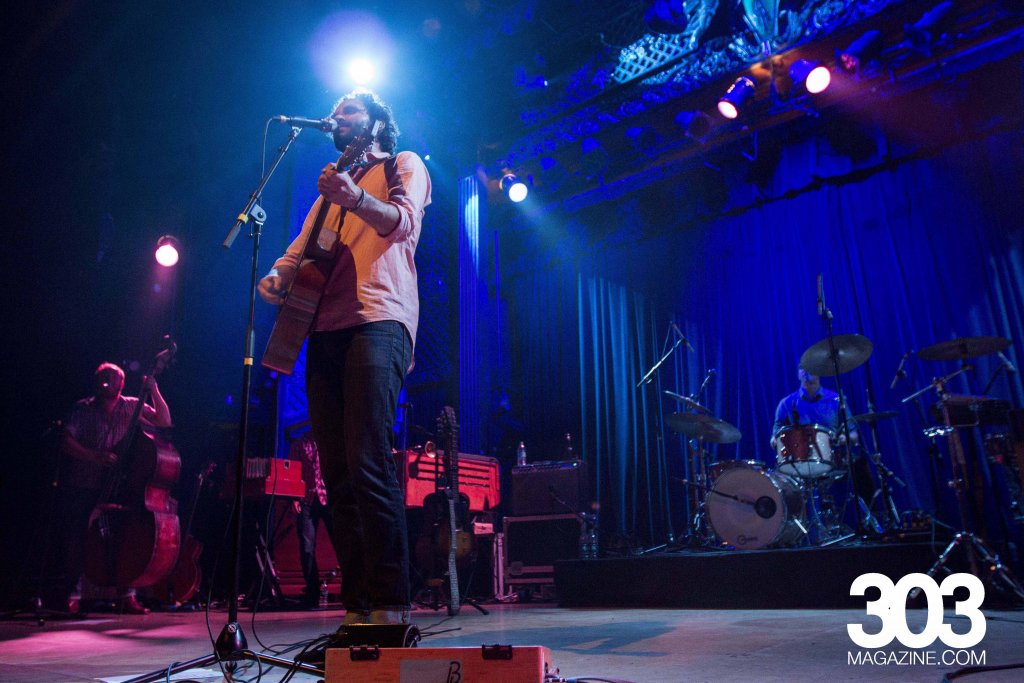 Sounding exactly how you would picture this quaint, indie band, the crowd was provided with coffee shop vibes and starry night twinklings from their opening song, "Keep You Right." Rolling drums had the crowd lolling into a dreamy dance and Nebeker crooned into the microphone as if it were his only solace in the space. They played endearingly to the crowd, striking chords with hits off all three of their albums, 3 Rounds and a Sound, We Are the Tide and their fresh August release And Then Like Lions. With the familiar drum kick taking us into "Go On, Say It," even newbies brought along by their fan-loving friends could easily nod their head and get along with the slow-loving rock music.
The band then brought us into their new batch of cooking, playing "Moon At Dawn," a song filled with Nebeker's echoey "Ohs" and banjo player Kati Claborn's beautiful backing vocals. Whenever her voice entered the space, I wished the sound guy would just turn up her microphone already, as her feminine additions brought a full and rounded quality to the music.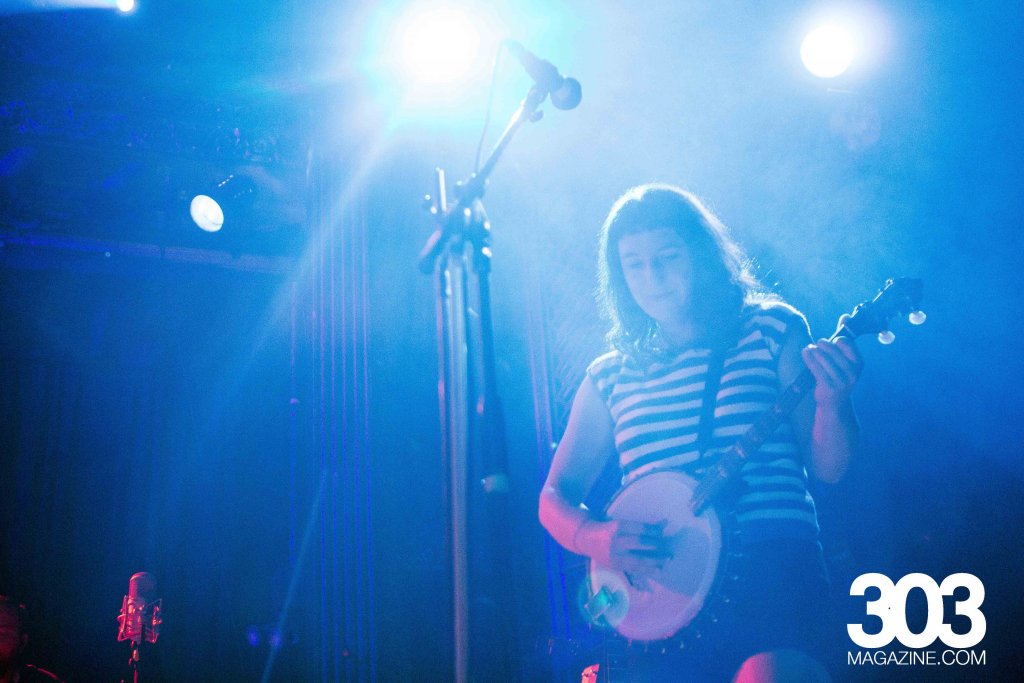 After, Nebeker gave us a little story to commit to memory. "This song is about a guy I met at a bus stop named Jojo," he stated, scrambling for a quick description. "It made me think how we can't even begin to understand one another's stories." And with a few strums, he beckoned us into the song "Story I Heard." "Hey Jojo, yeah I know your name / Thought I saw you jump a Utah train," he sang into the microphone, letting us know that indie music really does provide fans with true and real mystical interpretations of the slight musings and passing events throughout life.
Having established a connection with the crowd, the band took us through their songs "Don't Doubt," "Oviedo," Packed Powder" and "The Colored Night." Addressing "Packed Powder," Nebeker stated it came from 4th of July Memories. "You find things to make legal fireworks more fun, and you're unsure of it. People are like that, too; you don't know what they are made of until you get to know them." This was another anecdote the crowd could swallow up and use to increase their enthusiasm for this genuine band.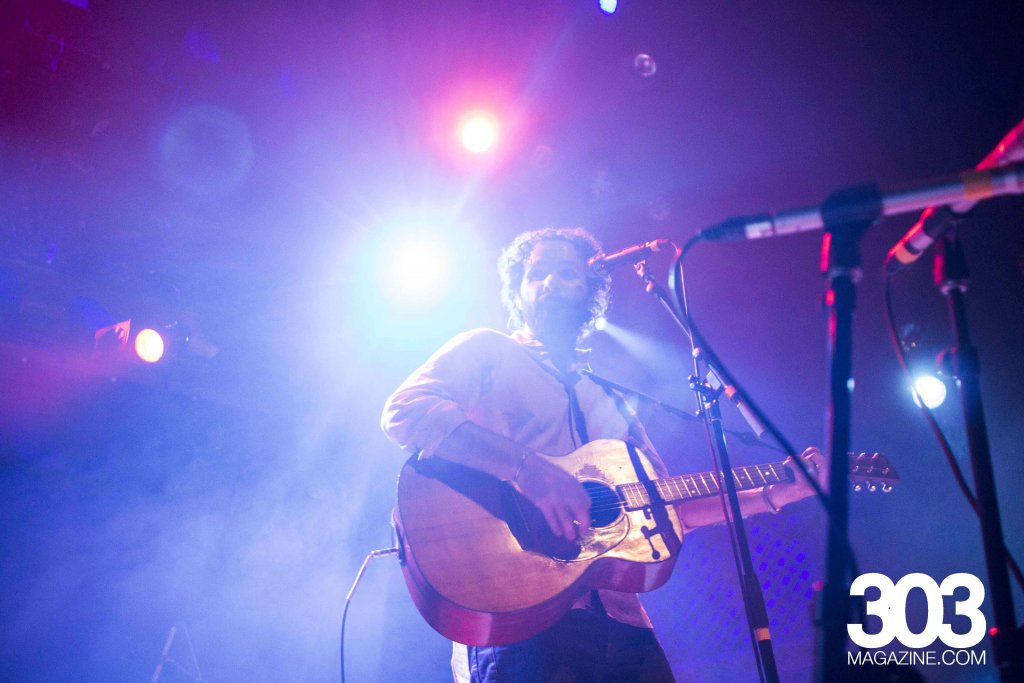 Blind Pilot's mash-up of old and new music highlighted stylistic changes, such as the addition of brass and a variety of instruments (that I later had to Google), mountain dulcimer and vibraphone. Trumpet player Dave Jorgenson almost stole the show for me; his trumpet solos guided the drums and lone guitar chords, and added a layer of of music any soul listener could grasp and dive into.
Nebeker once more spoke to the crowd about the upcoming song. "Our manager told us to change the title because people would have a hard time pronouncing it," he explained, and I admit, I was guilty of this. I had no idea how to say "Umpqua Rushing" until I was told – and later made fun of for not understanding. But hey, this song came from their Portland roots, dedicated to the West Coast, so why not leave it as is? Most of their music is left as is, so it fits quite swimmingly well. For "Just One," the three guitar players, Nebeker, Claborn and Luke Ydstie huddled around one microphone for an acoustic moment. Their silhouette created a ghostly contrast across the large Ogden stage and the crowd was sucked into silence.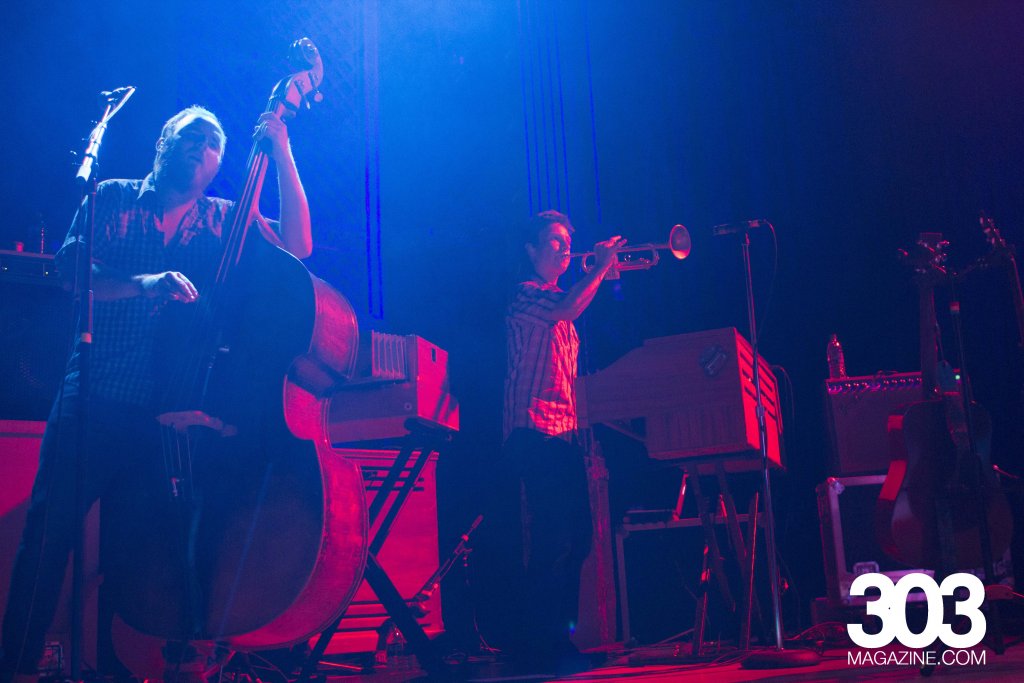 Then, with two chord plucks, the crowd knew what was coming up, "One Red Thread," a popular anthem off their first release. Nebeker stumbled over the opening lines, perhaps getting caught up in the excitement, and the crowd gleefully laughed when he made everyone redo the entrance.
A swanky guitar solo led us into "What is Yet," and Nebeker took the crowd's attention into the titular song "3 Rounds and a Sound." It came from a break up, constructed at a wedding and is now a communal hit for brides-to-be everywhere as their wedding dance. The irony was noted and laughed over, and the crowd was able to display their questionable singing talents during the chorus, "Soil and six feet under / Kept just like we were / Before you knew you'd know me / and you know me / Blooming up from the ground / 3 rounds and a sound."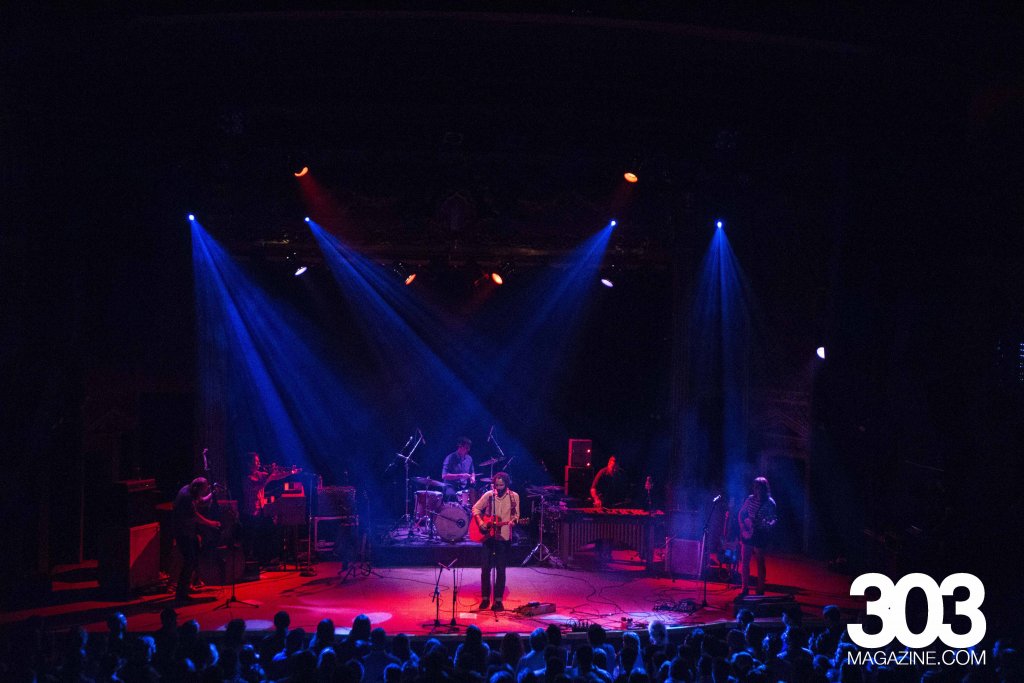 It renewed my spirit for this group, and I was hoping we could linger for a few more songs at the Ogden. Ending with the most upbeat song of the night and the second titular song, "We Are The Tide," the crowd could give a jig to the syncopated drums, played by Ryan Dobrowski with Claborn pounding in line next to him. Infectious and oddly cheerful compared to the tunes blared out, the crowd urged the band to come out once more. Last but not least, "And Like Lions" streamed from the instrumentalists' hands, indie rockers everywhere feeling satiated in their niche of music.
Check out all photos of Blind Pilot by Kenneth Coles in the photo gallery here.