Diplo has established quite the career for himself. Between side-projects Jack Ü and Major Lazer, his own solo project and creating his own record label, the electronic legend has proven himself nothing short of impressive. Mad Decent Record Label was created in 2005 by Thomas Wesley Pentz – better known as Diplo. Now 11 years old, the label has an assortment of artists signed to it including Major Lazer, Dillon Francis, Riff Raff, Jack Ü, Zeds Dead and many more. The label features acts from rap to reggae, as well as electronic artists that emphasize both of those genres in addition to the common "womp." Every year the Mad Decent Block Party tours the world, showcasing the artists on the label in a day-long extravaganza. Once again, Colorado was fortunate enough to host the party at our very own Red Rocks Amphitheater.
My day started with New Jersey DJ 4B taking over the Red Rocks stage. "Sweet Dreams," "All I Do Is Win," "Shots" and "Power" were all mixed into the set at points. Between his choice of songs as well as his actions, 4B's confidence didn't live up to his performance. The DJ spent such a horrific amount of time messing with his hair, shouting for crowd involvement, cell phone in hand and taking videos of the crowd. He seemed to willingly embrace all criticisms of modern live electronica.
"We need the whole world to be a lot more like Colorado." – Diplo
D.R.A.M. followed 4B and opened with the ever-catchy "Cute." The up-and-coming alt-rap artist had his own DJ on stage producing the music and even mixing in songs like David Bowie's "Let's Dance." The electronic-driven crowd settled down and talked through most of this performance, which was a shame as D.R.A.M. is on the fast track to stardom and put on quite an impressive set. He spoke to the audience about ladies, relationships and reminders to tell your mom you love her. He danced, he grooved, he even got into the crowd at one point – jumping through the pit.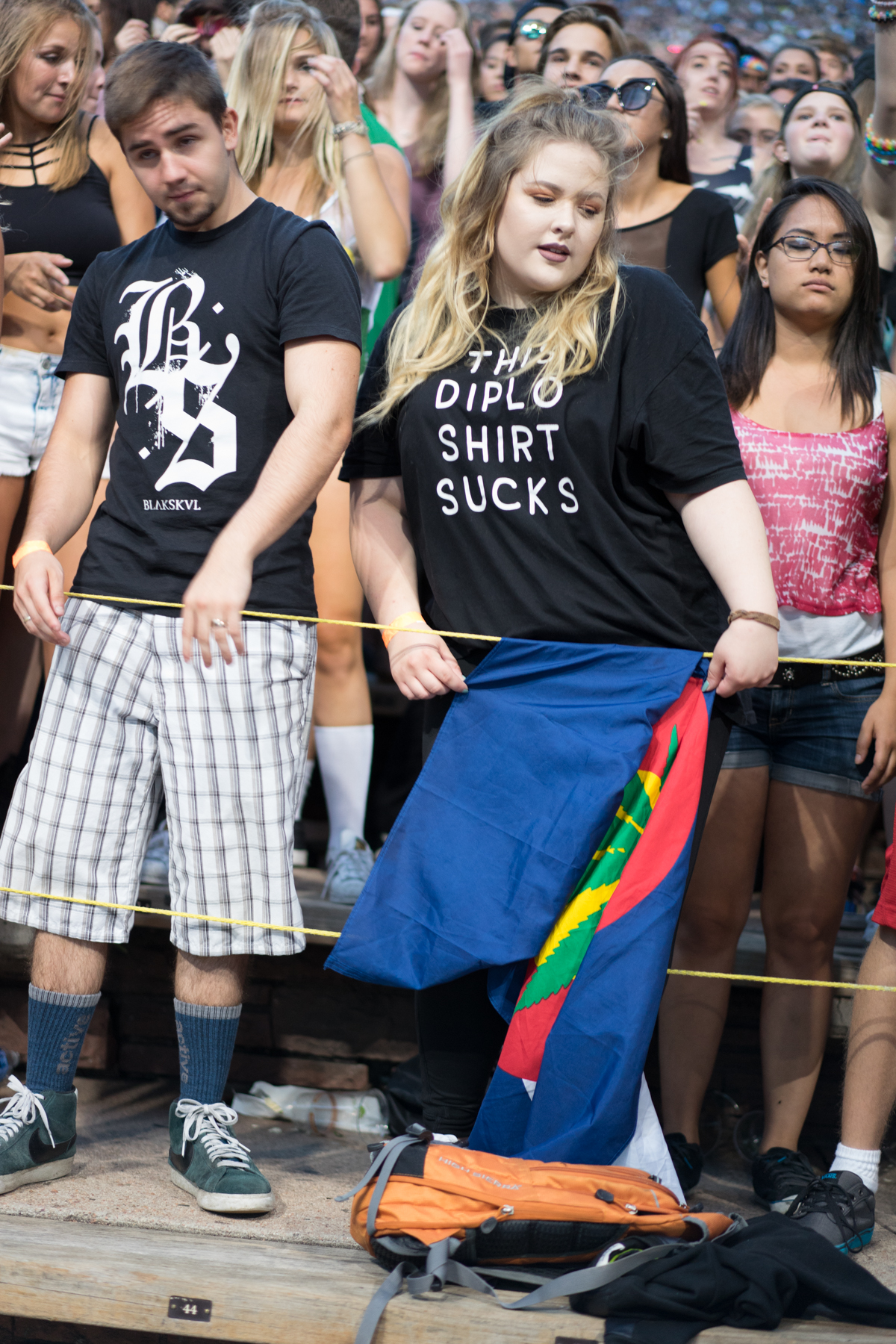 The first female DJ on the lineup, Mija, began with a more ambient approach. Eventually, she mixed in metal and punk and headbanged, boasting her Harley Quinn ponytails. For lack of a better word, she rocked that DJ set. To say that the crowd livened up for this set would be an understatement. As soon as Mija mixed in the dubs intertwined with a touch of Major Lazer, everyone started moving. She truly flowed through diverse instruments and a multitude of styles with fluidity. Towards the conclusion of her performance, Mija came to the front of the stage, crossed her legs and reluctantly plopped down, taking a seat. The piano played and she waved her arms around eerily in a theatrical break from the electronic tunes.
Alison Wonderland followed Mija with great drops that would make Mad Decent proud. She offered a trap influence as well as emotional attributions into the spectrum of genres being showcased at the block party. Wonderland tied depression into dancing; her expressions and gestures added emotion to the set, often wearing her feelings on her sleeve or emphasizing a mood with a drop. She was modest but still managed to rage.
"Thank you Justin Bieber for letting me remix this." – Wonderland
Wonderland sacrificed her vocals (originally on some of her recorded tracks) and focused on DJing as well as crafting an exciting stage presence. She used cameras in order to film the crowd and her switchboards, which were then projected live onto the massive LED screen – often masking a live shot of the audience with galaxies and multicolored transitions. Dancing on platform shoes, pacing the stage, hardcore screaming and "m.A.A.d. City" remixes are just a few more of the qualities that made this performance so great.
Jauz started with a giant shark lighting up the LED screen, paired with electronic bass sounds similar to the JAWS soundtrack. About a quarter way through his performance is where the Red Rocks party really got started – heavy dub packed with builds so anticipatory they could cause an anxiety attack rang out through the night. Jauz stepped up the lighting, jungle beats, trap noises and "womps" and though the audience had been warming up and moving for most of the day, they were full-fledged losing it now. The set was a continuous electronic masterpiece with original production as well as remixes of Skrillex songs, Disclosure's "Omen" and Gorillaz's "Feel Good Inc."
"Yesterday was my mothafuckin' bday so this is my bday party… You guys are one of my favorite venues in the world because you keep bass music alive" – Jauz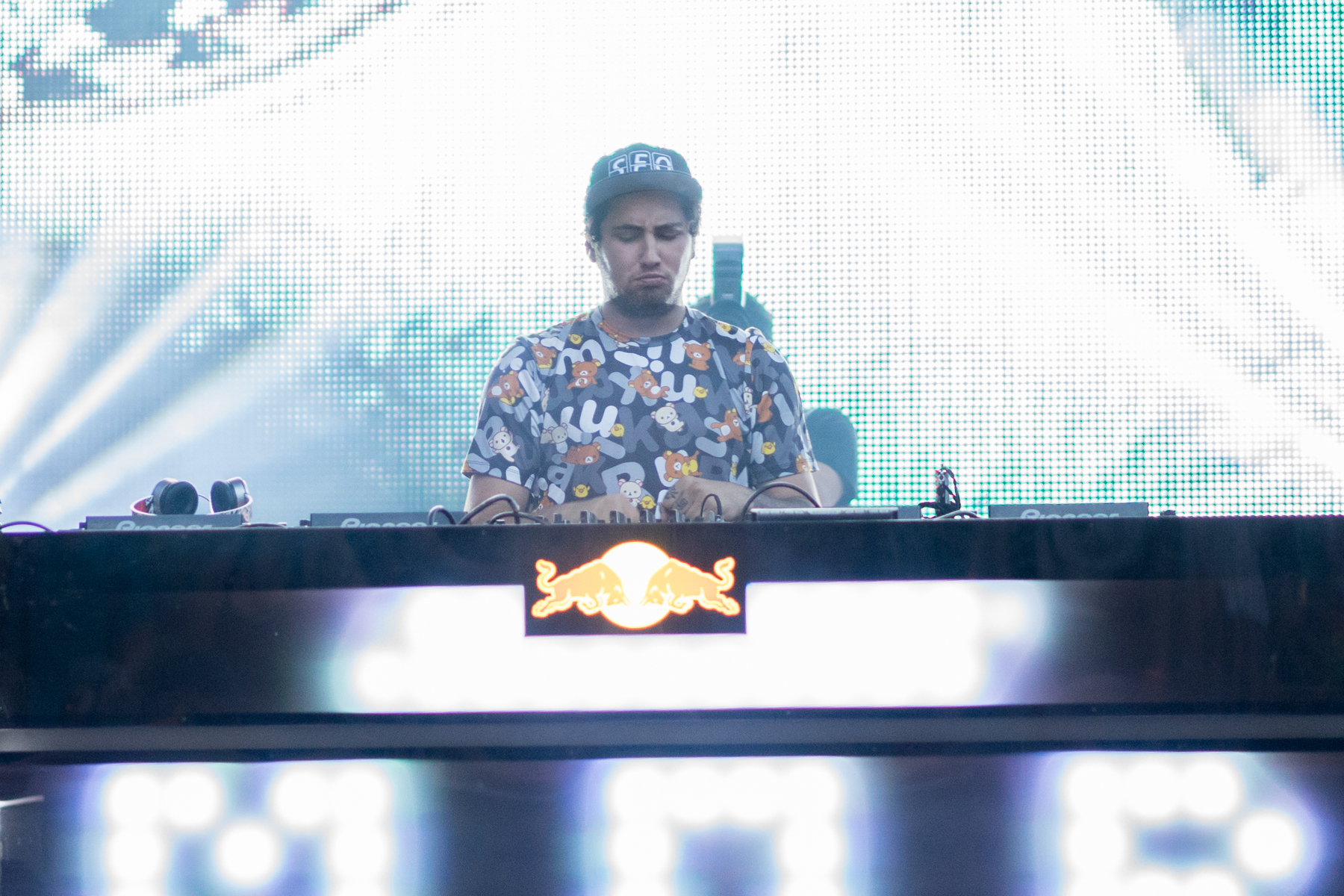 After a long day of dancing in the sunlight (seriously – it had been five hours), it was finally time for the head honcho: Diplo. In varying formations, "Diplo" flashed across the screen along with his signature dinosaur logo–transforming into hundreds of little dinosaurs flocking around like birds. Pentz mixed a lot from his side-projects Major Lazer and Jack Ü as well as some of his own tracks, including "Express Yourself." About 15 minutes into his set, it began to rain the perfect amount–enough to cool off the frenzied crowd, make the lights look even better and simply encouraging everyone to induce more insanity.
As the rain was settling down, Diplo took a break with an unaltered version of Whitney Houston's "I Will Always Love You." He announced that he wants to bring the Mad Decent Block Party to Red Rocks every year, which we'd certainly be thankful for. Diplo was by far the highlight of his own labels' show. He was perfectly representative of the record label featuring reggae, electronic, rap and jungle. But wait, there's more – because surprisingly enough Diplo wasn't even the headliner.
Galantis was an odd choice since they aren't signed to the Mad Decent record label and also don't fully fit into the Mad Decent style. Yet they were the headlining act for the Red Rocks Mad Decent Block Party. If you haven't heard of Galantis you probably will soon. One is in the incredible pop trio Miike Snow, and the other has been producing Top-40s hits for quite some time including Britney Spears' "Toxic." The duo brought the pop influence and colorful lighting but were less "grungy" in comparison to the Mad Decent genus. Reminiscent of Odesza meets Chainsmokers, they offered drums and live production, colorful lighting and a playful stage presence. It was the duos' first time at Red Rocks.
Galantis played all of their hits including "No Money," "Smile," "Peanut Butter Jelly" and "Runaway." Though it was great to hear these songs, most were only played for a mere 30 seconds before being replaced with a drop or remixed into something different. The mixing was impressive but merely a brief taste of the hits were quite a tease.  The one exception was "Peanut Butter Jelly" where the laughable music video played on the LED screen background. It was honestly irresistible to stand still to. In addition to their own singles, they remixed others including Temper Trap's "Sweet Disposition" and the Weeknd's "I Can't Feel My Face." They also paid tribute to the Chainsmokers who played Red Rocks only two nights before Galantis, with a great rendition of "Roses."
Mad Decent brought through a diverse lineup of artists, including two female DJs, and showcased an extraordinary array of artists and music alike. Though not all of the artists were amazing, you can't really expect everything to be perfect at a day-long music festival with eight performances. Be sure to keep an eye on the Mad Decent tour. Kesha is even featured on some of the lineups – and look out for their Red Rocks show next year.
Check out our full gallery of the Mad Decent Block Party by Kiddest Metaferia here.