Full disclosure: I previously was not a huge Dolly Parton fan before yesterday's show.
My first inkling that the Dolly show was going to be something special was when I got off of I-70 in Morrison—having left my house in Berkeley around 6:45pm—and didn't pull up to Red Rocks' second entrance until nearly 7:45 p.m. That's right, what ordinarily is a 17-minute drive took nearly an hour and all of that traffic was 100% Dolly fans, anxiously inching their way through the foothills, boots riding the brakes. Luckily, my mama's Frye boots are good and broken in for the hike up from our parking spot that we finally scored right off of Hogback Road (bet you never even knew the name of that road you've driven it a million times, huh?). Yes, we walked all the way up from the very bottom, in true Colorado fashion. We earned our Dolly.
It was overheard on the trek up the hill that Dolly had postponed the show for a half an hour because she was "too hot" (good for her!), and whether or not that rumor had any truth behind it, I think I speak for everyone when I say I'm grateful for that 30-minute buffer. I didn't think I was going to care if I missed the beginning of the show while I was in bumper-to-bumper traffic, but after witnessing Dolly in all of her sparkling glory, all of her sweetness, all of her preaching goodness and kindness, all of her storytelling and sharing family memories and all of her glittering instruments (I think the total count was 10: both electric and acoustic guitars, banjo, dulcimer, a "little saxophone," recorder, harmonica, autoharp, fiddle, piano—each instrument more silver and sparkly than the last)… well, in hindsight, I would've been really bummed. So thanks, "heat dome" or whatever.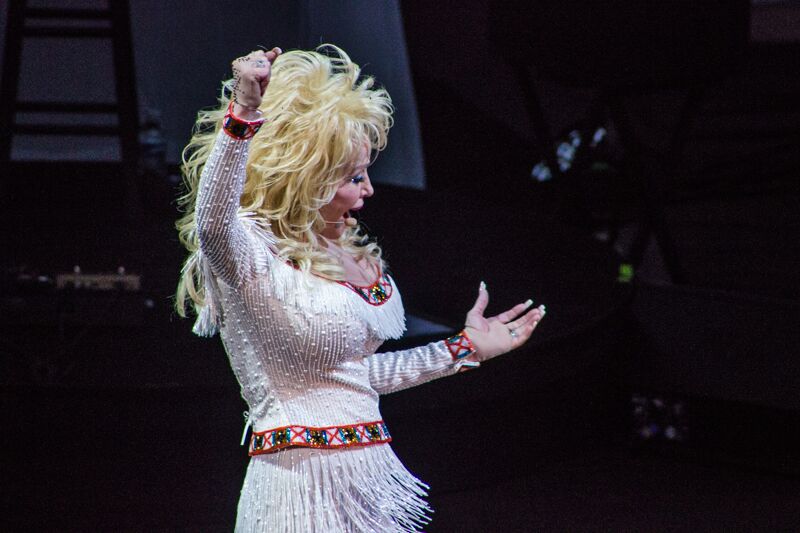 Dolly's tour is dubbed Pure & Simple, which is her first major North American tour in 25 years. Her new album (of the same name) will be released on August 19 and includes a slew of newly composed love songs (to celebrate her 50th wedding anniversary with hubby, Carl Thomas Dean), as well as a bonus album full of her biggest hits.
During the first set, Dolly's sexy cowboy assistants wheeled out a little variation of a front porch, meant to represent her own front porch back home in the Great Smoky Mountains. She sat upon this replica and told stories about her past, her family, her childhood and her (many) relatives. Dolly told of her grandpa, who was a Pentecostal preacher and how he grew very concerned about her soul once she began to wear tight clothes as a teenager, inquiring about whether she wanted to go to heaven.
"Oh, but grandpa," she'd sighed, "do I have to look like hell to get there?"
She's quick witted when it comes to delivering the punchline (when a fan yelled "I love you, Dolly!" she instantly responded, "I love you too, but I thought I told you to wait in the truck!"), she tugs at your heartstrings with her childhood anecdotes (she detailed sleeping in the same bed as her 11 other siblings, laughing about how someone was always peeing the bed or digging their toenails into her shins), she makes fun of herself in the most endearing ways ("It takes a lot of money to look this cheap!"/"The only thing real about me is my heart.") and her Southern drawl is just the best (from the way she pronounced "Willie" when referring to her old friend Willie Nelson— whom she last played Red Rocks with back in 1972—to the way she called the sparkling fringe on her clothes "spangles").
"Do y'all know how I got my look? There was this town trollop that I always thought was just so pretty when I was a little girl. And everyone always told me she was just trash. So I told them, that's what I want to be when I grow up."
Dolly talked about kissin' cousins and how her mama forbade it—even though they were the best lookin' boys around. She talked of Applejack, the long-haired loner guy who taught her to play the banjo, even though her mama didn't want her hangin' around with him. She told of leaving home after she graduated high school, heading for the big city and vowing never to return 'til she had something to show for herself. She'd packed up her "matching luggage"— which were actually just four bags from the same grocery store— and got on a Greyhound bus. She told of nearly dying of homesickness. She missed that stink of her hillbilly family, of "pee and popcorn." But that tobacco stick with a tin can on it that she used to imagine as her microphone back home on her front porch in the Tennessee mountains ultimately became that mic on the stage of the Grand Ole Opry, as this little country girl's dreams came true.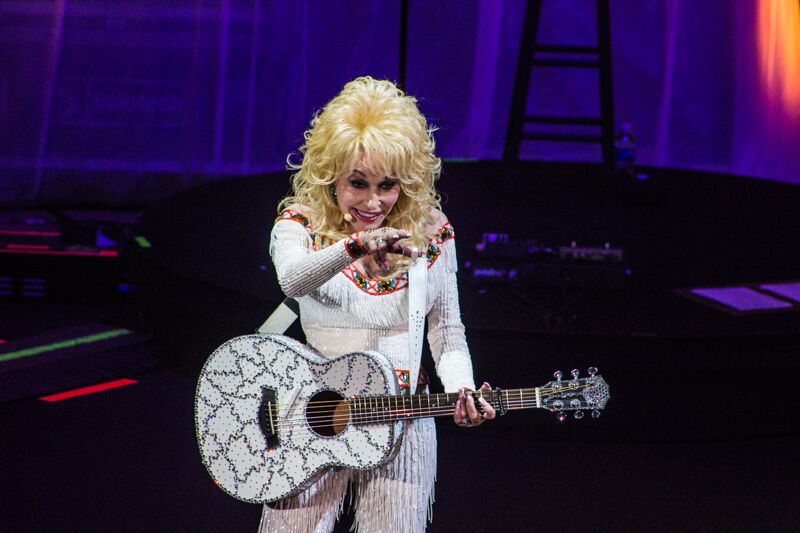 I realize I haven't even mentioned her music yet. Or her clothes—patient, we're getting there. The storytelling was almost more important than the music, to some degree. The amount of sheer love for her fans, the complete engagement of the audience, the rapt attention with which the packed amphitheater gave her, this really set Dolly apart. It's rare that a performer—let alone such a star, a diva, a true cultural icon—pays so much attention to the audience. But Dolly did. And in a world that's been so overwhelmed by hate and bigotry (especially lately), there stood Dolly: this tiny woman with her massive pile of hair, this glittering, un-photographable little ball of sunshine (ask anyone who tried to capture her on an iPhone, her gemstones reflected the light so that she was merely a glowing apparition). She spoke of goodness, loving one another and being unapologetically yourself.
If you thought she was just a gaudy country singer, allow me to set the record straight: She was entirely inspirational.
And if America produced this, this Dolly Parton, then guess what? America is already great. Suck it, Trump. Dolly Parton for President 2016. She's got my vote.
Okay, moving on. Her voice rings out like a cool, clear bell. It's high and mighty and impressive. It's completely on point, never faltering. She sounded as good as she's ever sounded last night at Red Rocks, at the ripe old age of 70. And for that matter, she looks outstanding: that famed hourglass figure tucked away behind a million sequins, sparkles and dancing fringe. And those heels. She did a quick wardrobe change during "intermission," switching from her blinding white cowgirl pantsuit into a glitzy gold dress, reminiscent of Belle from Disney's Beauty & The Beast (only way blonder).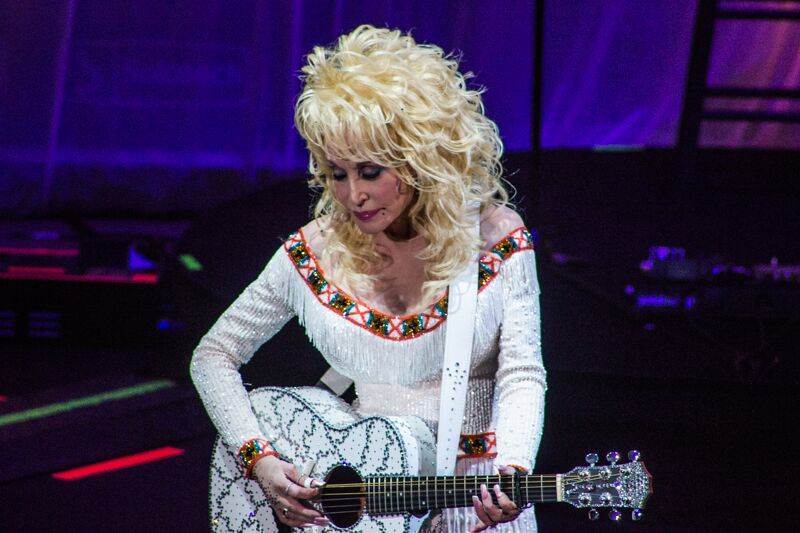 I was sure she was going to save Jolene for the encore, but Dolly played it in the beginning ("Remember when that woman tried to steal my husband? She didn't, but I wrote a song about it and made a lot of money!"). Her rendition of Little Sparrow really took us to church. It was slow and soulful and had a real mourning quality about it. Hello God had a similar affect, especially when she belted out the lyrics, "The free will you have given, we have made a mockery of…" I watched as fellow audience members openly wept, unabashedly wiping their tears. Coat Of Many Colors was also one of the most well received songs, especially after the story Dolly told of her mama making that very coat for her and how she and her siblings never even realized they were poor until some "smart aleck" pointed it out to them. It was all very touching.
But she balanced out the serious songs with "fun stuff," as she called it. Dolly plucked a lively rendition of Applejack on the banjo, riled up the crowd with Two Doors Down and everyone (obviously) went absolutely wild for Nine to Five towards the end of the show. There was also a medley of folk songs that Dolly compiled during the first set that everyone could singalong to, including some tracks by Bob Dylan and The Band. My personal favorite part of the evening was when she and her trio of bandmates (who have been playing together for over forty years) perched themselves on stools at the edge of the stage and did some quality acapella stuff.
As the show concluded, one friend turned to me, wiping her tears and gasped, "She's like a preacher. A blinding, white beacon of light. She really preaches!" On the (really long, downhill) walk back to the car, another friend laughed about how she opted to only use the bathroom while Dolly was actually singing, because she didn't want to miss anything she was saying. Not only is Dolly cuter than a box of (insert your favorite baby animal here) and sweeter than (insert your favorite dessert here—personally, I'd say peach pie, but I'm at a complete loss for analogies because I'm so drunk on Dolly), but she is poised, charming, charismatic and really funny.
"If we had as much love in this world as we have right now between these red rocks…"
And all of the people I've been gushing about Dolly to keep having the same reaction: disbelief. "Really??" Well, believe it kiddos. Dolly Parton is a freakin' super star. She's an outstanding performer, a fabulous woman and a true success story. From a poor southern girl to a country legend who owns her own theme park. And a real sweetie pie, to boot. My new life goal is to make Dolly my best friend. Here goes nothin'.
Check out 303's full gallery of dazzling Dolly photos here. Gotta have more Dolly? Check out her recent interview with Rolling Stone Magazine.
All Photos by Kim Baker