For the last five days, protestors gathered under the shadow of the Capitol Building to protest police brutality and the recent shootings in Baton Rouge, Louisiana and Falcon Heights, Minnesota. The demonstrations began with a 135-hour sit in to mourn the 135 Black lives lost this year, due to police related shootings. Organized by Black Lives Matter 5280, the peaceful sit-in is now on its 104th hour:
"Members of BLM5280 started the 135 Hour Sit-In on Thursday because we felt the need to do something in this moment of crisis. Do something about Black bodies constantly being a target. Do something about Black folx being hunted. Do something about Black people being terrorized by white supremacy. Do something about police brutality that is relentlessly impacting Black communities," explained Black Lives Matter 5280 organizers on Facebook.
Today was expected to be the largest turn out for the anti-police brutality demonstrations with over 1,700 participants expected to show for the "It's Time" march. But less than 200 people congregated to voice their concerns. The lack of attendance was likely caused by the confusion around the identity of the event's organizer. Group such as Black Lives Matter 5280 did not endorse the event and urged its followers to be cautious if they decided to attend:
"Denver, we have reached out to this group to find out who they are and what their plan is for an event that has drawn a lot of community attention. This group has refused to respond to many inquiries and be transparent about the plan. They are not connected to any local organizing body we can identify, and none that we trust. We don't know what their intentions are. Subsequently, we do not support this action," said Black Lives Matter 5280 on Facebook.
For those that did attend, the crowd was lively, diverse and mainly populated by young citizens. Some people brought their children, while others attended with friends and coworkers.
The crowd later marched down 16th Street Mall and earlier chanted phrases such as "No justice, no peace, no racist police" and "Hands up don't shoot" while in front of the Capitol Building. Police presence was minimal, if not see unseen during parts of the protest. Other groups such as Occupy Denver had a presence as well. Several participants with Occupy Denver clothes and a bullhorn were visible but declined to comment on their participation.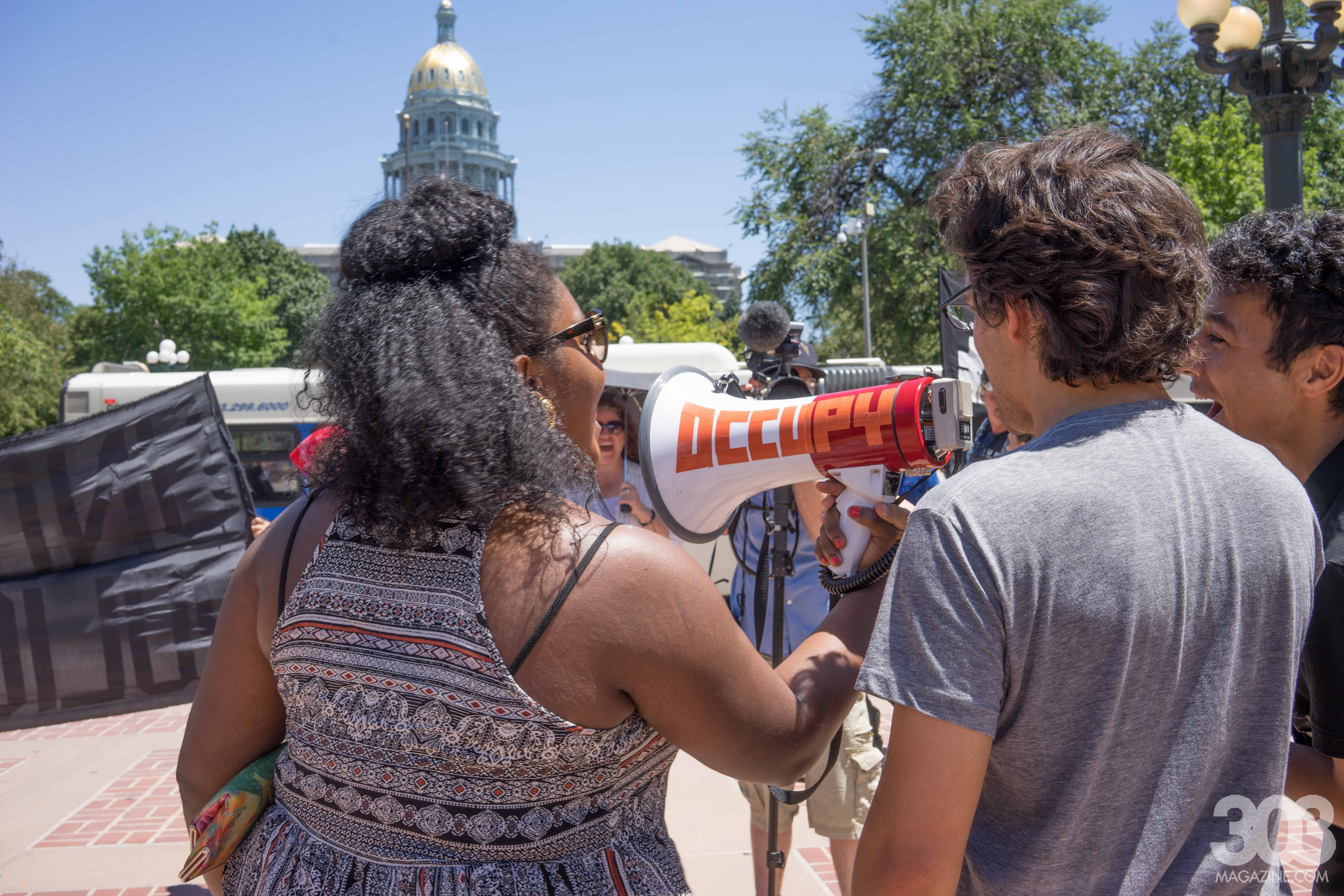 Protestors such as Princess Greene explained, that despite the low turn out, she was happy with the crowd that did attend.
"I appreciate everybody coming out. It's beautiful to see blacks and whites coming, together as a human race. I'm scared for my life my son's life, my father's life and I'm tired," said Greene. 
The "It's Time Protest" peacefully ended in the late afternoon today. It was followed by Denver Homeless Out Loud rally at 3 p.m. According to its organizers, it was created  "to highlight pressing issues that the Mayor's speech will likely fail to address," referring to the State of the City speech Mayor Michael Hanock delivered earlier this morning at DIA
The Black Lives Matter 5280 sit-in continues until tomorrow morning. Their mission statement for the sit-in is as follows:
"Black Lives Matter 5280 assists in building [a] more loving and united Black communities while eliminating anti-Black violence and racism. To expose, address and eradicate structures and systems of oppression in Denver, BLM5280 uses a holistic racial justice approach that includes strengthening individual and community health and wellness, relationship-building, educational programming, and direct actions. This chapter is part of a national movement, aligned in Black love, power, and liberation in order to embody the declaration that Black Lives Matter- regardless of gender identity, gender expression, sexual identity, immigration location or status, gang affiliation, profession, ability, economic status, and religious beliefs or disbelief. Also in keeping with the national movement, BLM5280 centers and celebrates the lives and leadership of Black women and girls, aligning all Black people in love, power, and liberation. Our work is to cultivate communities of abundant joy where all Black people are emboldened and empowered to lead, love, heal, and thrive."