I don't mean to complain, but this past weekend in Denver was one of those typical weekends in Denver with too much to do and not enough time to do all of it. Between the Five Points Jazz Festival, the Big Wonderful at the Stanley Marketplace, Stop Making Sense (a Talking Heads cover band, duh) at Cervantes', DADA Life and Elephant Revival at Red Rocks, the Goth Takeover at Lakeside Amusement Park and a handful of farmers' markets each day—plus weather that makes it officially feel like summer—how does one decide what to do?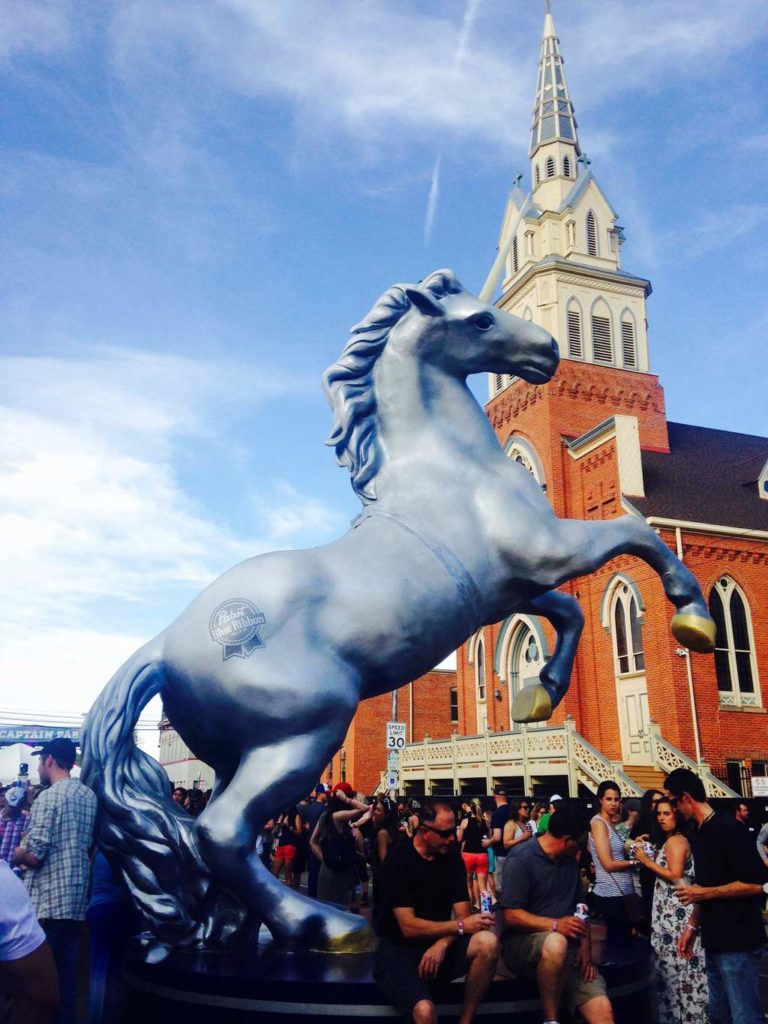 Perhaps this is why Project Pabst (which seemed like the obvious choice to me, because the Violent Femmes were playing) may have flown under a lot of local's radars. This all day street party in RiNo had two outdoor stages, a PBR-cade with lots of vintage video games and pinball, some featured food trucks (my favorite being High Point Creamery—after sampling nearly every exotic ice cream flavor that they offered, it was the Cherry Miso with Chocolate Freckles that stole my heart) and even a classic 50s-style diner (vinyl stools and all) that served boozy root beer floats (alas, they had no regular root beer available for non-drinkers, which was kind of a bummer for this tea totaler with a sweet tooth).
There was a great turnout at the festival, but no one I spoke with prior to the event seemed to have any idea that it was going on. Ah well, more dancing space for me.
Project Pabst did a supreme job of making the festival very Austin, in the sense that they utilized all of RiNo's clubs and venues to showcase both bands and comedians, in addition to the main outdoor stages: the Meadowlark Bar/Kitchen, Cold Crush, Larimer Lounge and Nocturne all hosted sets throughout the event. You could pop in and out of the bars as you pleased (which was also convenient for avoiding having to use portapotties), checking out the various punk rockers (I was devastated to have just missed Atlanta's grungy sweethearts The Coathanger's set at Larimer Lounge), local DJs and standup comedians. There were plenty of grassy oases among the fenced-off boundaries surrounding Larimer Street between 27th and 28th to sprawl out in the shade and have a smoke. The food truck options were plentiful—but I still ate those Cold Crush tacos, because they're the bomb (and they're $2).
When I strolled into the festival, I was greeted by soul singer Charles Bradley "taking it to church," and could've sworn there was a more sedated version of James Brown up there on the Laser Horse Stage. He wrapped up his set with some smoldering organ ballads, but my anticipation for the Violent Femmes was entirely distracting and I made my way down the block to post up at the Captain Pabst Stage to acquire some prime real estate.
And now it's Monday morning and my neck is still sore from head banging and thrashing about to the Violent Femme's smashing set. They kicked off with Blister in the Sun, just incase some of the hipsters in attendance weren't sure who they were seeing. The dark, winding tale that is Country Death Song off of their Hallowed Ground (1984) album was my personal favorite moment of the entire event (it's based on a true story from an 1862 news article about a man who intentionally threw his daughter into a well and then hanged himself in his barn). Or maybe it was when bassist Brian Ritchie rocked out on the vibraphones during Gone Daddy Gone. Actually, it could've been when they brought out, like, twenty people with horns on stage (and some guy with a strand of chimes attached to the lip of his flat brim hat) for a Zappa-esque rendition of a brass stampede. Ugh. It was all quite thrilling. I could rave about their high energy, flawless hour long performance for the remainder of this review, but I digress.
I overheard Best Coast's set from a safe distance (that shimmering indie stuff doesn't really do it for me), as I observed a few local artists cover a van (windows, tires and all) with cartoonish characters that looked like someone dosed Dr. Seuss's PBR tallboy and turned him loose with some spray paint. Then local legend Nathaniel Rateliff played all those crowd pleasing, happy tunes as the sun dipped down behind the mountains (and that giant unicorn lit up like a beacon) and the bearded and jovial crowd jumped about with glee. His music—a hybrid of blues and Americana—was the perfect nightcap to closeout a sunny, spring afternoon. And didn't he know it.
"Son of a bitch, give me a drink!"
Meanwhile, down in the basement at the Meadowlark, a carousel of comedians with varying degrees of talent spun round. Admittedly, I only saw, like, three and a half comedians but Christie Buchele absolutely slayed. Huffing and puffing throughout her set (apparently she had to bolt across town to the show, which was running way ahead of schedule), she continually made jokes about being cripple (and being "not that cripple"), rape, domestic abuse and more ("They said it couldn't be done!"). Can I get a hell yeah for funny chicks? Hell yeah.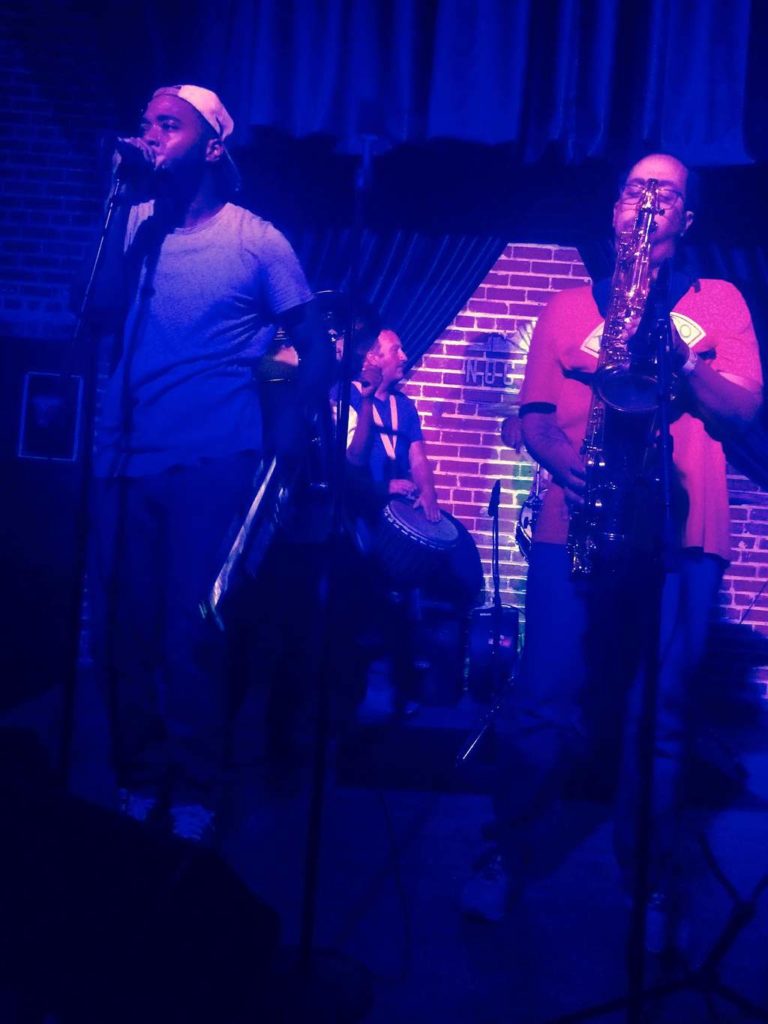 I was torn between seeing Felix Fast4ward's DJ set in the Meadowlark Kitchen and New Orleans Rebirth Brass Band at Nocturne—but in the end, horns always take the cake. Rebirth's packed show at the tiny club was a proud taste of NOLA brass, followed by the ultra talented Stanton Moore Trio (you may know Stanton Moore as the drummer from funk band Galactic) playing creative and upbeat jazz. Nocturne's late night lineup was something straight out of the New Orleans Jazz & Heritage Festival, which is a real treat here in the Mile High. By this point, the crowd had perhaps indulged in a few too many PBRs—but then again, wasn't that the point?
Project Pabst was another shining example of an overall pleasant day in Denver—where you didn't have to scavenge too hard for a parking spot, wait too long in line for a bathroom, deal with disgruntled patrons or stand all too close to anyone (unless you wanted to). Yes, we cry about the great influx of "transplants," we watch the cranes construct new apartment complexes by the dozen from across the horizon and we dread the crowds drawn by our local weed scene—but things are still pretty okay here in Denver, as far as I can tell.
Bring it on, summer. We're ready for you.
(My sincere apologizes for my crappy iPhone photos.)