Infectious and filled with inflection, Wolf Alice has successfully transformed grunge to fit the 2016 culture. Performing at the Bluebird on 4/14, their set mainly centered around their debut album released in June 2015, "My Love is Cool."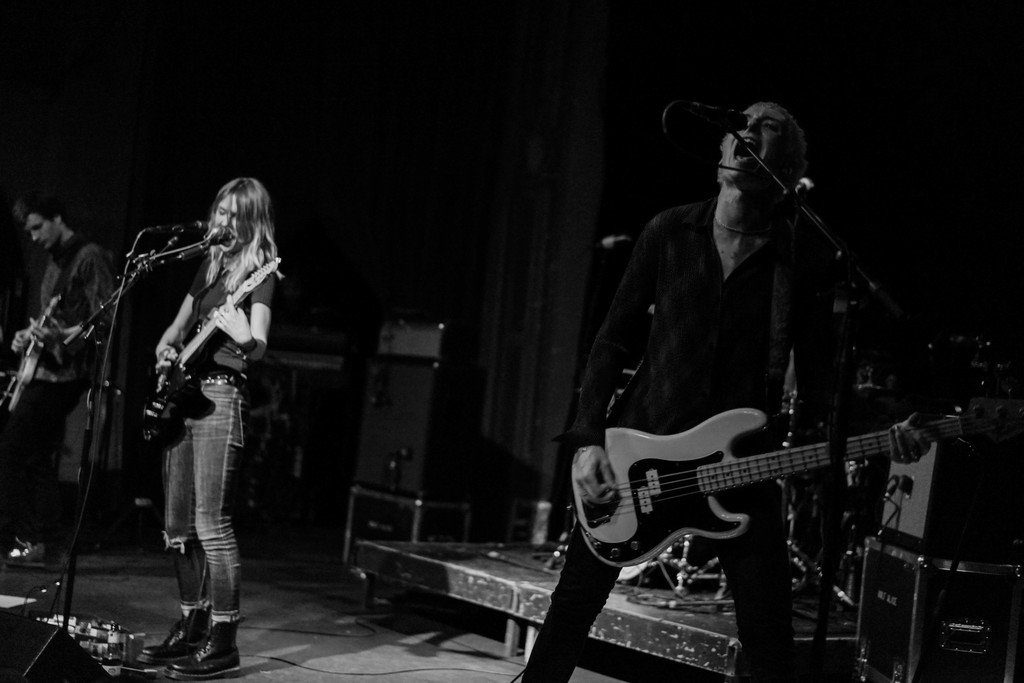 It's an aptly titled name — lead singer Ellie Rowsell looked like she could care less standing on stage yet poured her vocals and feeling into the songs; drummer Joel Amey effortlessly created intricate beats while crooning alongside Rowsell; and bassist Theo Ellis and guitarist Joff Oddie pranced around stage with open-buttoned shirts and smooth dance moves that resurged memories of 90s grunge-filled dance halls. It's no surprise this London-based band has come to a swift rise in fame in the music world, they bridge together elements of folk, grunge, and indie in a laid back way, while constantly looking for ways to improve their musical satisfaction.
Kicking off with "Your Loves Whore," the crowd was swept into the rabbit's hole, with guitar rhythms cascading into a deepening spiral of rock music and tinkling syncopated cymbals rang with Rowsell's delicate voice. "Don't you want take time and get to love me / We could build a perfect world / I got tricks I really want to show you / I could be your perfect girl, alright," she sang in her soprano voice.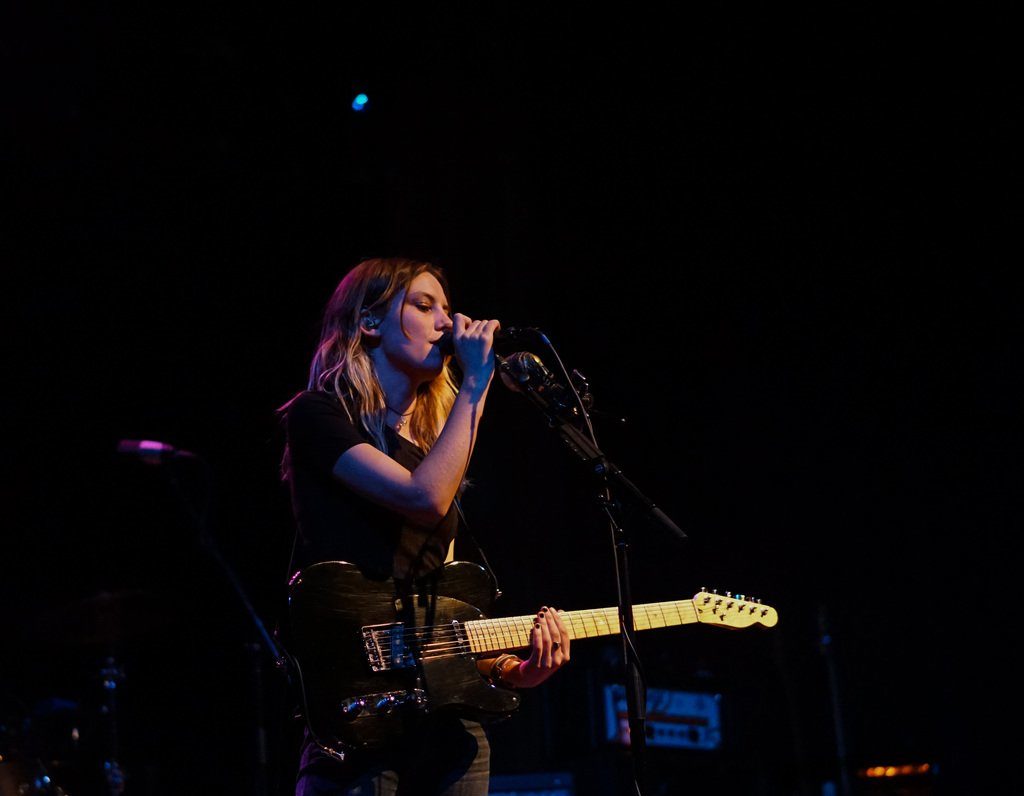 Their name, Wolf Alice, originates from a short story written in the 70s that combined the two tales of Alice in Wonderland and Little Red Riding Hood and centered on a young feral child. I like to think it emulates Rowsell's vocal prowess — her ability to take innocent and airy phrases into a growling rhythm that plays off the rock n roll tones backing her.
The cold strums of "You're a Gem," rolled in, a ballad about fuck boys that destroys the romantic notion of any and all bad love. From whispering words to screeching screams, it's hard to resist nodding your head to the pulsing beats. "Freazy" then entered the realm and if you haven't seen the psychedelic and kitschy music video to this emblem, it's about time, "Did you really wanna…with Alice / Did you really wanna…with the wolf? / You can hate us all you want but / It don't mean nothing at all."
The crowd riddled with anxious excitement as they heard the opening riff to "Bros." One of Wolf Alice's more popular songs, "Bros" was written when the band was merely experimenting with folk. However, for their studio album, they injected the once simple and delicate song with more rock driven vibes. The anthem for female friendship (or just friendship if you'd please) features breathy and sentimental lyrics that you can't help but grab your girl friends hand and share an instagram-worthy smile together.
The majority of Wolf Alice's lyrics dig deeper then general grunge songs typically allow for. On a quest to answer almost philosophical questions, the band tugs at a nostalgic attic of memories — from childhood friendships to burgeoning failed loves, they write about the human condition and maybe this is why they have garnered such a strong fan base from the crowded bars of Camden to the twinkling lights outside of the Bluebird.
"We played across the street a year ago and we were like, we want to play there [the Bluebird]," Rowsell stated with her lilting accent, "And now, it's sold out. Thank you guys."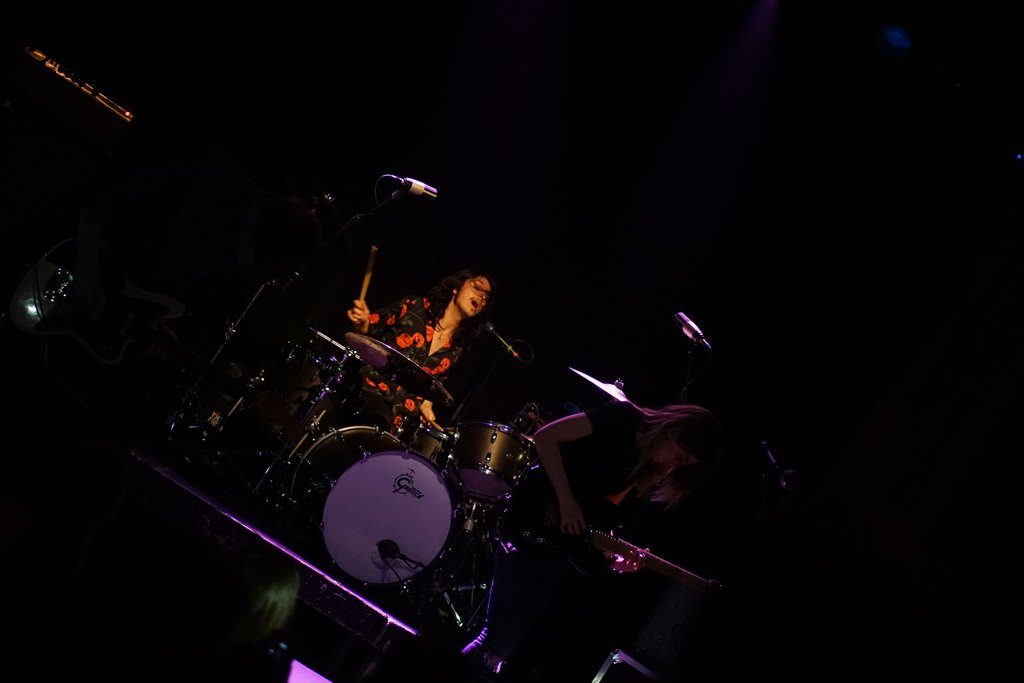 Near the end, their songs "Fluffy" and "Turn to Dust" came into play. These two songs capture the dichotomies of this band, flirting between earthy lyrics and dirty guitar slashes. The band won the award for Best Live Band in 2015 and it's pretty clear to see why due to the whiplash of high-pitched screams and lullaby caresses from Rowsell. The instrumentalists are just as into the bodies pounding as you are, and while the band may be young (no one is over the age of 24) their passion outshines the need for critical and precise musicality.
They left the stage too soon, just over an hour of their British invasion did they give us. Of course, they came back for an encore, playing hits such as "Blush" and "Moaning Lisa," the perfect paradox of soft and cool tones mingled with the British indie rock that even fans down in Denver could appreciate and jive with.