Sullivan's Spring Summer 2016 show drew out a crowd of Denver's most artistic and eclectic people. The runway show took place on Friday, February 26, in the heart of Denver art district at the Denver Arts society. Surrounded by paintings, sculptures, and more, Sullivan's pieces fit in with ease.
The collection provided a dizzying array of prints and textures, all working together on one piece. It was versatile and androgynous, yet very wearable. African-inspired patterns and mesh seemed to be the theme for this collection, very appropriate for the season yet unpredictable.
After a showcase of 28 looks and a standing ovation, the crowd was feeling inspired and ready to try something new in the name of fashion. But before the show, we headed backstage with head designer Michael Sullivan to discuss inspiration, how he keeps the stress away, and what he's planning next.
303: Where did you draw inspiration for your most recent collection?
Sullivan: Gaia is inspired by multiple things. The attitude is inspired by the movie The Warrior's . The message of unifying and being a unit or tribe is what HAUS is all about. The silhouettes are inspired by the Massai Tribe in Africa. This collection is not just about embracing and taking ownership of this land we roam, Mother Earth, but also taking ownership of the land within ourselves. It's hard to recognize our own beauty, inside and out sometimes. I know I'm still learning this myself, but we must start honoring ourselves and others. We all make mistakes, make dumb decisions, but forgive yourself. Forgive and move forward the best you can.
303: What kind of aesthetic are you trying to get across?
Sullivan: Aesthetic to me was made for others to stay in a box. As an artist, I don't want to stay or be secular. I love high-end fashion mixed with ready-to-wear or street fashion looks. My aesthetic is constantly changing and evolving. I want to continue and get better with my work and construction. I think it's very important to always learn, study and continue to educate yourself on your passion. There is nothing wrong with learning the same thing more than once.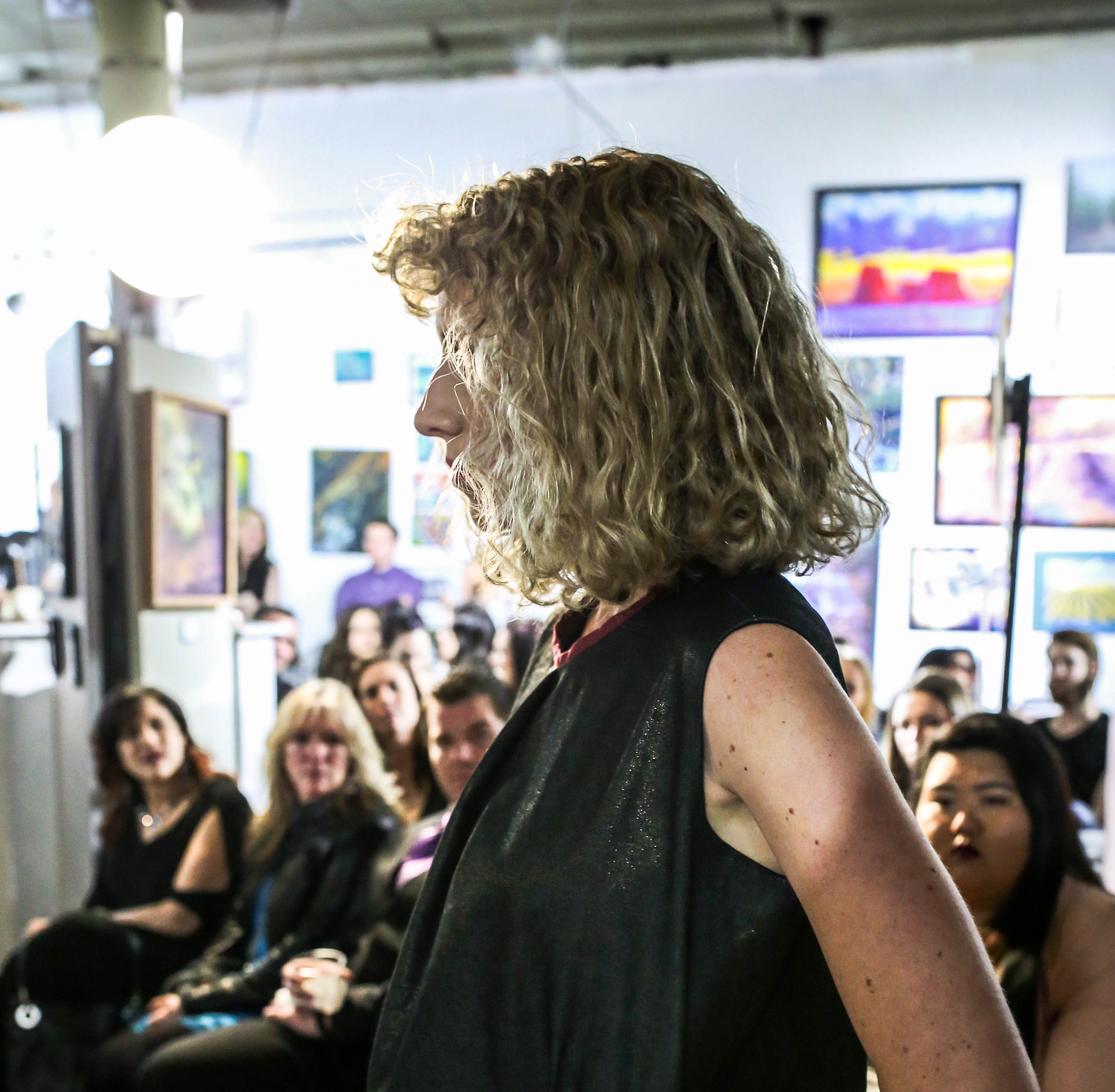 303: What ideal celebrity would you love to see in your clothing?
Sullivan: I could see Keke Palmer, Kate Moss, Charlize Theron, Rihanna, Angel Haze, Kendrick Lamar, Father, Jaden and Willow Smith and maybe one day Beyoncé wearing HAUS. The line is very versatile, it transitions well from day to night, evening to special occasion and even fun spunky red carpet looks. Oh, do I dream of having multiple looks on a red carpet at a time!
303: How did you mentally prepare for the show? What do you do to keep calm and keep the stress away?
Sullivan: I'm always excited and nervous before creating a collection and showcasing it. If you go into designing confidently, you start to grow and move through the collection. You feel what should stay or go. Meditation always helps me prepare mentally, and then there are other times that I go batshit crazy. Preparing for a show or designing a collection, mentally, is all about your mindset. What do you want to convey? What does the collection express to you? Does this look function well on a body? I asked myself these questions and I'm completely honest with myself. Organization also helps with your mental stability. This is a notion I'm becoming more and more familiar with.
"I couldn't do it all by myself and without my team, accomplishing day to day tasks would be nearly impossible. Having a strong team, your foundation, is what will help you maintain some form of mental stability." – Michael Sullivan
303: Your pieces are very much high fashion. What advice would you give someone who wanted to take a piece and make it more "wearable?" Or would you just go all out?  
Sullivan: HAUS translates to multiple groups with a multitude of styles. You can buy several pieces from our collection and mix and match. Or you can buy two or three pieces and translate that into your closet. Yes, the pieces are more of a high fashion take on style, but pic any pair of trousers, or a skirt, or one of our oversized tops. You'll be able to mix and mingle HAUS with your own clothing. Whether it's a night out on the town, a day at the office, or a special event, you'll be able to trust that HAUS will have that subtle smooth pencil skirt or that hand beaded statement jacket to go with your look of choice.
303: Tell us a bit more about how you assembled this collection from a technical standpoint. Did you do anything special/ try anything new in terms of making the clothing?
Sullivan: Designing this collection took more of an artistic expression in the eye. Most of the pieces are draped in the collection, which helped give that organic and artsy feel inspired by the Masai tribe in Africa. Also, technical pattern drafting and creation helped move a little bit of that 70s flare into the silhouette. I didn't like literal adaptations when creating this collection. I truly believe that when Shatara and I started designing this collection six months ago, we really joined both of our aesthetics into the collection. We always do. Shatara has a way of melding and mixing textures and pattern together in such a unique way. Which helps challenge my aesthetic which is sometimes graceful and minimal. From a technical standpoint, colliding two worlds and making them cohesive took not only the mathematics of construction but the artistic thought processes that went through my mind as well as Shatara's
"This next collection is really exciting. The ideas for this collection have come together effortlessly. I don't want to give too much away, but you can expect more gowns, suiting,  texture and maybe even some shoe designs. I guess you'll just have to find out!"