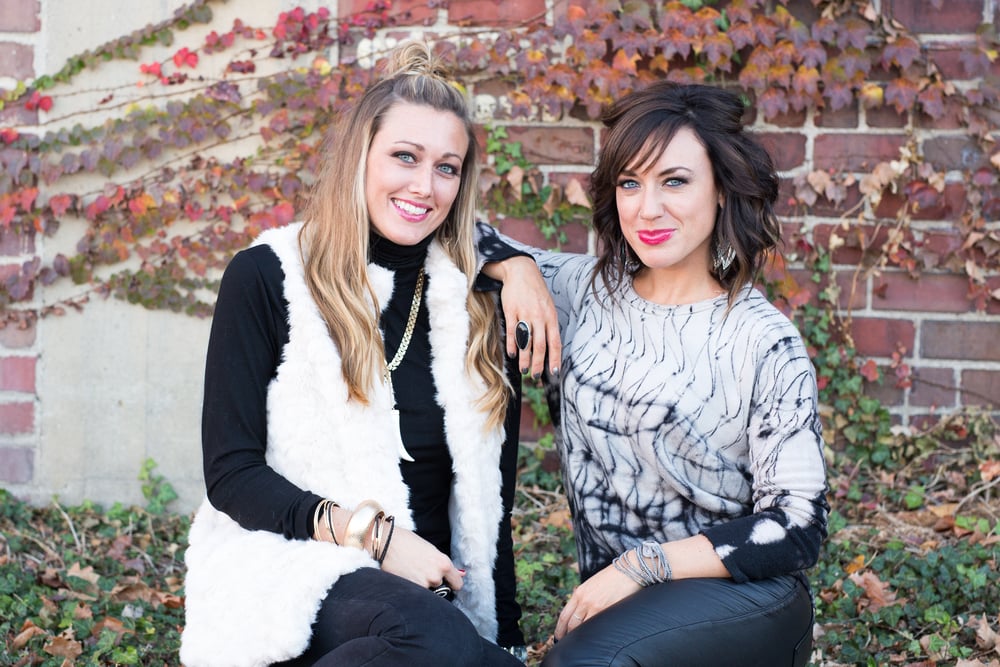 Guest Blogger: The Resource Girls
Cat and Lauren are two best friends who started The Resource Girls to encourage women to be the best version of themselves. They promise to keep you fashionable without spending a fortune. Whether it's homemade, thrifted or designer, they've got your back. Their motto is "be resourceful, be you."
***
As certified Resource Girls we believe in looking and feeling our best but never breaking the bank to do so. We are also firm believers in embracing our own unique style. I (Cat Golden) tend to go for more of a punk rock, edgy look.
My favorite color is black–does that even count?–and I love all things that push the line just a little, like distressed denim, muscle tees, Converse and a good leather jacket. I've been forcing myself to mix it up just a little so this outfit, believe it or not, was branching out for me.
Without the help of Shelly, I would have never paired the tank with the kimono (below). This is one of my favorite combos to date and has left me more inspired than ever to get my pattern-mixing on as well as keep on the lookout for a good deal.
We love original pieces that give a look a little extra flare. Think it's impossible to find one-of-a-kind items on the cheap? The Resource Girls are here to the rescue. This entire look was only $52, even down to the shoes.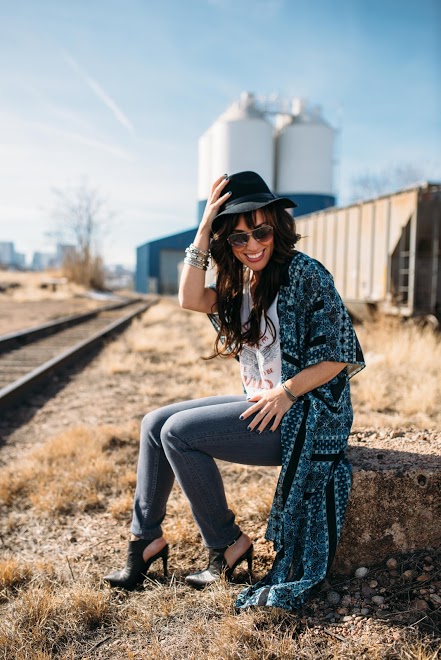 Outfit Details: Steve Madden hat at TJ Maxx: $19; No brand tank at Buffalo Exchange: $8; Forever 21 Kimono at Buffalo Exchange: $9; Hudson Jeans at Goodwill Denver: $6; Mossimo Booties at Target: $10
A couple tips:
#1
These Hudson jeans are my best thrifted find to date. I had been on the hunt for grey skinnies for some time when I hit the jackpot with these babies. Thrifting is an art form but once mastered the possibilities are endless.
Try going on a day when you're not in a rush and can browse with no expectations. Sometimes you may have to go back several times to score the best pieces! Thrifting can be stressful and downright unappealing, we get it. However, we've found if you go with a list of items you want you won't end up buying things just because they're cheap but instead purchase items with a purpose. Who knows, designer jeans may await you.
#2
Mix pieces you wouldn't originally put together. We loved the rocker look of this tank with the boho vibe of the kimono. Maybe it's pairing two funky colors together or adding in a pattern you aren't exactly sure works. Get creative, you probably have more in your closet than you think. Besides, fashion shouldn't be boring. It should most definitely be exciting and make you feel good. We're all about coloring outside the lines!
#3
Ask for help. When I went to Buffalo Exchange I asked Shelly, she's my fav, for anything new that may have come in. She hooked it up big time! This also applies to thrifting. Maybe it's asking what the sales are for the day or where newer items get placed in the store. I had so many options it was hard to decide. Usually employees know the inventory of their stores pretty well and can save you a ton of time while also giving you new ideas.

#4
Browse the clearance. It goes without saying but if you're not looking you won't find anything! A trip to Target for eggs and paper towels led me to my new favorite heels, that's a win-win if I've ever heard of one.
#5
Lastly, the most important lesson to be learned is to be yourself. If you don't feel like you in the clothes you're wearing you'll never be able to pull off even the most conservative of looks. Our motto at The Resource Girls is to be resourceful and be you. Embracing your own personality and unique style is the surest way to looking fabulous, and that my friends doesn't cost a dime.
xoxo
Cat, The Resource Girls
Photography: Noah Berg
Makeup: Allison Palmasano