New Orleans funk legends Galactic return to Denver this Saturday February 20 for a performance at the Fillmore featuring special guests Soulive and Cyril Neville. This tour is celebrating the recent release of the album Into The Deep, which contains a smorgasbord of singers — including Erica Falls, Galactic's latest vocalist.
Tickets are still available for Saturday's show, ranging from $29.50 for general admission to $44.50 for reserved balcony spots. Doors open at 8pm and the show starts at 9pm, so don't be late. You don't want to miss any of this high quality, funky stuff.
Read on to check out 303's exclusive interview with Galactic's bassist Rob Mercurio, where we discuss the new album, how Galactic has evolved over 20+ years of touring together, Galactic's own festival The Landing and why it's so awesome to have rotating vocalists in your band.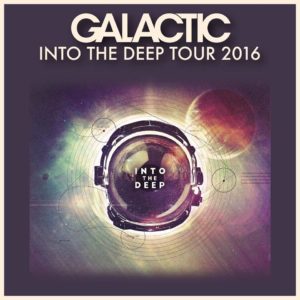 303: Tell me about Galactic's most recent album Into the Deep, featuring collaborations with legends like Macy Gray, Mavis Staples and JJ Grey. Galactic's last album Carnivale Electros (2012) had a heavy Mardi Gras vibe to it, featuring various Neville brothers and other local NOLA all stars, and prior to that your last few albums had more of a hip hop feel to them. So where does Into the Deep fall on the ever versatile Galactic genre spectrum?
Rob Mercurio: It's a bit of a return to form from how the band originally came together. It was less of a hip hop kind of thing, with more of an organic natural feel to it. That was our intention going into it, which we stuck with.
This last summer we did about ten gigs all over the US and Canada with Macy Gray, which was really cool. We did some radio promo shows and stuff with her, too. It was awesome. One thing kind of led to another with Macy. It started with a meeting at one of her shows and it just took off. We wrote a song together and then she actually performed with us at Jazz Fest last year during our set on the main stage. That was the beginning of our live performances with her. We always like to bring out a vocalist that can conquer a lot of material. Erica Falls is our current vocalist, and she's also from New Orleans. She has a really wide range; she can cover all of it, from JJ Grey to Macy Gray.
303: Galactic and Tipitina's recently joined forces to create your very own 2-day music festival called "The Landing" this past September in NOLA at the South Shore Harbor. What expectations did you guys have going into it and how was the outcome? Anything different you'll do in the future?
Rob Mercurio: I've heard we're gonna do another one, in mid-September again. We've been wanting to do this for a long time. We've obviously played hundreds of festivals all over the world and we wanted to bring all that we've seen and been part of home to New Orleans. Something other than the Jazz Festival. We wanted to make our own mark in a different way and to program the music a bit differently. We found this site out by the Lake Front. It's kind of an under utilized area. A lot of people who visit hardly even see it, since it's a bit off the beaten path. It's a really beautiful spot when the sun sets. There's a lot of boats out there.
It's a more natural environment in New Orleans, in a way. People think of New Orleans as the French Quarter, the fair grounds and a lot of concrete.
We were really happy with the lineup last year. We intentionally stayed away from EDM stuff because there's this other festival in NOLA called BUKU that does that, and we stayed away from Jazz Fest kind of bands. It limits us — but it's fun, too. We had CAKE, Grace Potter, St. Paul and the Broken Bones, Little Dickey and The Eagles of Death Metal. It was really well received.
303: How has Galactic evolved over the last twenty years of playing music together?
Rob Mercurio: We're an ever evolving band, and that's one of the reasons we've had longevity. Not a lot of bands stay together for twenty plus years. I think that having enforced the changing of singers, losing our original singer and then being in the position of "Who do we want to collaborate with now?" is fun.
Usually, the lead singer is the band. And then they want to leave and the band has to break up. But we're like this rhythm section, getting to collaborate with all these different people. 
It constantly reenergizes the band. We're in a fortunate position that our fans have ebbed and flowed with us.
303: What're you guys looking forward to most about your upcoming Denver show with Cyril Neville and Soulive?
Rob Mercurio: We're good friends with all those guys. We've always been a collaborative kind of band from the beginning, and to be able to perform all that material, it takes a really skilled singer. We recorded some stuff with Cyril before, so it'll be nice to play some songs with the original singer. It has been fun with Maggie and now Erica and other unknown singers, too. It's been fun to bring in different people.
Cory Glover is obviously a well known singer, and before him, Cyril toured with us. And there was Charlie Tuna before that. People knew who they were and what to expect. But it's fun to bring out people that the audience doesn't recognize and won't know what to expect.
303: What does Galactic have on the horizon for 2016?
Rob Mercurio: Well, I'm not really at liberty to discuss. It'll be our twenty first year at Jazz Fest, which is amazing. Nothing else I can really announce yet. We're working on our next album, we're in the studio right now. We've been working on new music almost every day that we're not on tour. Expect us to be bringing more of the same, but more of something different. More of something similarly different.