The joy of fashion week can never be fully expressed, that is, until couture season comes along only twice a year with less than half the shows you'd see during the traditional fashion week. The level of craftsmanship is elevated to a new level with gowns that flow and shoes that sparkle. It's difficult to fully explain the allure of the couture shows, but we'll try our best.
Over at Givenchy we saw looks we can't wait to see on singer Florence Welch, with cool caped looks and sheer gowns. Viktor and Rolf kept it simple while still having an artful spin on the collection. Maison Margiela, on the other hand, went all out with looks based on "going mad." Chanel was the highlight of the season with high end looks using low end products such as wood chips. And Yiqing Yin gave us sexy draped looks, something refreshing from all the dazzle of fashion week.
Givenchy 
This collection displayed the idea of couture in the finest way and showed the craftsmanship needed to really call a collection 'couture.' Close up images displayed minute crystal on tulle, pentagon-shaped patchworks of snakeskin and velvet, and rivets of bugle beading.  
The second look to hit the runway was a dress/cape combo with patchwork snakeskin that resembled mirrors and displayed every color from silver to purple. Sparkling gowns also had an appearance, ones we can't wait to see in action for award season. The use of furs and outerwear also played nicely into the collection, giving off a very lush look.
Maison Margiela
The looks at Maison Margiela by John Galliano played off the idea of the mad, and this really came through with otherworldly looks that were almost alien. But we're sure the makeup and hair had a huge part in that production. Many of the looks were patched together using a variety of fabrics from the stiff to the silky. Prints were also mixed making for a look that wouldn't necessarily work if it wasn't Couture. However, the emphasis of this collection was not based on the idea of wearability, rather, art.  
Viktor and Rolf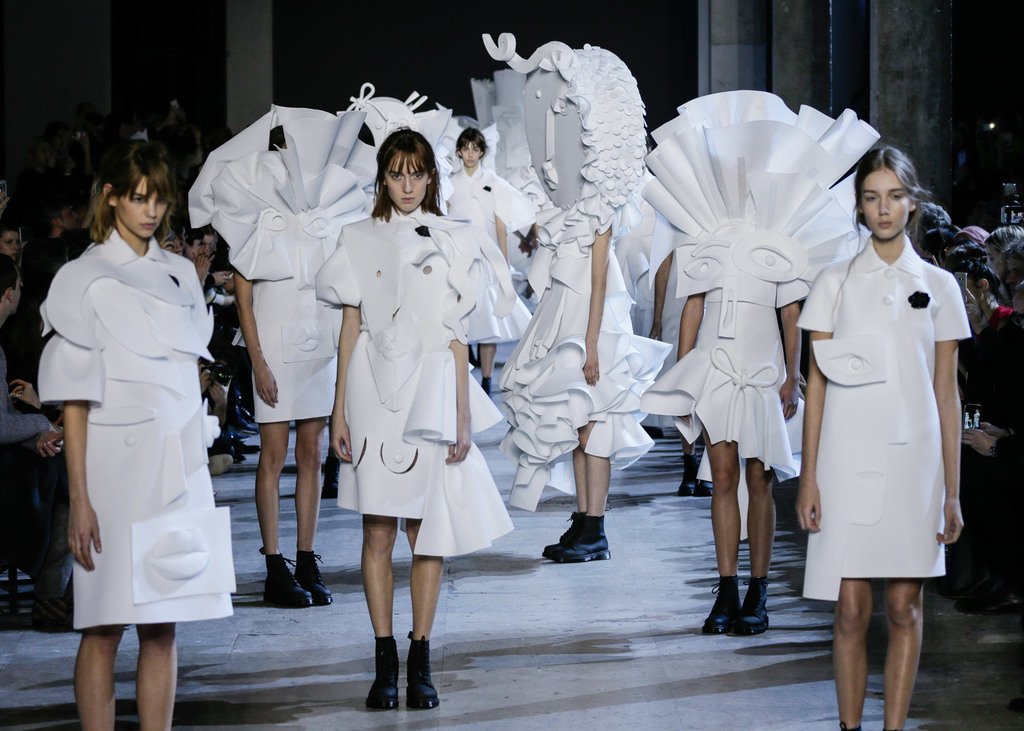 This collection was full of white, and drew us to the early 1900s with cubist style looks we thought we'd never see on the runway, let alone on clothing. The collection contained multiple white polos playing off 3-D cutouts of faces, some distorted and others easily recognizable.
These images looked delicate, and as if they were made out of paper. Yet the dresses, skirts and tops had a flexible flow to them. While we know these pieces won't be hitting the streets any time soon, if at all, we can't wait to see how they'll be adapted into street style looks for the brave.
Yiqing Yin
A name less known to the mainstream world, Yiqing Yin has been making headlines in the fashion industry for years now with her collections showcasing simplicity and craftsmanship. This is Yin's first collection as an official member of Chambre Syndicale de la Haute Couture.
Yin's collection stayed true to what she's knows: draping. While looks were simple and flowy, they were artfully designed to give a sense of ease and emphasize the body. We loved a looked that featured a marsala colored gown, complete with just one sleeve and leather details. Fur was used to amp up other looks with a bit more edge and class. But the look of the night really came at the end with a fairytale like dress featuring glow-in-the-dark lights that seemed to define gravity and float in space.
Chanel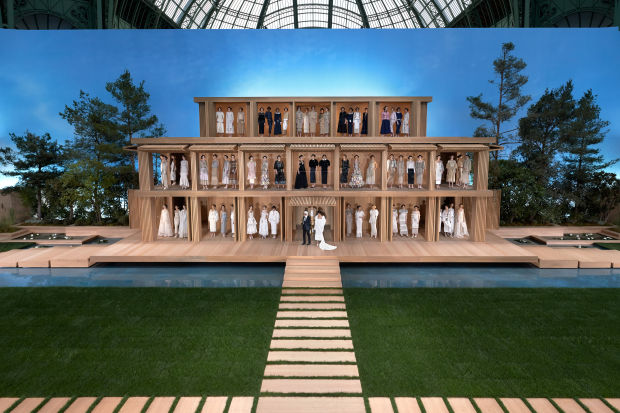 The collections at Chanel always seem to be the highlight of couture week. This is not only rooted in the elaborate set design and amazing hair and makeup, but it all starts with the clothing. Karl Lagerfeld has long been the head designer of this fashion powerhouse, so every season we're surprised when we see something new.
But this season Lagerfeld used wood chips as a main source. Wood chips were used as beading, paillettes and 3-D frills among techniques involving recycled paper and organic woven yarn. Our favorite look has to be the ending wedding gown Chanel is known for. It featured a dress made from wild cotton complete with a hood, train and a fur style coat full of wooden chips used as embellishment.