If you've given up on trying to find the perfect place for Valentine's Day dinner or you'd rather switch it up from the norm, below you'll find eight fantastic events and activities that'll give you and your significant other a break from the mundane. From a 5K race that ends with brunch to a three-course meal set to a burlesque show and even chocolate and beer pairings, at least one of these unique events will set the right mood for a perfect Valentine's Day.
Events
Sole Mates Run & bRUNch at Postino LoHi
  Perfect for fitness focused couples 
When: February 14, 9:15 a.m- 12:15 p.m
Where: 2715 17th St., Denver
Cost: $25 includes the run, an entree, two drinks, tax and gratuity. A dollar from each ticket purchased benefits Metro Caring. Buy here
What: A running club that ends with brunch at a cozy "winecafe" thats nestled in LoHi in a former book bindery..
The Low Down: Break a sweat this Valentine's Day and join local running club, bRUNch for a 5 or 10K run followed by an all-inclusive brunch featuring French toast, mimosas and Great Divide's Orabelle at Postino LoHi—a casual wine-focused cafe.  
Burlesque at Ophelia's Electric Soapbox
 Suited for the adventurous
When: February 14,  6 – 7:15 &  8 – 9:15
Where: 2715 17th St., Denver
Cost: $55 per person (tax and tip not included). Call 303.993.8023. to make reservations.
What: A three-course meal set to a live burlesque show at Ophelia's, a former brothel turned restaurant from the creator of Linger and Root Down. The Low Down: Let Ophelia's set the mood this Valentine's Day with a special live burlesque show with a performance from Vivienne Vavoom and music from DJ Digg Haze. The tantalizing show will have added effect since Ophelia's, the tastefully sex-themed restaurant, was once a brothel—and more recently—an adult video bookstore before it transformed into a restaurant earlier last year. 
Chocolate Exhibition at Denver Museum of Nature and Science


 Great for the history buff
When: February 12 – May 8, 9 a.m – 5 p.m
Where: 2001 Colorado Blvd, Denver
Cost: Free with purchase of general admission ticket, get tickets here
What: Various programs and events focused on the origin of chocolate from its earliest cultivation.
The Low Down: Engage all of your senses as you trace the history of the "food of the gods." Join The Denver Museum of Nature and Science on one its program to learn how chocolate started with Ancient Maya to became the world's favorite sweet treat.
Beer & Chocolate Pairing at Denver Beer Co.
    Spot on for beer lovers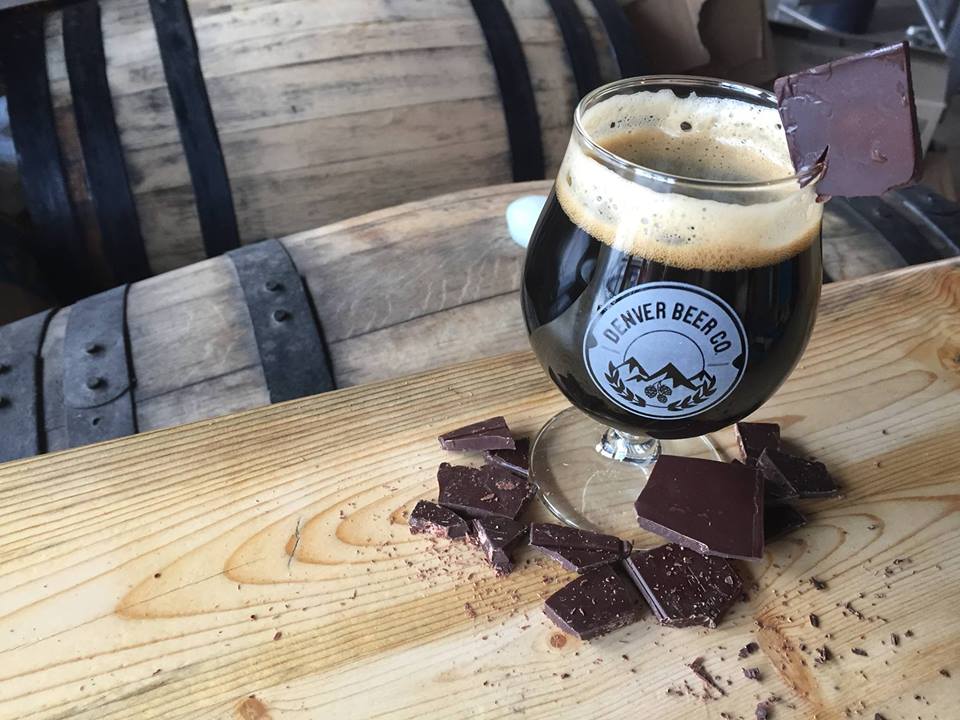 When: February 14, 6- 9 p.m
Where: 1695 Platte St., Denver
Cost: $25, tickets can be purchased at the taproom
What: A unique chocolate and beer pairing experience at a downtown taproom
The Low Down: Join Denver Beer Co. for a four-part beer and chocolate tasting. Each course will be served with a variation of their famous Graham Cracker Porter and paired with decadent chocolate desserts. The menu is as follows: Graham Cracker Porter paired with a chocolate truffle with graham cracker porter infused ganache, Coffee Graham Cracker Porter with heart shaped marshmallow, Chocolate Coconut Graham Cracker Porter with toasted coconut clusters, and a Chile Graham Cracker Porter paired with a cashew toffee with milk chocolate.
Wine and Chocolate Pairing at Cook Street


Good for cooks & wine lovers
When: February 14, 6:30- 8:30 p.m
Where: Cook Street School of Culinary Arts, 1937 Market St., Denver
Cost: $80 per person
What:  A class teaching you the complexity of flavors and textures when it comes to wine and chocolate.
The Low Down: Explore the complexities of wine and chocolate with Cook Street this Sunday for an interactive pairing class. The event will feature five wines with a variety of chocolate desserts and a selection of charcuterie, cheeses, and house-baked bread. Also, if breakfast is more your thing, check out the Valentine's Day brunch cooking class and learn how to make a stellar morning meal that's perfect for breakfast in bed. 
RiNo Brewery Progressive Beer + Cider dinner
Spot on for beer lovers
When: February 14, 12 p.m. through 6 p.m. (choose one time slot, 3 hours)
Where: Multiple locations
Cost: $80. Buy your tickets here
What: A "progressive"  three part dinner with each course hosted at multiple RiNo breweries including Ratio Beer Works, C Sqaured Ciders and Epic Brewing
The Low Down: Explore the booming brewing culture in RiNo with progressive dinner hosted at two great breweries and one brand new cidery. The three-part dinner will start at Epic Brewing with cheese and beer then will continue to The Rackhouse and C Squared Ciders for pork ossobuco, roasted carrot puree, risotto, shaved parm, pickled beets paired with Alma, Ginger and Nona C Squared ciders. Then wrap up the night with dessert and beer at Ratio with crepes from Crapefull . 
Sarto's Social Italian Eatery Cooking Class
 Good for cooks & wine lovers
When: February 14, 2016  at 6 p.m.
Where: 2900 W 25th Ave, Denver
Cost:  $75 per person. Make reservations by calling 303-455-1400.
What: An interactive cooking class at the modern, elegant Italian eatery in Jefferson Park followed by a three-course meal.
The Low Down:  Post up at the luxe Jefferson Park neighborhood restaurant, Sarto's, for an involved cooking class.  The Italian-focused establishment will fittingly kick-off  the night with a tasting of Italian wines. Here you'll discuss the locale of each wine and why they are paired with its course. Afterward, the night will venture into gnocchi & truffle making and will wrap up with a three-course meal. 
Temple Bakery Pop-up


 BONUS: Made for last minute gifts
When: February 14  9 a.m. to 12 p.m.
Where: Temple Bakery, 2400 Curtis St, Denver
What: A pop-up market with Valentine's Day essentials including cards from Craft Boner, pies and sweets from The Long I Pie Shop and flowers from Ladybird Poppy.
The Low Down: Forgot to buy your sweetheart a gift? The brand new Temple Bakery is here to help with a special pop-up featuring local shops that'll cater to your every Valentine's Day need including special cards from Craft Boner, sweets from Long I Pie and flowers from Ladybird Poppy. 
Article by Brittany Werges with contributions from Carly Connor.