The Screaming Js, a 3-piece boogie-woogie piano-band from Asheville, North Carolina, are bringing their infectious high energy to Colorado this week. Their style, a combination of New Orleans honky-tonk, bluegrass, gospel and ragtime, makes for an outrageous ass-shakin' good time. 303 Magazine caught up with Jake Hollifield (piano) from The Screaming Js to talk shop about all things groovy. Jake's original band, The Blue Rags, was an early-influence on The Avett Brothers and Old Crow Medicine Show.
Read on to learn more about The Screaming Js and make sure to catch one of their six Colorado shows:
October 22 @ The Secret Garden – Boulder
October 24th @ Camp Wardrobe MalFUNKtion Trick or Tease Burlesque Show @ 303 Vodka
October 27th @ Shine – Boulder
October 29th @ Tony P's 17th Ave. – Denver
October 30th @ 303 Vodka – Boulder
October 31st @ Boulder Farmers Market
303: Tell me a bit about your musical background and how you three initially got together and started playing music.
Jake: I am mainly a self-taught piano player that loves R&B music, but has country roots that can't help but be heard. "Hillbilly jazz" is also been used to describe our sound. I met these guys in my hometown music scene of Asheville NC, and then dragged them out onto the road.
303: What sets the Screaming J's apart from other bands?
Jake: The main thing that sets us apart is that we have no guitar. We are a piano trio. I tell piano teachers that I am on the mission to make piano cool again.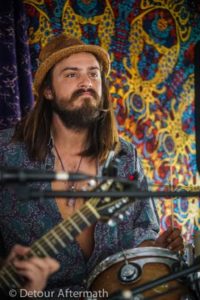 303: Who are some of your musical inspirations? 
Jake: Our main influences are musicians that made their own path. We are interested in musicians who've created their own language with songs already written and new songs they create. Professor Longhair, Jerry Lee, James Booker, Doc Watson, Earl Scruggs, John Hartford and James Brown.
303: Discuss how you've found a second home of sorts in the Colorado community? What draws you here and what do you think is special about our local scene that keeps you coming back?
Jake: Our Colorado family came by accident. We were driving through and put on Facebook that a lonely band wanted to do odd jobs just so we could park in a driveway and experience Colorado. Our host took us in and got us s gig at the 303. She became an instant fan and has exposed us to all her friends, who are just as beautiful as she is. And they all like to boogie to the death, so they are a lot like us too. Long lost cousins. Now to come back is just a big family reunion.
303: Who is Eddie Cabbage and how does he contribute to the Screaming J's?
Jake: Eddie Cabbage is our Poet Laureate. He works his "Poetry on Demand" at our gigs for money. In between commission pieces, he documents our travels in the prose form of the Beat poets. I like to say he is our ticker tape of our journeys. Our Cassidy in our "Even Furthur Tour of America."
303: Do you guys have any tricks up your sleeve for your upcoming Boulder Halloween shows?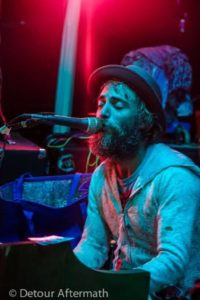 Jake: We are not the tricksters most people think we are. We have more treats for our Halloween shows than any tricks. And even if we did have a full monty trick up our sleeves, it would spoil it to tell you.
303: What is your favorite part about playing live music?
Jake: My favorite thing about playing live music is being in the moment. Anybody who has seen our show knows that it is not scripted or planned. Being on the edge of now is a mediation and a place where music thrives.
303: What is next on the horizon for the Screaming J's?
Jake: The horizon is mainly on our horizon. After our Colorado run, we go back to Southern Florida for most of the winter. We have some surprise, high profile opening gigs for the New Year on the East Coast.