On October 28th, we are bringing legendary international DJ John Digweed to Club Vinyl in Denver for an unforgettable industry Halloween costume party. 303 Magazine and Brown Elvis invites you to join us in a Halloween celebration of costume fun, high energy and amazing dance music. Slap together whatever you have lying around for a costume and get ready for the Halloween party of the year. Tickets are going fast so get yours today, you don't want to miss this party.
We caught up with Digweed during his busy tour schedule to chat a bit about his Denver stop, his hobbies and some bucket list dreams. Check it out below. And don't forget to grab your tickets to the biggest pre-Halloween party of the year!
Get your tickets to see legendary DJ John Digweed today!
303 Magazine: How did you first get introduced to Dance music?
I began playing at nightclubs in Hastings and after awhile  gained popularity in the scene, playing many successful club nights and performances until one day I received my big break.
How long will you continue to DJ and make music?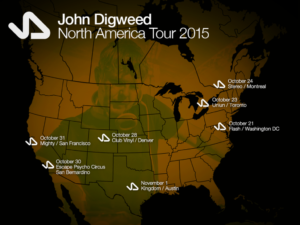 As long as I wake up with the same passion I had when I started.
What are your thoughts on the EDM vs the House Music Scene?
There is room for both, if everyone played the same music it would be boring.
Any up and coming DJ/ producers we should be keeping a lookout for?
I like a bunch of different ones. Look out for Montel, Eagles and Butterflies.
Which events or clubs in Denver are some of your favorites that you've ever played?
I have been lucky to have played all of the clubs and big parties over my career in the Denver area. Each has been special in its own right so hard to pick one out as the best but I always have a great time in Denver.
Do you prefer playing large arenas or smaller venues?
I like the fact that I play different venues every single week as it pushes you as a DJ.
What do you like to do in your off time?
Sleep 🙂
Any items on your Bucket list that still need to be checked off ?
Swim the english channel.
What will be the next big thing to change the dance music scene as we know it?
No idea! I think its better to follow the music you love and play with passion and just see what happens next.
Is there still an "Underground" music scene? Especially with the Internet, is there still room for a more subversive environment in dance music?
The underground scene is bigger than ever you just need to search it out as its not in your face.
If you could have a superpower what would it be?
Time travel between countries.
Your label is called Bedrock—how did you choose the name?
A bedrock is a a solid foundation to build on.
Don't miss Digweed set, BUY your tickets before they sell out