The long awaited revival of the cult classic "Wet Hot American Summer: First Day of Camp" has been released on Netflix – and it brought its original comedic ensemble along with it. The series acts as the prequel to the original 2001 film, which was considered somewhat of a flop by critics, nearly two decades later. The storyline, however, remains the same, and follows the same troupe of misfit counselors enjoying their time at camp in the summer of 1981.
In the original film, the cast was made up of actors who, at the time, were highly unknown to the world of entertainment and nearly all of which hadn't yet had their big break. It included young talent like Amy Poehler, Bradley Cooper, Paul Rudd and Elizabeth Banks, to name a few, all of whom are back.
Within the near two decades since, the original cast has acquired Oscar nominations, Emmy wins, SNL status and more. And so, it only seems fit to make room for the next generation of comedic talent, and to debut the many new and young stars among the series cast.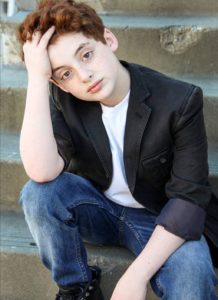 That leads us to Thomas Barbusca.
At only the peak of his pre-teen years, this young actor has a resume that would put actors twenty years his senior to shame. Following appearances on shows with some serious chops (he was even on "Grey's Anatomy") Barbusca joins the likes of Bradley Cooper and Paul Rudd for a trip back to 1981 summer camp.
He plays the kind of kid that leaves most of us dreading the concept of summer camp: the bully who pranks you in your bunk, mocks you in front of other campers, and worst of all, challenges you to a burp-off.
His insults are iconic, he swears all of his burps are real, and he's only just getting started.
303 Magazine had the opportunity to chat with the 13-year-old big shot, so here's a little bit of what he has to say.
---
303 Magazine: First of all, the celebrity status of some of these actors is incredible — there are Oscar nominees, SNL veterans, you name it. Despite trying your best to keep your cool around these actors, can you talk us through what it was like the first time you were on set with everyone for the first time?
Thomas Barbusca: It was super exciting. I wasn't nervous at all. I knew who everyone was and who'd be working with everyday. Everyone was so nice and introduced themselves and then we just got to work.
Obviously every single cast member is comic genius, but have you had an experience with one in particular that would crown them the funniest of all? 
My first scene on set was with Paul Rudd and he was so hilarious. My back was towards the camera  for that scene, which was a good thing, because it was hard to keep a straight face because he kept making us laugh.
Since you've been given the chance to work alongside so many people with so much experience in the acting world, what's the best advice you've received from anyone on set?
 It was such a cool vibe set. Everyone was really free to be creative with their character. And with the leads coming back to film this, they all really ran with that. You gotta do that though, on a series like this. I did a lot of watching and observing on set. Seeing how comfortable they all were playing 16 again was really fun and like an acting class. Working with all these amazing actors was a dream come true.
The '80s wardrobe, bad wigs and ridiculous dialogue has us as viewers laughing, but what about when you're filming those scenes? Do you ever have a hard time keeping a straight face when trying to deliver some of those lines? 
There were so many times I laughed. The scene with Michael Showater playing "Miss Patty Pancakes" was probably the hardest to keep a straight face in. The '80s clothes were amazing…those shorts were so short.
 And how is it working alongside the other actors your age who play the campers on the show? Does set begin to feel somewhat like real-life summer camp?
Working on this set was the most fun I ever had. It felt like being at camp with your friends. The first day we all became instant best friends and couldn't wait for our next day on set. We still all game together on Xbox.
What character, besides your own, is your favorite on the show? That being, the most ridiculous, funny, outrageous, what have you. 
Paul Rudd, hands-down, was my ultimate favorite. His entrance into the scene was epic! David Wain also blew me away. I didn't expect that from him.
 When the original "Wet Hot American Summer" came out, a large portion of the cast was just beginning and barely known in the industry, and yet here they are 15 years later as some of Hollywood's heavyweights. Where do you hope to find yourself in 15 years?
I hope to still be acting because it's what i love to do. Wouldn't mind having an Oscar nomination either. That would be awesome!
Do you plan on staying in the comedic route, sense you've proven to have some serious comedic chops already? Or do you hope to venture into some more serious stuff?
I absolutely love both. Comedy is definitely what I love and obviously am into now, but I also love digging into more complex roles.
Describe an average day on the set of "Wet Hot American Summer: First Day of Camp."
An average day on set would be driving to Calamigos Ranch in Malibu and getting into my stylish '80s wardrobe. Of course seeing all my costars and friends, maybe grabbing some craft services, and working on some school before starting our scenes. In between filming scenes we would run around and play. We never wanted to leave at the end of the day.
You've already got quite the impressive resume for an actor of your age. Can you tell us about what's next for you? What are some upcoming projects you're excited about?
I have a few exciting projects coming out soon. I'm most excited about "Preacher" for AMC. Seth Rogen and Evan Goldberg adapted and developed it from the Vertigo comic book series. The character I play is Chris Schenck. We shot it in New Mexico for two weeks and they colored my hair brown to film. Having Seth Rogen direct me was the coolest experience.
---
"Wet Hot American Summer: First Day of Camp" is streaming now on Netflix.