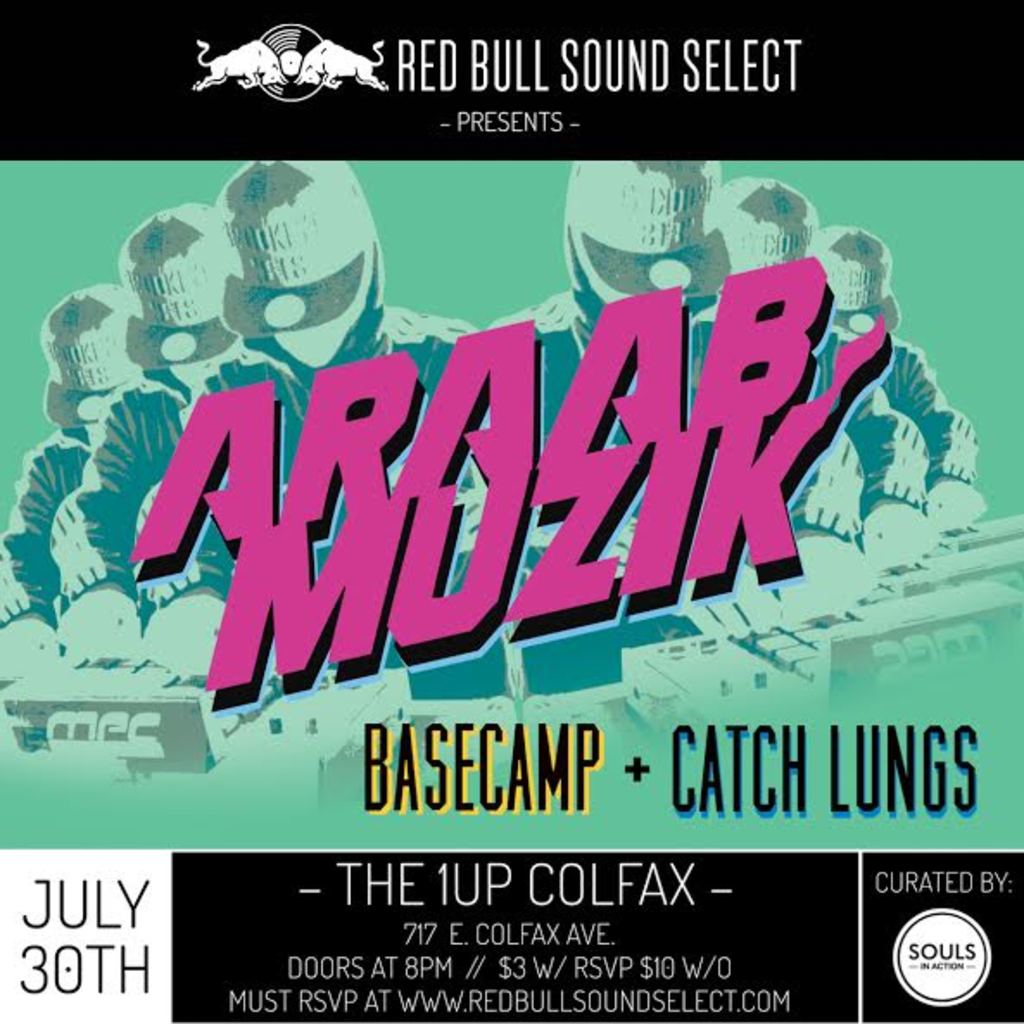 The second Red Bull Sound Select Presents: Denver event of the summer has just been announced and trust us – you're going to want to RSVP to this $3 show once you hear the lineup.
Curated by Souls in Action, this July installment of Red Bull Sound Select's monthly showcase in Denver will be on Thursday, July 30 at 8 p.m. and will feature some of the best in the hip-hop and electronic genres, taking place at The 1up – Colfax.
Headlining this event will be record producer and DJ, AraabMUZIK. An American from Rhode Island, AraabMUZIK – also known as Abraham Orellana – is the "MVP of the MPC" after showcasing his rhythmic drum patterns and melodies on a Music Production Center (MPC) drum machine. AraabMUZIK's live set is something not to be missed. After he stops by Denver, he'll be off to New York and even Croatia, so be sure to RSVP to check him out while he's in town.
Also performing at this month's curation is Nashville group, BASECAMP. BASECAMP offers a groove-electronic sound and has even remixed Sia's "Chandelier," which you can listen to here. https://soundcloud.com/basecampmusique Finally, local hip-hop artist Catch Lungs will round out the lineup, performing new and old favorites that we're excited to hear on stage once again.
Red Bull Sound Select hosts these events in 10 different cities throughout the nation. Tickets are only $3 giving fans the chance to experience live music from local and national artists in intimate settings.
To attend a Red Bull Sound Select performance, all you have to do is RSVP, pay the small fee and get in line at the event. Entry is first-come, first-serve.
EVENT:
Red Bull Sound Select Presents: DENVER 
featuring AraabMUZIK | BASECAMP | Catch Lungs
Curated by: Souls in Action
DATE:
Thursday, July 30
LOCATION:
1up – Colfax: 717 E Colfax Ave.
TIME:
Doors at 8 p.m. | Show at 9 p.m.