Oh, barbecue. The aroma of well-seasoned meat being smoked low and slow is impossible to resist. But, admittedly, barbecue is not a Colorado staple and finding options in the Mile High that fulfill those warm-weather cravings can be a tough task.
Barbecue comes in many regional varieties, and everyone seems to have a favorite. That's why we've rounded up three options that offer very different spins on this classic summertime cuisine. And while each choice is unique, they've all got one thing in common: these restaurants are dishing out some seriously delicious barbecue.
Kitchen Table Cafe
What: Kansas City-style barbecue made from scratch using only natural meat, non-processed ingredients and organic vegetables whenever possible.
Where: 1426 E 22nd Ave., Denver
Neighborhood: City Park West
When: Tuesday – Saturday, 11:30 a.m. – 8 p.m. (or until sold out)
The Low Down: Though this restaurant's atmosphere is decidedly simple with sparse décor and food served on thick paper plates, the flavors from Owner Dave Kilroy and his staff are anything but plain.
Walking inside, you'll be greeted by a simple menu board and a counter where you place your order and are immediately handed a plate of piping hot food. Recently, the menu changed from à la carte selections only to one that now consists of plate and sandwich meals (each served with one side and a biscuit). Now you can score favorites like burnt ends ($21.99 for a brisket and burnt ends plate) and tender, smoky ribs ($12.99 for 1/3 rack plate, $24.99 for a full rack) any day of the week. Sauces are kept at the tables in large bottles with both the traditional Kansas-city tomato-based style and, my personal favorite, a mustard-based Carolina-style, both available in original and spicy varieties.
Side options here are ample and include all of the staples like creamy mac and cheese, collard greens and thick, home-style mashed potatoes, as well as an avocado kale salad, served with your choice of house made dressing — if you're craving something lighter. Kitchen Table Cafe also offers a changing daily special of the non-barbecue variety so even if you're not in the mood for smoked meats, you can still indulge in this made-from-scratch comfort food.
Pro Tip: Several of the sides change seasonally, so be sure to ask what's new. Coming soon: Palisade peach crisp.
Jabo's Bar-Be-Q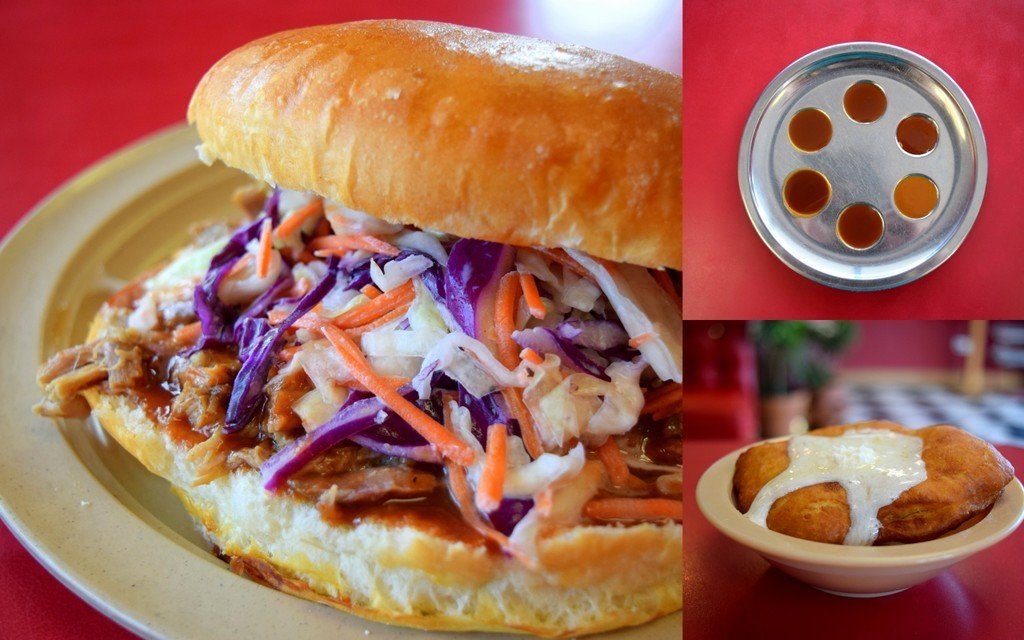 What: Owner Dwight "Jabo" Lawson is an Oklahoma native with a recipe straight from his Louisiana roots resulting in an inimitable take on barbecue. Making this pick even more unique is Jabo's 20+ sauce options including decidedly non-traditional flavors like the popular mango variety.
Where: 9682 E Arapahoe Rd., Greenwood Village
When: Tuesday – Saturday, 11 a.m. – 8 p.m.
The Low Down: Located in the southern suburbs of Denver in small strip mall with an unassuming sign that simply reads, "Jabo's," this pick can be easy to miss. But don't let the plain exterior or outdated bright red booths and checkered floors inside dissuade you.
Walk inside, and you'll be welcomed by employee Tony Nelson, a soft-spoken man who may seem timid at first, but is full of enthusiasm for the eats that Jabo's serves up. Behind the counter or manning the smoker in the back, you can find Jabo himself, ready to tell his customers anything and everything about his particular brand of barbecue. And if you're a newbie, you'll also be greeted by a plate with tastes of Jabo's homemade sauces so you can pick your favorite and choose your preferred spice level for a totally customizable experience.
Prices can run a bit high here, but as the menu denotes, portion sizes also run big. Jabo's offers all of the classics: brisket, pork, chicken and ribs, as well as house specialties like the customer favorite Jabo dog ($12.50 for a ¼ pound hot dog topped with ½ lb of your choice of meat). The sandwiches, though, have to be seen to be believed. Covering most of the plate they're served on, you'll get a five inch soft challah bun made fresh daily and piled high with your choice of meat. My personal favorite is the Carolina ($11.95) featuring pulled pork topped with coleslaw which makes for a filling meal on its own. Add a side of the beer battered fries ($3.75) for an experience that definitely requires a nap afterwards.
Pro Tip: No matter how full you are, do not skip the Utah "sconuts." Made with a family recipe from Jabo's wife, Susan Lawson, these small doughnut-like treats covered in luscious homemade honey butter that are well worth their $2.50 price tag.
Roaming Buffalo BBQ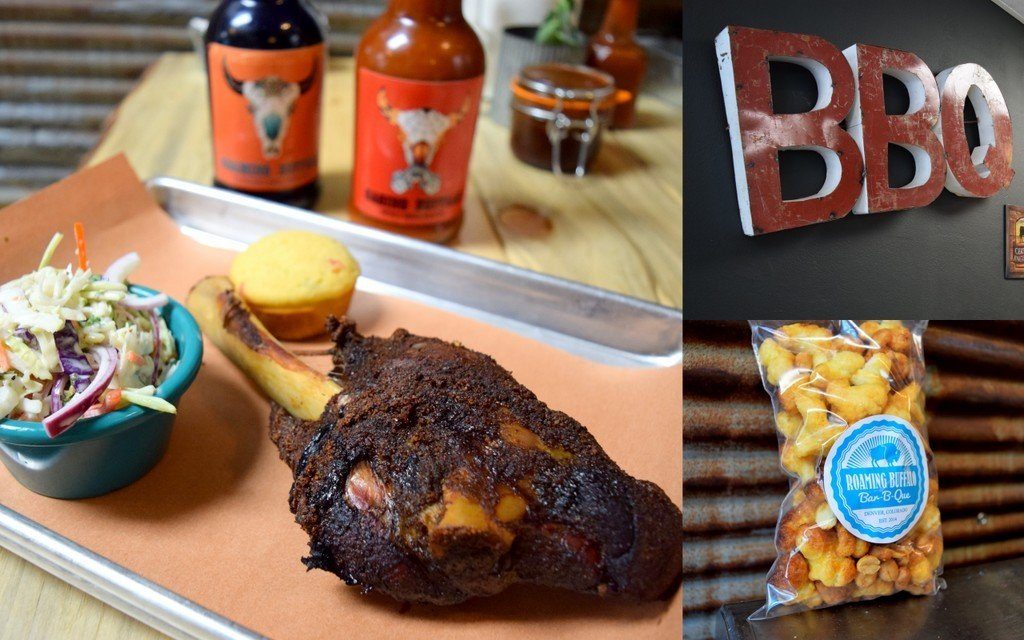 What: A newcomer to the scene that aims to bring back the forgotten tradition of "Colorado craft bar-b-que" with a focus on local meats like bison and lamb.
Where: 2387 South Downing St., Denver
Neighborhood: Harvard Gulch/University
When: Tuesday – Sunday, 11 a.m. – until sold out
The Low Down: Though this restaurant has only been open for seven months, those in the neighborhood and beyond have embraced the vision of husband and wife owners Coy and Rachael Webb. While Coy was raised in Texas, he and Rachael, a Colorado native, are not dishing out Texas-style barbecue. Instead, they're serving up "Colorado craft bar-b-que," an idea that's embodied in dishes like their Colorado lamb shank plate ($15).
Meats are smoked low and slow in house, and sauce (available in original and spicy) is served on the side so that the flavors of the meat itself remains the star. And there's no shortage of meats to choose from including chopped lamb, bison ribs, chicken wings and housemade jalapeno cheddar sausage.
Though there are touches of country-style influence like the small bottles of hot sauce and sugar-laden iced tea sweetener on every table, the Webbs have also incorporated plenty of Colorado-centric touches. The walls are adorned with old Colorado license plates and sides like the cilantro lime cole slaw, smoked poblano cheddar mac and housemade green chili potato chips work in the state's penchant for southwestern flavors.
While Roaming Buffalo offers a handful of desserts as well, you'll probably be too full to indulge in them – but that doesn't mean you have to skip a sweet treat. Be sure to grab a bag of their addictive caramel corn puffs ($1/small bag; $2.50/large bag) made with bourbon on your way out.
Pro Tip: Head to Roaming Buffalo early on Saturdays and Sundays to score one of their $3 barbecue sandwiches before they sell out. Basically the barbecue version of a sloppy Joe, this budget-friendly option combines the leftover bits of beef, pork, lamb and bison with your choice of sauce on a simple burger bun for a serving of comfort-food perfection on the cheap.
All photos by Molly Martin.