What: A much needed addition to a neighborhood that's been craving a place that offers quality food, drinks and atmosphere for a long time.
Where: 1950 S. Holly St., Denver
Neighborhood: Virginia Village
When:  Monday-Friday, 11 a.m. – midnight; Saturday & Sunday, 10 a.m. – midnight
Pro: There's no freezer or fryer in this kitchen; everything is made with fresh ingredients. 
Con: Unless you live in the neighborhood, it may be a bit too off the beaten path for regular visits. 

Denver is full of trendy, up-and-coming neighborhoods that get a lot of press for the influx of new additions. Virginia Village is not one of those neighborhoods. Tucked away south of Glendale and off Colorado Boulevard and Evans Avenue, it's primarily a quiet, residential area. Dive bars, fast food and old school favorites are plentiful, but there's a serious shortage of options if you're looking for anything beyond the usual suspects.
But, on June 1, 2015, the neighborhood got a brand new option when Esters Neighborhood Pub opened for business. This week, Esters celebrated its grand opening, and we've got all of the details on why you need to check out this fresh new addition to the Denver dining scene.
The People
Paul Sullivan has lived in Virginia Village for 12 years, but even though he's always had a fondness for this area in Southeast Denver, he's always known  that something was lacking. Fourteen months ago, with his wife's blessing, Sullivan left a job he loved as a Beer Ranger for New Belgium Brewing and began work on his passion project: a restaurant and bar that would serve as a neighborhood gathering place.
With a team that includes General Manager Mike O'Brien, another former beer industry employee, and Executive Chef Robert Hyre, a former sous chef for True Food Kitchen, Esters Neighborhood pub is now a reality.
"I'm not reinventing the wheel," Sullivan said when describing Esters. And that's true, he's not. This is truly a neighborhood pub where the staff is focused on creating a relaxed atmosphere that's family-friendly and tailored to create a comfortable place for the neighborhood's residents to gather and unwind.
The Space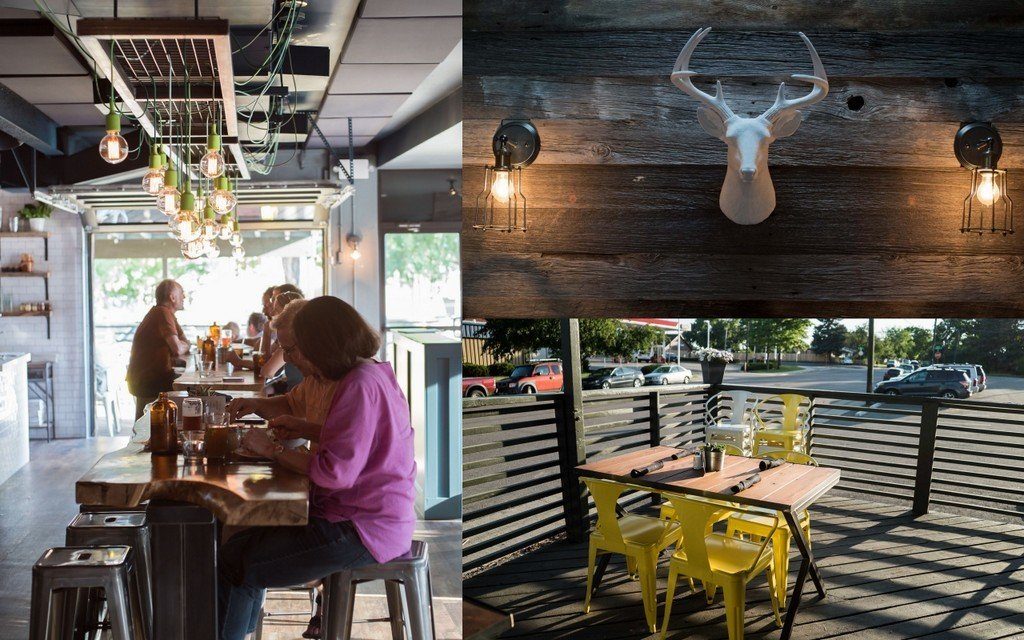 Esters is located in a small strip mall off of Holly Street and Evans Avenue in a space which was formerly home to a handful of bars that were the definition of dives. When the space became available last year, Sullivan immediately jumped at the opportunity to snatch it up. But, as is typical with first-time restaurateurs, the renovation process was a bit more intensive than expected.
The result, though, was worth the extra effort. Much larger than it appears from the outside, Esters is made up of three distinct areas: patio seating for dining al fresco, the main dining room and bar, and a back room complete with a second bar and several TV's including two 80" screens that are sure to make this a popular destination on game days.
The décor is filled with modern touches like the lime green lights that hang above the main dining room, but the elements are subtle enough that the space maintains a sense of easy style. It's noticeably trendier than any other option in the area, but not so much that it would make anyone feel out of place making this spot perfect for a wide range of clientele.
The Booze

With an owner whose background is in craft beer, is no surprise that the highlights of Esters' beverage program are the brews – currently 22 of them to be precise. The selection will change regularly with a local rotating tap and IPA of the month. The cocktails are simple – most have 3-4 ingredients, but they don't skimp on taste. The Potenza Park ($7), for example, blends Tanteo jalapeño tequila, fresh lime, cucumber and agave for libation that's both spicy and refreshing while remaining totally sip-able.
If you're only going to have one drink, though, make it a beer cocktail. Esters currently offers two – the Spiked Bike ($7) with Fat Tire, Peach Street bourbon, St. Germain and lemons and the Eudora ($6) with Ranger IPA., Bombay Sapphire gin, simple syrup and grapefruit. These drinks give you all the satisfaction of a sipping a cold brew but with the added bonus of a quick buzz. Esters also focuses on serving beverages in the appropriate (and branded, when possible) glassware – a touch that will have beer nerds all over smiling.
The Food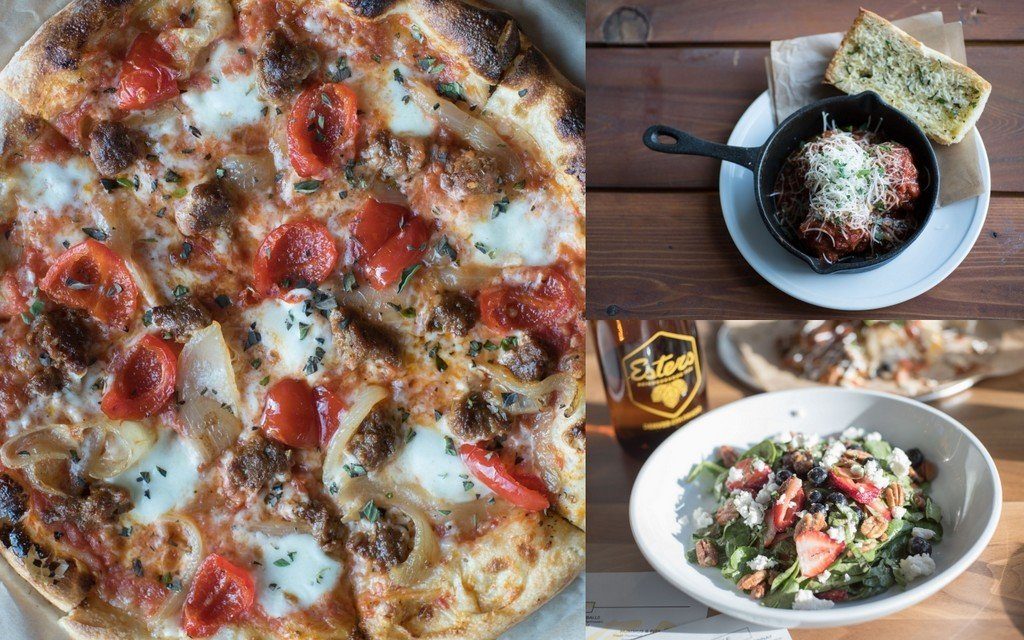 It's obvious after browsing the drink menu that Sullivan still holds a soft spot for New Belgium. And their influence doesn't just show up behind the bar. Tender pork braised in Fat Tire is the main attraction in the Fat Tire Nachos ($10), and is available as a pizza topping as well.
That pizza ($8-$14+) is available in 10 varieties (which Sullivan predominately named after Phish songs with a few Pearl Jam references thrown in by Hyre) as well as a create your own option. Cooked in a 700 degree gas-fired oven, the crust is light and flavorful, and with topping range from the usual, housemade sausage, pepperoni, mushrooms, etc., to more unique options like cream cheese, soft boiled egg, kale and Tender Belly pork belly, these pies are far better than your average bar pizza.
The menu is rounded out with additional starters: salads chock full of fresh produce, and sandwiches including the not-to-be-missed meatball sandwich ($10). Billed on the menu as DiMartino's Family Meatballs and available as an appetizer served with garlic bread as well ($9), this seemingly simple option is the epitome of what this dish should be. Flavorful, tender and served with a red sause that's better than my Italian great-aunt's homemade version (don't tell her), this is the kind of dish that keeps you coming back.
A kid's menu is also available, as are seasonal desserts, and you can expect regular changes to Esters menu as they get into the groove of service and work in customer feedback. This restaurant and its owner may be a newbies operating in untested territory, but Esters' impresses with consistently quality food and drinks and staff that's friendly and attentive.
All photography by Kyle Cooper.