Everyone has that Monday feeling of not wanting to get out of bed but what if instead it's a Thursday and Friday isn't soon enough? That pair of jeans and button down are making you feel even more drowsy and the act of putting on a tight skirt feels worse than all of the Game of Thrones spoilers on Facebook. One of the hardest parts of getting ready in the morning is figuring out what to wear but what if you could just as easily transform your PJ party clothes into everyday life?
The beauty of PJs, also known as pajamas, is all in the comfort, exuding both relaxation and probably a nap. Being able to wear clothes that allow you to take the day on can be easy when you add the right elements and probably a lot of coffee. We've all been there and will most likely be there again so why not take that hangover or cloudy day blues by the Long Johns? You know you want to.
6 Ways To Wear PJs Everyday
1. Stay Wrinkle Free
You don't want to look like you just rolled out of bed, even if you did. Making sure you keep things de-wrinkled is the key to rocking your favorite casual wear all day. The 2015 version of a muumuu is a great way to stay comfortable and can literally be worn from the moment you go to sleep through the next evening. A belt will balance out the look and with the help of a steamer, any piece of clothing can make their move outside the likes of your bedroom.
If you prefer a boyfriend's shirt or oversized button down, the belt and wrinkle free rule also applies. Try out an oversized belt or pair a chunky necklace to make this shirt turned chic look office ready. Any piece of clothing can work with the addition of a few key accessories and the best bed head you can do on accident.
2. Mix and Match Patterns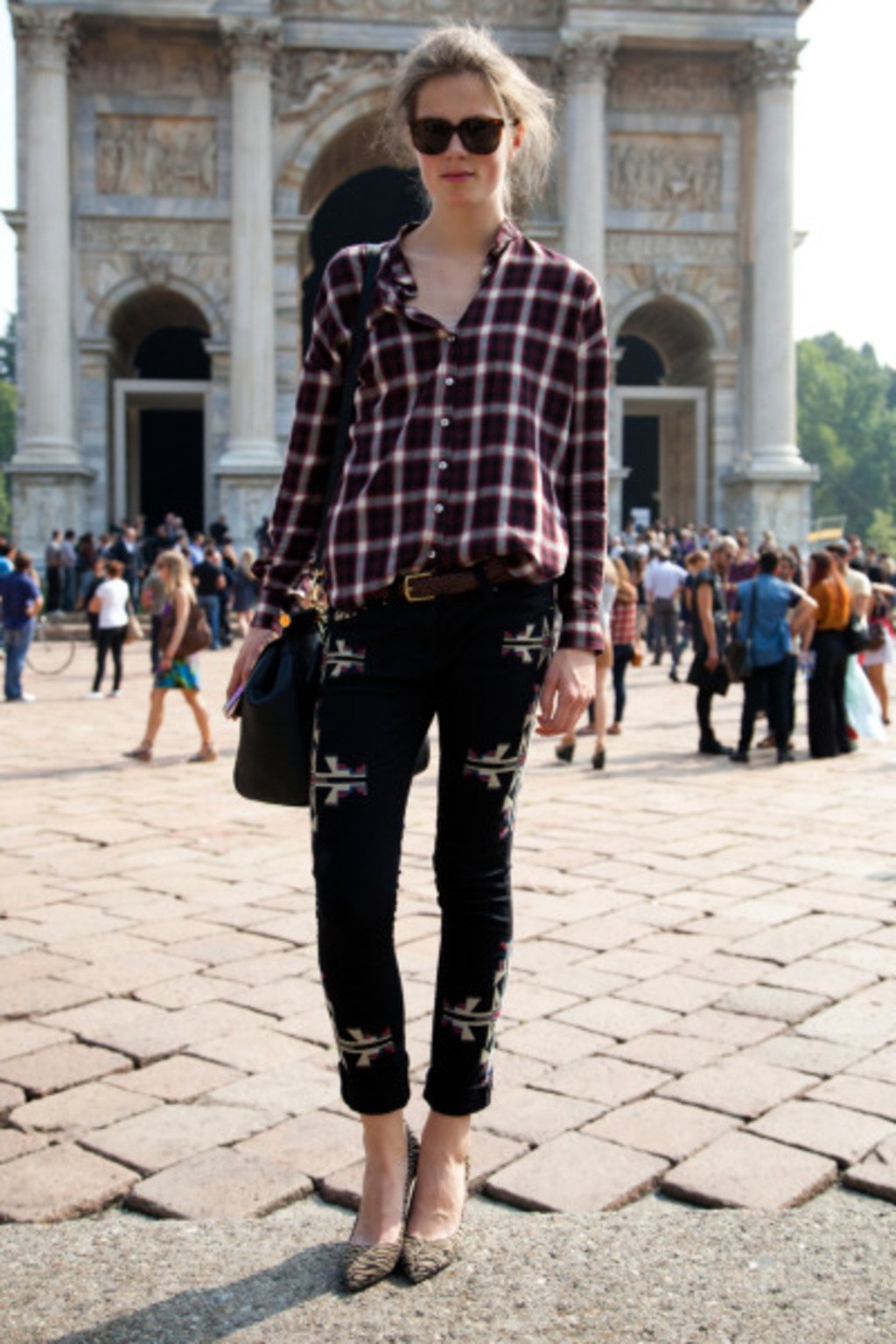 A fun floral top with a pair of striped lose pants will not only make any outfit stand out but also mask all amounts of coziness. Structure meets straight lounge vibes in any piece with just the right amount of flow. Found the best silk nighty in the sleepwear section of Target? Tuck it into your favorite skater skirt and call it a day.
Color blocking also works as long as you don't include stains from last night's dinner. Don't be afraid to add a few pops in your outfit but make sure you pay attention to structure when you start mixing.
3. Material
It's well-known that clothes meant for sleeping are probably woven with the most comfortable fabrics but after many a night in dream sleep, the extra softness that comes with it can meet Teddy Bear standards. Finding the pieces that both fit and feel right is much more important than where you got them from. Any top can easily belong in an office setting with the addition of a few other materials like silk or lace. They are just as comfortable to sleep in and will happily stay on the remainder of the evening with your favorite cropped pants or midi skirt.
4. An Extra Element
Woke up on the wrong side of the bed this morning? Try making the day better by adding a little something extra to your outfit. Pair a leather jacket with your oldest, most worn T-shirt or heels with a sweatshirt. If you're one of those who likes to go all out with your sleepwear, taking the look to the next level of Snuggie is all in the decoration you bring to it. Don't be afraid to mix it up and rock it daily.
 5. Layering
Refined style can be many things but one of the best ways to work any outfit is with the right layers. A long sleep shirt can be great under a blouse, an old sweatshirt the perfect layer over a button down. It's all about ensuring your comfort level matches your style and there is no better way to make these pieces ready for daylight than as a piece of an even better outfit.
Try mixing a pair of floral pants with a loose top and your favorite shoes for a relaxed street style feel. A pair of heeled boots or wedge will also bring together a bed head ready look with ease.
6. Balance
If you want to wear your favorite pair of flannels out on the town, pair them with a structured top and booties. It's all about finding a way to make the most comfortable of all pants a fashion statement as well as a practical look for any occasion. It's easy to get caught up in a mid-week lull but don't be afraid to create comfort in your clothes. Who knows you may even find your PJ drawer getting more wear than the rest of your closet.
What are your favorite pieces you could wear to bed and to work? We'd love to hear from you!
Related article: How To NOT Wear Pants