On Thursday June 25, 303 Magazine's first Poolside Fashion Show of the season will premiere, showcasing this year's hottest trends in swimwear. The magazine has paired up with swimwear experts Swim'N Sport once again to help every lady find the perfect swimsuit for her, and especially her own body type.
Swim'N Sport, located in the Colorado Mills Mall, is the leader of fashion-forward swimwear for all shapes and sizes. It offers hundreds of styles from the traditional bikini, to the bandeau, the monokini, all the way to full-on swimdresses. During Thursday's show, it will showcase a total of 30 trends, but we've put together a list of trends you should especially watch out for.
5 Swim 'N Sport trends to look at for on the Poolside Fashion Show runway 
1. Cut-out Monokinis      
Not everyone is comfortable with strutting their stuff in an itsy-bitsy bikini and that's okay. For those of us who fall into this category, but are sick of the one-trick pony, traditional one-pieces. Monokinis, such as the Kenneth Cole one at Swim 'N Sport pictured here, are a great alternative. Whether your one piece swimsuit is completely black, other monochrome scheme, or in a bold summer print, one thing is clear: cut-outs are in.
Smartly placed cut-outs on these one-piece swimsuits enable you to step outside the boring one-piece swimsuit box and add a subtle, sexy twist that plays directly into your feminine mystique. Embrace your mystique by purchasing a monokini with flattering cut-outs. It's a great way to emphasize the areas on your body you want to show off, while still enabling you to stay as modest as you'd like.
Swim'n Sport offers these cut-out swimsuits through its Kenneth Cole, Jessica Simpson and Bleu Rod lines. They are available in many different colors, patterns and cut-out styles. Pair them with a large, floppy hat, sleek sunnies and a pair of wedge heels to complete the look. A cover-up isn't necessarily essential for this type of swimsuit, but wearing a skirt instead of a full cover-up enables the swimsuit to transform into a sexy, backless top.
2. The Bold Summer-print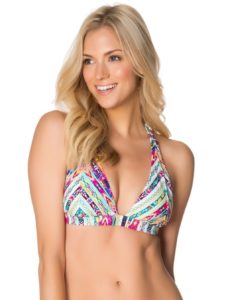 Summer is the season of wild prints. While this trend may come as no surprise, this year's print trend has taken it to an even bolder level. Swimsuits of all styles and sizes this season are painted in hues of bright pinks, yellows, blues, greens and purples. The patterns are a bit nostalgic of tribal-wear, or of the tropical islands, as in the Jessica Simpson "Totem" top seen here, but the brighter colors give the patterns a more playful pop.
Other prints that are popular in the swimwear department this summer include: a blending of animal skins, such as leopard with tiger stripes and/or snake skin; black and white patterns; and Spanish-influenced patterns against a solid black background. Kenneth Cole's collection at Swim'n Sport offers a beautiful asymmetrically-patterned animal print bikini, as well as the tribal-wear patterns in many different styles. If black and white, or the Spanish patterns whet your appetite, the La Blanca line is the line for you.
The bright, bold prints allow the swimsuit to speak for itself, so any accessorizing should be minimal. However, the plethora of colors in these swimsuits opens the door to many possibilities for whatever accessorizing you choose to do. Neutral colors will bring the swimsuit into the foreground of your outfit, while brightly colored ones will help it to blend in. Either way, these are the suits to have fun with!
3. The Flouncy Top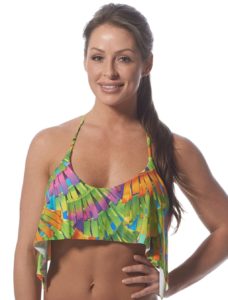 Continuing on with the tropical island print theme, many designers have moved toward an airy, frilly top in their two-pieces, such as the Trina Turk "Polynesian Palms" top seen here. These tops are fun and playful, and also give a nod to the tops you might see on a dancer performing the traditional dance from one of the Pacific Islands. This fresh cut steps away from the traditional bikini top, allowing you to stand-out against the crowd, and also offers a bit more modesty for the twins.
The patterns and prints on trend for the summer work great with these tops as it gives them some movement and really allows your suit to come to life. Trina Turk and Jessica Simpson's lines at Swim'n Sport both offer these flouncy tops in several different styles and patterns. They're perfect for the flirt in all of us.
Pair these tops with big beach curls in your hair, or over-sized sunnies and a nude or pink lip. Most importantly though, it is essential to have fun in these tops!
4. The Skirted Bottom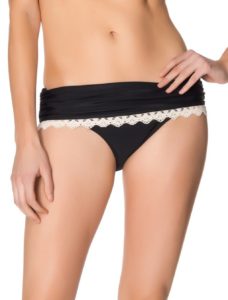 This year's two-piece swimsuits are all about stepping outside of the traditional and the expected. Across the board, designers have stepped away from the string bikini, and moved toward a more versatile, feminine design. This movement remains true even in the lower portion of their swimsuits. Bottoms, such as the Jessica Simpson "Boho Skirted Bottom" seen here, now come with a skirt around the band, perhaps in a nod to retro trend that has taken over fashion recently.
The skirt length ranges from a thicker band, all the way to an actual mini-skirt to sport at the pool. The delicate trimming along the edge adds an extra touch of feminine class to any suit. These bottoms are perfect for any body type, and the length of skirt allows you to choose how much cover up you do or don't desire. Jessica Simpson, La Blanca and Bleu Rod all offer skirted bottoms of varying lengths, styles and patterns.
Pair these with some boho sandals, or kitten-heels and cat-eye sunnies, to give your suit a more retro feel. If you're feeling bold, rock the red lips and victory rolls for the full on pin-up look.
5. The Tunic Cover-up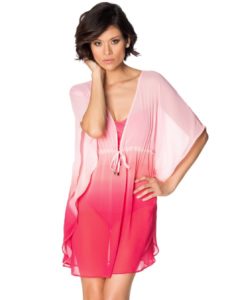 Having a cover-up in your wardrobe is a summer must for going to and from the pool or beach, especially if you're traveling. At the bare minimum, it allows you to enter different establishments per their dress code, however, they also allow you to pull together your poolside look in a chic and effortless way. Plus, they are the perfect coolness for summertime.
This season's cover ups are all about the tunic look. Every single line at Swim'n Sport offers different tunics to pick and choose from. They are available in every print from the line, if matchy-matchy is your thing, or they are available in a more universal palette, such as the one seen here from Bleu Rod.
These tunics are also great for anyone and everyone, as they look fantastic on every body-type. They come in cotton and chiffon fabrics, as well, to offer any range of cover you desire. The tunics can be dressed up with heels and jewelry for the nighttime or a fancier poolside day-event, or dressed down with gladiator sandals and sunglasses to keep it casual throughout the day.
Purchase tickets to the Poolside Fashion Show NOW before they sell out!