What: Deals on playful comfort food.
Where: 1001 Santa Fe Dr., Denver
Neighborhood: Santa Fe Arts District
When: Everyday, 4-6 p.m. & midnight-1:30 a.m.
Pros: Everything on the happy hour menu costs $4 and under, but there's nothing cheap about the flavor-packed options.
Cons: The beverage side of the happy hour menu is limited to mainly lowbrow options – but for fans of plentiful and cheap PBR, Olympia, and whiskey shooters, this can be a good thing.
When you're on a road trip to wherever the pavement takes you, there always comes a point when nothing else will do but a hot, satisfying meal and a cold drink (preferably containing alcohol). When you reach that point, Interstate Kitchen & Bar is the place you hope you stumble upon. Thankfully, it's right here in the Mile High, so you can fulfill your cravings without racking up much mileage.
The Atmosphere
There's a thin line between tacky and trendy when it comes to themed décor. But Interstate Kitchen & Bar manages to turn road-trip inspiration into a fun and refreshing style with details like the hubcaps piled by the dining area and funky light fixtures made from a variety of Bundt pans contrasted with modern inspiration like the aqua paint that brightens up the bar area. Plus you can color on the paper-covered tables while you wait, a bonus that will bring you straight back to childhood.
With hints of a diner-like setting, Interstate is laid-back, but it's fresh, clean style makes the experience special. Whether you're grabbing a bite in the open dining area or enjoying with a cold one on one of the bar area couches, expect an ambiance that's all about relaxation and comfort.
The Food & Drinks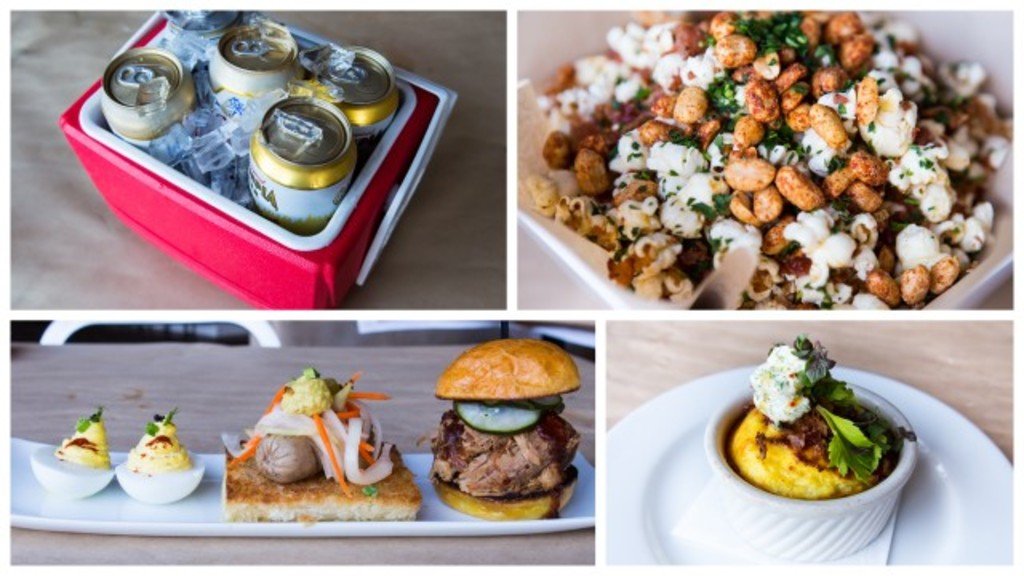 There's something both nostalgic and adventurous about taking a road trip. At Interstate Kitchen & Bar, the food evokes those same feelings, and you can sample a selection of its eats at happy hour for just a few bucks.
But first, you'll need a drink. Interstate's happy hour beverage selections are basic, but these choices are just right if you're looking for simple, no-nonsense refreshment. The best deal is the cooler of cold ones ($9), five cans of beer (barkeep's choice) served on ice in a mini-cooler. Add a $3 whiskey shooter and you'll be ready to let the stress of the day slip away.
All of Interstate's happy hour eats are both cheap and tasty. Start with a few $1 deviled eggs, or order a snack or the table and go for the heaping bowl of salty bacon popcorn tossed with spicy peanuts ($3). One don't miss item is definitely the "lap dog"($2). This mini-bratwurst is served with tangy house-made giardiniera and deli mustard, but what really makes this dog stand out is the fact that it's served on a toasted, buttery, crust-less slice of bread – a truly genius switch from the typical bun.
The food here is familiar, yes, but it's made with care and thoughtful tweaks to the classic recipes like the fried pickles ($4) that are made with big, thick slices of pickle instead of the typical thin, overly greasy version you find most other places. One not-so-familiar choice for Colorado, though, is the spoon bread ($4). A super rich, cornmeal based dish that's popular in the South, Interstate's version is served with chili honey and herb butter for a unique happy hour snack.
With food that's made from scratch, cheap drinks, and a quirky, fun ambiance, Interstate has your next happy hour outing covered.
All photos by Camille Breslin.