A ballerina with Grinch-like hands backbends in lavender light. A quadruped stilter examines a contortionist from above. A performer in an accordion skirt manipulates a Cyr wheel. Two aerialists dangle from a metal apparatus. An inverted hand balancer nails the splits. A fire artist wields flaming fans. Red lasers emanate from a dancer's fingertips.
Kansas City's Quixotic does not resemble its earthly origins. The envelope-pushing multimedia troupe fuses electro-acoustic music, physical performer artistry and cutting-edge technology like few others. The collective was selected to open for extra-terrestrial beatsmith Tipper's Red Rocks debut this Saturday. It's certain to be right at home on the outdoor amphitheater's Martianesque landscape.
303 Magazine quizzed Quixotic dancer Beau Campbell about the collaboration process, passport adventures and interacting with light.
What's your dance training and background?
Mostly classical ballet. I started in musical theatre when I was young. There's dance in musical theatre, but it's limited, Broadway-style dance. From there, I went into jazz and ballet at a small studio in Malibu. I was immediately picked out. When I was 13, I got into the School of American Ballet's summer intensive in New York. I went for three summers in a row. I had private training with a couple dancers from the New York City Ballet. Within all of that, contemporary and ballroom in moderation.
How did you get involved with Quixotic?
Out of high school, I got a contract with Ballet Arizona. Ballet Arizona's director staged Romeo and Juliet at the Kansas City Ballet. The following season, he brought some Kansas City dancers back to Arizona. One of them was Chelsea Teel. Teel had started dancing with Quixotic when she was in Kansas City, and continued to do so even after she went to Arizona. She kept telling me I would love it. I'm definitely on the ballet side of things, but I'm constantly going to electronic music concerts and seeking new experiences, new kinds of art. Chelsea thought it was right up my alley. She introduced me to [Quixotic founder] Anthony. That was kind of it. I only did four projects with Quixotic over the past four years, but always stayed in touch. Last year, I did Quixotic's New Year's Eve show in Kansas City. I just thought it was such a high caliber show. I was shocked at the level of art and culture and fun. I'm also a yoga instructor. Quixotic is involved with a lot of festivals that do wellness and classes. Wanderlust is one of the biggest. Quixotic said, 'Let's send you to all of the Wanderlust festivals. You can teach, you can dance.' I came last June with a summer contract, and I ended up staying.
What's the Quixotic collaboration process like?
It's different for different projects. The most recent tour that we just did was Gravity of Center. That was a show that was self-produced by Quixotic. It was quite a big undertaking. It starts with an idea, then it goes into character development and act development and scenery. There's meetings with the dancers and meetings with the production. I sat in on a production meeting yesterday. Some of the projects are different. We do a lot of corporate events. We did a jewelry launch for Bulgari in China. It was a completely custom piece. They wanted custom animation, custom choreography and custom music. [Quixotic violinist] Shane started with the music. I started choreographing. They filmed me, then the animators started animating. Then I re-choreographed some things, then they finished the music. It always starts at a different place. Sometimes we start with the music. Sometimes the music isn't composed yet, so we have to start with projections or an idea or a concept or a movement.
What about costumes?
We have several costume designers. Erica Sword does most of the costumes. She's at the Quixotic space quite a bit. We have vision boards that we kind of pick from. The core group of dancers, we all are completely different. It's hard to create a uniform look, cause we have to consider how all of our bodies are gonna look in it. Some of us are aerialists and some of us are more balletic. A lot of layering. [Quixotic founder] Anthony likes to go in the costume shop and accessorize. Then makeup and hair makes it look like cohesive craziness.
How do choreography and projection technology intersect? Tell us about dancing with light.
Sometimes it's difficult. I choreographed most of the Bulgari one first. It was odd. It was based off of diamonds, so I knew how it was gonna start and what they were gonna look like. In my head, I'm doing these moves. Now I'm gonna make the diamond get bigger and launch over here and then it's gonna explode. And sometimes the animator didn't do exactly what I thought was gonna happen. Either it looked cooler, or I would tweak my choreography to match it better. Half and half. And we really do have to practice quite a bit. We have a lot of rehearsal for that, because it's important to be on your marks and know when a light is going to appear so it looks like you're creating it. We're trying to manipulate it, rather than it just looking like a backdrop or some kind of lighting. Sometimes the projections are behind us, and that's a little more difficult because you really have to use your peripheral vision. Sometimes, with the scrim, it's pretty disorienting with all the lights. It's one of my favorite things to do. And it's one of the things that's unique to Quixotic.
Is it always choreographed in advance? Or is there any live interactive performer/projection technology?
One of the guys sets up an Xbox Kinect. Sometimes he has a pad and he's drawing as we're moving. So he's reacting to our movements. We were playing around in the studio with floor projections. It was really fun because it was tracking my movements. So I'd hit the ground and the light would just explode. We try all sorts of things and use all sorts of technology.
What act or routine means the most to you?
The Gravity of Center show. It was probably the most conceptual thing I've done. A lot of the other things are for festivals, so the pieces don't come together in a storyline. This one really had more a theme, so you can get lost in it a little more. You can really project to the audience or create your own little world. Andrea Schermoly, a former dancer with Nederlands Dans Theater, choreographed a piece. Honestly, it was something I would do in a professional contemporary ballet company. It was at that caliber. It was really hard and really fun. And I'm not an aerialist. I take classes and I like to do it. But I got to do a harness scene. And there were four girls spinning me around the stage and doing backflips. That was really fun, getting to work with a rigger and flying though the air in the huge theater that we were performing in. It was kind of scary at some points.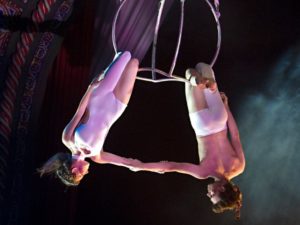 Nutrition or fitness regimens?
I am definitely into all-around health and wellness. As a yoga teacher, you learn about treating your body like a temple. I do a lot of yoga. I practice at home all the time, I teach as well. I like to mix it up. I go the gym, I swim. We all take ballet two or three times a week. We're keeping our technique up in that way. It's kind of hard for me not to move, so always trying new things.
Nutrition-wise, I'm vegetarian. There's a couple vegetarians in Quixotic, but I think I'm the only dancer that's vegetarian. I have been for over 10 years and I was vegan for a couple years. So I know a lot about how to get what I need. I'm all about the whole foods. Fruits and vegetables, no processed shit. I watch a ton of documentaries. I'm from California. With this whole drought thing and the cattle industry ruining our air and water, it really bothers me. I try to buy organic and eat mostly whole foods. Megan and I are the snack people on all the tours. We always have nuts, and we cook things we can bring with us.
Does the collective have any backstage rituals before or after performances?
Mica always walks around and high fives everyone. We usually have a team meeting beforehand and talk through the show. Make sure everyone's on the same page, get our energy channels together. After shows, we do a lot of meet and greets with the audience. It's awesome to see people's reactions and ask questions and get feedback.
How does Quixotic decide when to enlist guest performers?
It depends. If we're being hired by a client, sometimes they have very specific wants. 'We want aerial, we want fire and we want a hand balancer.' When we're conceptualizing a show, they love having a variety. We work with vocalists and several types of circus performers that fit the vibe. The more variety and diversity that they can bring in, the better.
What stamps are in the Quixotic passport?
In this one year, I've gone to Canada. One of the Wanderlusts is in Whistler and another one's in Montreal. I went to China. We went to Haiti in December. It was crazy, one of my favorite trips. Several people have been to the Middle East. I know they did a show in Oman and India. A couple people are headed to Puerto Rico after our Red Rocks show.
Have you been to Red Rocks before?
I love Colorado. I've driven through all through Colorado, but I've never seen the amphitheater. When I heard we were booked there, I think I screamed.
What does the horizon hold?
Anthony and I started a sub-brand of Quixotic called Aura. It's mostly yoga, but it's workshops and retreats and events that have art tied in with wellness. We just did a whole weekend at Woodside in Kansas City. We did a blacklight yoga class. We had glow paint and blacklights everywhere. Then we did Vinyasa and Violin. Shane played live violin and we had 60 floating candles.
Quixotic warms up for Tipper at Red Rocks this Saturday, May 16. For further information, QuixoticFusion.com.