This year's Campout for the Cause, the 7th-annual event put on by Bonfire Entertainment to be held May 22-24 at Rancho Del Rio, promises to be better than ever.
In addition to being a music festival, this event features workshops about sustainable living, yoga classes, camping and all funds go to conserve land in Eagle County. To get the inside scoop on this distinctly Coloradan festival, 303 spoke with founder Scotty Stoughton to fill you in on some hot tips about this event.
1. 100% of the Proceeds go to charity.
That's right, Campout for The Cause doesn't keep a penny of the funds for profit. "We donate 100 percent of the net profits – all profits will be donated. Everybody gives a lot to create this and comes together to put on this festival, and engage on a spiritual level," Stoughton assures us. "We support three different non-profits and they tie into our mission statement of how to preserve open space and provide the public with the economic value of leaving places open for now for future generations."
2. This event is all about harmony with nature.
Of course, attending a beautiful outdoor festival or going on a campout should fill you with awe for the natural world, but sometimes this gets overshadowed by the music, the good times or the company. Campout for the Cause makes sure that nature is center stage, and that not only are you enjoying the natural world, but you are also learning how to contribute to it. "The campout is located right on the Colorado river and surrounded by natural wilderness," Stoughton said. "There will be an opportunity to learn about local conservation and how to bring some of these local topics home and include them in your own community and your own backyard."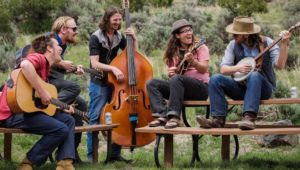 3. You'll learn here but you won't be fed an agenda.
Naturally, Campout for the Cause hopes attendees are in favor of environmental conservation and interested in how to live a sustainable lifestyle, but it doesn't want to push its agenda on anyone or force opinions. Rather, it's interested in opening up an honest dialogue about the issues Campout touches on. "The campout is not about pushing our message onto people. It is more about having a platform to teach people and give them a chance to ask questions," Stoughton claims.
4. You can do yoga right on the river.
All yoga enthusiasts know that doing yoga outside feels wonderful and at this event, you'll have the chance to stretch out right on the river while taking in some amazing views. "We camp on the river and have a huge yoga platform that's right on the river," Stoughton said. This is bound to provide all yogis, from the novice to the most experienced, with newly refreshed sense of wonder for the art form and the world around them.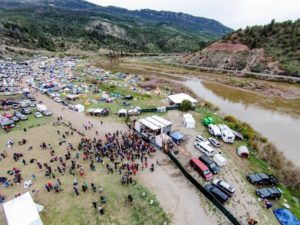 5. You can take away practical things from the event, such as information on sustainable business practices.
Campout for the Cause is a big party, and also all about getting back to the basics, but it is also rooted in practicality, as you will learn things at these workshops that can be carried back into your everyday life. "Campout for the Cause will be providing an opportunity for people to expand their knowledge base about permaculture, " Stoughton said. "It is a very modern environment to learn about sustainable business practices. We'll be adding a bench out there as well as some things people designed last year. It is all about working with rather than against nature." For those interested in sustainable building or going back to the office with some green tips, this is a great place to start.
6. This is a good chance to unplug from the electronic world.
Modern convenience is great, but there are times when we need to unplug and step away from the world of constant emails, texts and online browsing. "Cell phones don't work out here, and you can walk to all workshops, stages and clinics," Stoughton explained regarding the setup of the event. "It is very small, only 1000 people a day, and there are no walls. It is creating a ripple effect so people bring that connectivity and creativity back to their communities."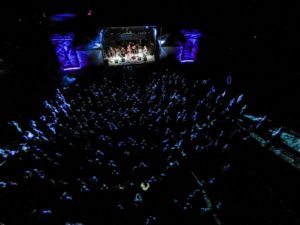 7. Bonfire Entertainment does other events here and in California.
In addition to this awesome event, which is currently in its seventh year, Bonfire Entertainment puts on Winter Wondergrass, a bluegrass and camping event that happens both here and in California. They are a growing company, and hope to expand to some other events as well in the future.
8. This festival will keep growing and get bigger every year.
"Campout for the Cause definitely has plans to continue all festivals into the future. This team is so passionate about the work we are doing and I'm so passionate about it; it's going to continue each and every year," says Stoughton. Enough said!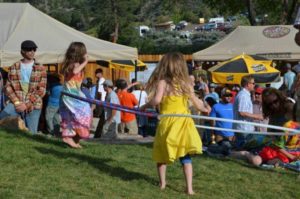 9. This is a family-friendly event.
Yes, this is a party. People will be drinking, dancing, and talking the night away. But it is also a family-friendly event; children are welcome as long as they are with responsible parents. It is definitely not unheard of to spot some little tots running around and enjoying the great outdoor activities that the festival has to offer.
10. You will leave the campout feeling at one with nature and your fellow man.
"You leave inspired, well rested, energetic, full of drive and passion – a sense of community, that we are all in this together and through this we can achieve things lager then our dreams," Stoughton assures us. This should be reason enough to check out the event if you have the resources and time. More information about the event, and ticketing info, can be found through their webpage.