Fashion in the Big Apple has been seen over the years in popular shows like "Sex and the City" and "Gossip Girl," but outside the world of designer shoes and the Meat Packing District, there are two girls doing it a different way. Comedy Central's "Broad City," produced by Amy Poehler, tells the story of two women in their twenties living in New York City. Abbi Jacobson and Ilana Glazer star in this web series turned hit TV show that brings a fresh, hilarious look into the lives of two best friends living it big in the city.
The relationship between Abbi and Ilana is as unique as the outfits they can be seen wearing in each episode. Polka dot onesies, colorful leggings and hungover hair days make these two ladies fashion icons for women everywhere but it's the style of Ilana that takes our love of bralettes and bright colors to the next level. Her free-spirited attitude can be seen in her choice of pieces that exude grungy-meets-girly and we can't get enough of it. Below are five of the many things we love about this comedic trendsetter and how to make them your own this season.
"Broad City" Star Ilana's Top 5 Style Tips
1. Cropped Tops
The '90s brought us crop tops but 2015 introduced us crop tops of a different color. Ilana's knack for wearing sports bras and old bathing suits in place of tank tops are just a few of the many ways she brought a new way to wear your favorite tiny top. Paired with anything from a vintage T-shirt to a pair of PJs on the streets of New York, this classic piece works on all body types and styles. The best way to make this look your own is finding a color or old top that is worn in just enough for a laid back lunch or day at the park.
2. Colorful Lipstick
Ilana's mix of green lipstick and thick rimmed glasses makes even the most quirky Zooey Deschanel's outfit seem tame. Everyone loves a good red lip but switching it up with a funky color can make any outfit that much more awesome. A bold turquoise or purple make you stand out in a crowd but also just add a little something extra to any outfit you may be wearing.
3. Pants with patterns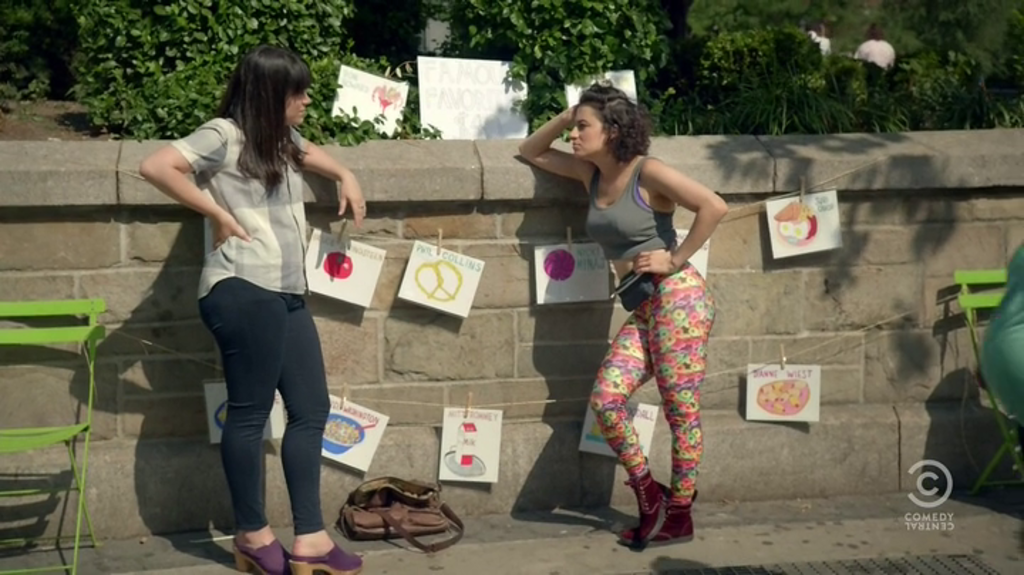 Yoga pants take on a whole new level when they have a design of their own. Ilana's choice of high waisted workout pants turned everyday wear, sometimes paired with a fanny pack, gives a new meaning to jazzercize-ready. She makes it work by pairing it with a crop top and sneakers, allowing for the pants to speak for themselves. The same idea works with any crazy pant as long as you're ready to rock them, any day of the week.
4. High waisted everything
Skirts, shorts and fitted dresses are just a few of the go-to looks Ilana makes her own. Whether she opts to wear them with high tops or strappy heels, the look is always one step above and beyond the classic look of a nice dress. She knows how to rock her clothes while still staying true to her style. If you're not as comfortable showing so much skin, choose a pair of high waisted shorts and a long top to balance it out.
5.  Natural hair
We may not all be as lucky to have crazy cool curls but finding ways to work your natural hair goes a long way. Finding the right products to keep the look maintained but not tamed is key. Dry shampoo and second day hair work best for almost any hair type and allow for a more relaxed look. Even if you have the straightest hair, opting to not brush for one day can change the look instantly. Ilana's hair is a perfect example of how to keep your hair game real all year.
"Broad City" is easily one of the funniest shows on TV and is easy for most women to relate to. Whether they're in Bed, Bath and Beyond or finding themselves locked in the liquor cabinet of a ship, Abbi and Ilana gives us a reason to love a unique look and a solid friend you can party with. Cropped tops and crazy curls may not be for everyone but you can't deny a girl who can work a see-through top and a fanny pack.