This month marks the start of May and the beginning of the end for the college school year and what better way to ring in the summer sun then with an absolutely unreal amount of metal! Biggest of all is the much-anticipated appearance by Mastodon and Clutch at Red Rocks taking place this Sunday, but if you can't swing a major arena performance right now, have no fear – there is an awesome assortment of smaller shows taking place as well. Look below to see what's happening this week in Denver metal.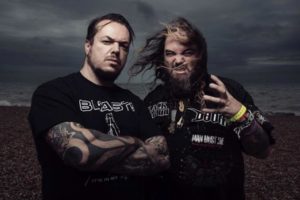 Cavalera Conspiracy @ Summit Music Hall – Wednesday April 29th
Max Cavalera is one of metal's most cherished icons. He started in legendary Brazilian thrash outfit Sepultura before breaking off from them and heading in a more nu-metal direction with Soulfly, and in 2007, he got back to his thrash roots when he and his brother Igor started Cavalera Conspiracy. They'll be pummeling Summit Music Hall with their groove-infused metal onslaught for what is sure to be a metal show of epic proportions. Not only are Bay Area thrash masters Death Angel on the bill, the legendary Corrosion of Conformity will also be there, where they'll be performing their seminal 1991 album Blind in its entirety. There's something for metalheads both old and new on this bill, so catch this show, and be sure to prime your neck muscles beforehand! You're going to need them.
Who: Cavalera Conspiracy, Death Angel, Corrosion of Conformity, Lody Kong, Arise in Chaos
Doors: 6:00 PM

Cost: $25 in advance, $28 the day of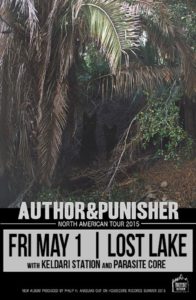 Author & Punisher @ Lost Lake Lounge -Friday, May 1st
This week, fans of electronic music and metal alike can both rejoice as the amazing one-man band that is Author & Punisher graces Lost Lake Lounge with his presence. The man behind the band is Tristan Shone and what started as a hobby and thesis project has quickly become a really well respected musical act. All of the music is created by the odd assortment of analog sound equipment he has rigged up and the live performance is one that should not be missed. His sound is a bit hard to describe, but suffice to say that if you worship Godflesh along with the more traditional founders of death metal and grindcore, then you need to be at this show. Opening up are Keldari Station and Parasite Core.
Who: Author and Punisher, Keldari Station, Parasite Core
Doors: 8:00PM/ show starts at 9:00 PM
Cost: $10 in advance/ $12 the day of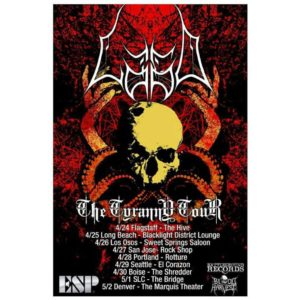 Lago @ The Marquis – Saturday, May 2nd
Phoenix, Ariz. death metal act Lago will be rolling through Denver
this Saturday
as they wrap up a short stint called the Tyranny Tour, and if you're a fan of dark-sounding death metal with fantastic riffs, it would behoove you to catch this promising young band. They released their debut album
Tyranny
last year, and though it flew under many a metalheads radar, it is a vicious slab of straight-up death metal that begs to be blasted at maximum volume. To add to the album's credibility, it featured guest vocals by Jonny Davy of Job For A Cowboy fame, so this album and band are definitely legit. Opening the show will be local favorites including Ghosts of Glaciers and Vimana, so if you find yourself in need of some audio aggression
on Saturday
night, the Marquis is where you'll want to be! Tickets are only $8, so you really don't have an excuse not to go!
Who: Lago, Vimana, Ghosts of Glaciers, Reproacher
Doors: 7:00 PM

Cost: $8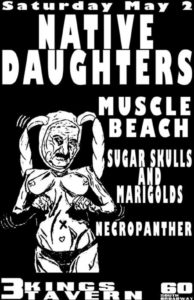 Native Daughters @ 3 Kings – Saturday, May 2nd
One of Denver's best instrumental metal bands, Native Daughters, are headlining an intimate night at the 3 Kings this weekend. Those who haven't heard them yet are in for a real treat; their music is extremely layered and it can be refreshing to focus on nothing but the music without the distraction of vocals. They will be joined by feelgood thrashers Muscle Beach, as well as Sugar Skulls and Marigolds and Necropanther.
Who: Native Daughters, Muscle Beach, Sugar Skulls and Marigolds, Necropanther
Doors: 9:00PM/ show starts at 10:00 PM
Cost: $7.00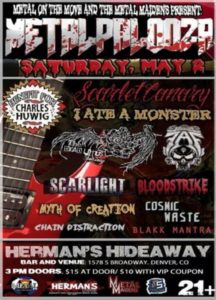 Metalpalooza @ Herman's Hideaway – Saturday, May 2nd
If the first two metal shows happening this Saturday don't strike your fancy, there is a third choice – Herman's Hideaway is featuring a local showcase of metal bands as a benefit show for someone named Charles Huwig. There is a large assortment of bands playing including Myth of Creation, a band from Pueblo, Bloodstrike, a female-fronted old school style death metal band from Denver and Blakk Mantra, who play doomy and soulful metal. This show is a great deal for the amount of bands playing, so if you are looking to check out some new talent, look no further.
Who: Scarlet Canary, I Ate a Monster, The Dead Lotus Society, Fallen and Forgotten, Myth of Creation, Scarlight, Bloodstrike, Cosmic Waste, Blakk Mantra, Chain Distraction
Doors: 3:00 PM/ show 3:30 PM
Cost: $10.00 – $18.00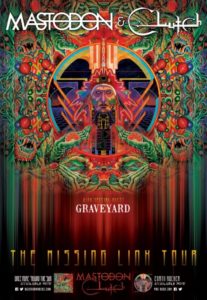 Mastodon @ Red Rocks – Sunday May 3rd
Earth rockers, rejoice! This Sunday, two of hard rock/metal's biggest bands will be busting Red Rocks Amphitheatre wide open with crunchy riffs, fat grooves and a bluesy, rock n' roll soul that's second to none. If the pairing of Clutch and Mastodon on the Missing Link Tour seems like a match made in heaven, that's because it is. Both bands have had a monstrous impact on rock and metal over the years, and as you'll see on Sunday, they're showing no signs of wearing out their pure rock fury anytime soon.
Check out the full preview for this show here.
Who: Mastodon, Clutch, Graveyard
Doors: 6:00 PM
Cost: $25-$35 in advance, $40-$45 at the doors
By Aaron Lambert and Addison Herron-Wheeler
All photos courtesy of Facebook or event pages
Want to be featured in the Metal Meltdown. Email all inquiries and news to [email protected] or [email protected]