The monster known as fashion month is upon us but we're not complaining. The Fall/Winter 2015 shows have already passed through New York, London and Milan. Paris Fashion Week is now in session so we're here to help you pinpoint all the major trends happening in the future.
Fashion powerhouse Emilio Pucci is losing its creative director, Peter Dundas, this fall season. However, we're excited that Andreja Pejic has decided to return to the runway with her debut at Giles. And don't forget those street style trends. See what's hot around the world to get ahead of the trend.
This Week in Fashion: Fashion Month Continues, Peter Dundas and Andreja Pejic Return to Fashion
Andreja Pejic at Giles
Andreja Pejic, a model famous for making waves when she came out as transgender, has returned to the world of high fashion. She walked the Fall/Winter 2015 show at Giles dressed in black and white with dark makeup and a tight up-do. The collection was Gothic Georgian inspired by lots of theatrics. The show was mostly black but featured splashes of color that kept true to the Gothic demeanor. Last year she received her gender reassignment surgery and kept off the fashion scene for a bit. However, she kept busy while away from fashion. She is now making her big screen debut in Sophia Coppola's adaptation of "The Little Mermaid" and starred in a music video for David Bowie himself.
Peter Dundas Leaves Pucci
After joining in 2008, Peter Dundas is leaving Emilio Pucci after years of colors, prints and superb design. The fashion house was born in the 1940s on the island of Capri but didn't find fame until the '60s.
Dundas kept true to the Pucci name while putting his own spin on the label. The brand is now known for its rock and roll looks with a bit of sex appeal. His last collection with Pucci was intensely personal, featuring motifs from his past. He has horizontal stripes, astrological prints and amazing embroideries on just about everything. We're sad to see Dundas go but rumor has it he may be joining up with another Italian fashion house really soon.
Babies at Dolce and Gabbana Complete with Accessories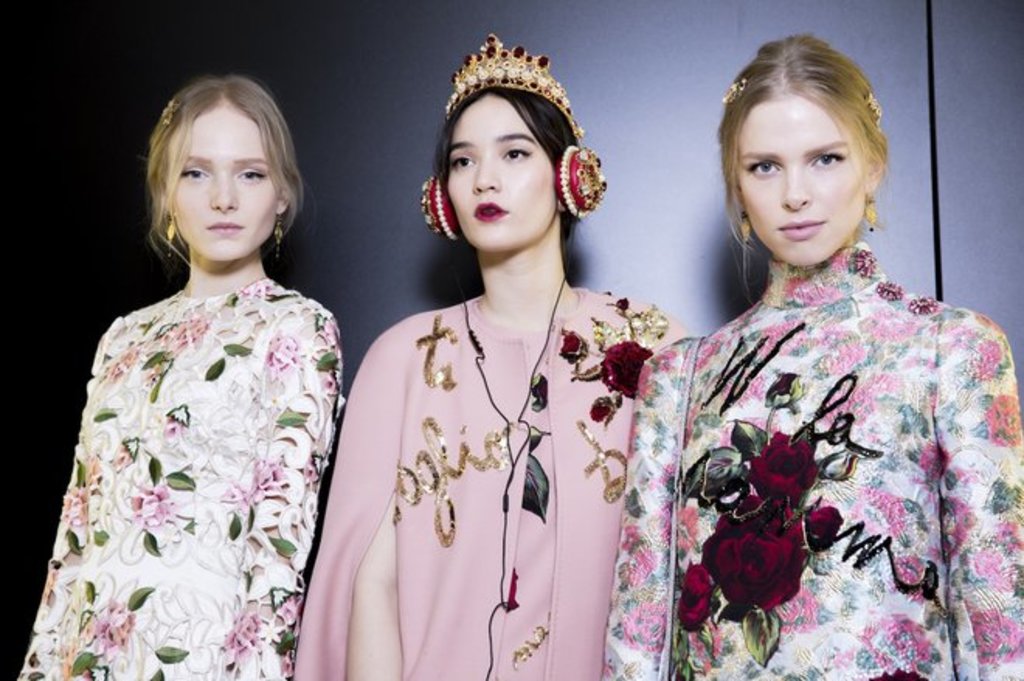 The Fall/Winter show at Dolce and Gabbana tried something new for its runway show. Before entering, each guest got a pamphlet for the show with the lyrics to Edoardo Bennato's song "Viva la Mamma" translated into just about every language. This should have a good hint for show goers that his runway collection was paying tribute to mamas. Garments were heavily inspired by children with "scribble" dresses making a statment. But it didn't stop there as models walked the runway with children in hand and in their bellies. There was a light, airiness to the entire situation that spoke with us all.
But it didn't stop there, either. Dr. Dre, step aside cause there's some new beats in business: beats by D and G. Possibly inspired by noisy children, Dolce and Gabbana introuduced headphones along with this collection. But that's not all – these headphones were covered in chains, gems and pearls. The glittering headphones were said to by inspired by "those fifties broaches you'd find in your mother's jewelry box." These have to be some of the most stylish headphones we've ever seen and we can't wait to get our hands on them.
Fashion Month
Everyone knows that fashion month isn't all about what we see on the catwalk. The street styles we see can help us predict future trends better than any designer show. So this fashion month we've been seeing a lot of denim on denim over in New York, London and Paris. You name it, we've seen it all. So why not get ahead of the curb and take cues from our favorite street fashion divas?
Try a button-up denim top with a vintage style jacket. Or opt for head-to-toe denim complete with accessories. It shouldn't be too difficult to find this trends floating around any major fashion store.