What: Authentic Liège Belgian street waffles.
Where: 300 Elati St., Denver 
Neighborhood: Baker
When: Tuesday- Friday, 7 a.m. – 3 p.m., Saturday – Sunday, 8 a.m. – 3 p.m. 
Pro: Waffle Up specializes in a very reasonably priced, if indulgent, product that won't come close to breaking the bank…unless you go every day.
Con: The sweet side of the menu is much stronger than the savory.
Few aromas match the butter-sweet waft of waffle mixture molding in cast iron. Anywhere waffles cook, the smell permeates the air and beckons, such that they can more or less sell themselves. Irresistible alone, these tasty European treats, enjoyed like a slice of pie or an ice cream cone, are now often found alongside previously inharmonious menu items (see Chicken & Waffles list). While many new and established restaurants have clued in to popular trends that interweave disparate notions of taste, Waffle Up is onto something organic and simple, accessible to all.
The Owners
Tom McCarty and Jasmine Spoonemore have operated the Waffle Up food truck since 2012 and just a few months ago they opened the permanent location in the Baker neighborhood. McCarty, who was born and raised in Denver, was practicing law when he took a trip to Europe in 2010 and fell in love with a particular waffle truck in Brussels. He wanted to bring the concept back home and spent some time perfecting a unique recipe of the Liège Belgian waffle. Spoonemore joined him shortly thereafter and, having recently completed her Baking & Pastry Arts degree at Johnson & Wales, is now a full partner in the venture.
The Food
The specialty at Waffle up is the Liège Belgian waffle. It differs from the Brussels waffle (or American style Belgian waffle) by virtue of originating from yeast dough instead of batter. Also, Liège waffles are made with pearl sugar—small hailstones of beet sugar, which caramelizes in the heating process and yields the crunchy exterior that is a distinguishing trait. As such, the waffles are normally served straight up, or with a light dusting of powdered sugar.
The staff has found that this can be a tough thing to explain to potential customers unused to the concept of a waffle without syrup — especially those who prefer the gooey corn syrup flavorings of the popular brands, never mind the painstaking, high-quality stuff made from actual maple sap. Yet, having found themselves in this exact position time after time, they are more or less used to it. The upswing is that a little geniality go a long way. Encouraging a "try it before you knock it" mentality, most of the establishment's patrons, in the end, leave happily sated.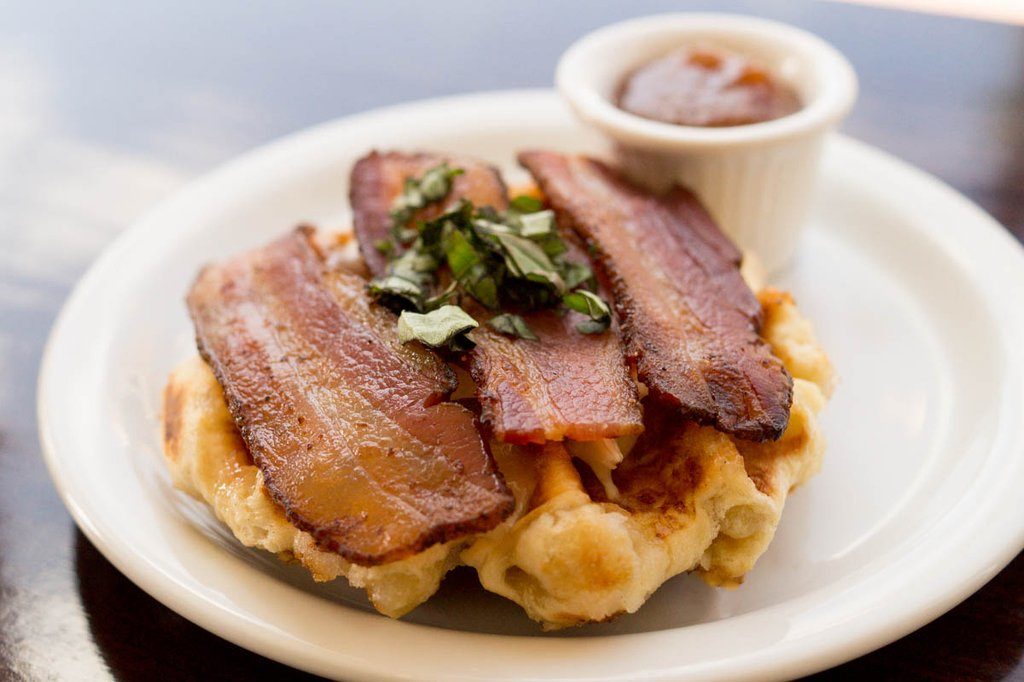 Now, as far as Waffle Up's selections are concerned, there really is no way to go wrong—something easy to say, hard to truly mean. The sweet side of the menu, however, does have a slight leg up on the savory. Sure, the Bacon Basil Brie ($7), its first ingredient courtesy of Tender Belly, is nothing short of delicious. But the Lemon Ginger Mascarpone and especially the Cinnamon Cream Cheese & Strawberries ($5.50) waffles are on an entirely different level.
From the traditional menu, one can enjoy the Liège Belgian waffle in all its unadulterated glory, or add sugar, chocolate or a European cookie-flavored spread called speculoos (similar to Trader Joe's Cookie Butter). Kids can get a smaller version for $2 and there is also a gluten-free option, made from a special blend of seven different flours crafted to come as close as possible to the original, for an extra dollar. Be forewarned, though, that cross contamination is still a possibility.
Perhaps the best thing about Waffle Up is the hours of operation, and it is open every day except for Monday. This means that during the week you won't have to muscle through the considerable line that forms out the door of the small, trim interior design on Saturdays and Sundays. It also means you won't have to wait when, inevitably, you find yourself wanting seconds, or thirds.
All photography by Kiddest Metaferia.