What: Great coffee and homemade pastries as well as select wine and beer
Where: 2423 S. University Blvd, Denver
Neighborhood: DU 
When: Monday – Friday, 6 a.m.- 9 p.m., Saturday, 7 a.m.- 9 p.m., and Sunday, 8 a.m.- 2 p.m.
Pro: Friendly, casual atmosphere ideal for spending a lazy day or getting studying done fueled by tasty coffee
Con: Limited seating and popularity with neighboring University of Denver students means it can be difficult to find a place to sit.
Meaning "the beautiful little rose," La Belle Rosette is the perfect embodiment of such a phrase. The small coffee shop with its red door and decorative lights sit like a flower, peeking out from the sea of concrete on South University Boulevard. The refreshing burst of color invites customers to come in and take a break from their busy lives.
Inside is just as comforting. Couches and lounge chairs are placed invitingly around the room, and there's a feeling of ease that washes over as soon as one enters. The sense of comfort and the casual nature of the place are not incidental according to co-owner Scott Gilsdorf, who runs La Belle Rosette with his three siblings and two parents.
How it All Began
After completing culinary school in America and then traveling to Italy and France for further culinary training, Gilsdorf came back with a vision of something like La Belle Rosette. He worked in bakeries and as a sommelier, honing his skills in the trade, until in 2009 when his sister found a 275-square-foot location on South Pearl Street and they purchased it.
Combining the names of their grandmothers Mae Rose and Jeanette, and taking inspiration from the Parisian cafe from Casablanca named La Belle Aurore, their coffee shop, La Belle Rosette was born. Still, Gilsdorf's vision wasn't quite achieved and in 2012 they were offered a slightly larger place on South University Boulevard where they would have the opportunity to sell beer and wine as well.
Over two years later, the first location is now closing, and the second one, thriving. Gilsdorf attributes this success to both the hard work of everyone in his family, and trust that if quality service is being provided then the customers will come.
Family Matters
"Honestly, without [my sister's] help, my brother's help, the whole family, it doesn't fly. They have a lot of input in what we do," says Gilsdorf. As he speaks, his sister, Rebecca, is making drinks for the customers who then sit down at wooden tables which were hand-crafted by their father. His handiwork is also responsible for the impressive wooden face of the barista counter, and in the corner of the shop hang the high school graduation portraits of their grandmothers, the namesakes of the place. It's this family touch that really sets La Belle Rosette apart.
"We really get to know an awful lot of the people by name. Hopefully, with that they feel that they are close to the family, part of the family," says Gilsdorf. This community is so powerful that when his parents celebrated their 50th wedding anniversary last year in Nebraska, a surprising amount of customers actually made the trip out there to celebrate with them.
Food & Drink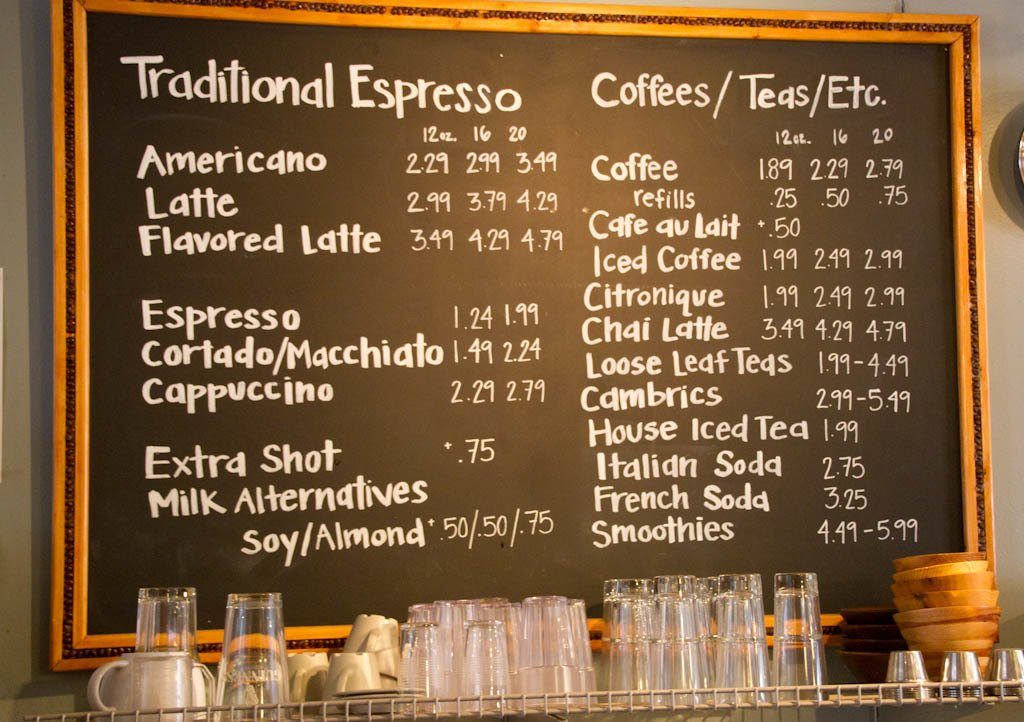 This community is not the only thing offered, however. They also make nearly all of the pastries in house; they offer a happy hour for their selected list of wine, beer, and cocktails, and they offer a cookie happy hour in which every $3 purchase is paired with a free homemade cookie. And, of course, their coffee is delicious.
They serve Vail Mountain Coffee, and they serve it well. In addition to a long list of creative, sugary coffee concoctions, the basics are well covered. The cortado is strong, but well-flavored, having a solid milk-to-espresso ratio, and the cappuccino never disappoints.  The large list of menu items also means it's easy for anyone to find something that they will enjoy.
"It's coffee. It's not brain surgery. Everybody has their own tastes. There are people who don't like our coffee; there are people who love our coffee," says Gilsdorf, who approaches coffee with the same casual attitude that seems to pervade everything about this business.
"One of my family's philosophy is 'If you take care of what goes on inside the four walls, what happens outside the four walls takes care of itself,'" says Gilsdorf of his belief in the power of word-of-mouth marketing. As he says this, he is sitting in his coffee shop where every chair is filled, and there are three people in line. So far it seems to be working in his favor.
All photography by Crystal Rhea