There is an array of awesome shows for the lovely first week of April, from indie rock stars to classic legends, and many more. Check out the list below to see some of the best ways to spend your hard-earned money and time this week.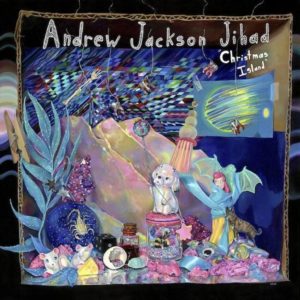 Andrew Jackson Jihad @ Summit Music Hall –

Tuesday, March 31st
Folk-punk rockers Andrew Jackson Jihad will be headlining Summit Music Hall
this Tuesday
alongside a diverse lineup featuring The Smith Street Band, Jeff Rosenstock and Chumped. Andrew Jackson Jihad's newest album
Christmas Island
was released last year, and they'll undoubtedly be performing lots of cuts from it for this show. Punks and folk lovers alike are going to want to catch this show! Doors open at
6 p.m.
, and tickets are $18.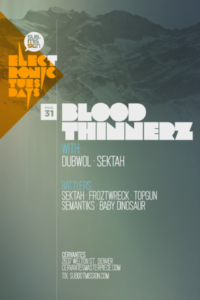 Electronic Tuesdays @ Cervante's Other Side
Every Tuesday, Sub.mission puts on an awesome show featuring some underground dubstep legends, some local openers, and an up-and-coming DJ contest at the very beginning of the night. This week's edition will feature Blood Thinnerz headlining, with Dubwol and Sektah opening up. The battling DJs are Froztwreck, Topgun, Semantiks, and Baby Dinosaur. Women get in free and men are only $5 before nine, so try and get there early to support the opening acts.

of Montreal @ Bluebird Theater –

Tuesday, March 31st
Hot on the release of their new album Aureate Gloom, indie rock/ psychedelic pop band of Montreal will be performing at the Bluebird Theater this Tuesday for an evening of fun and upbeat jams. With thirteen albums under under their belt dating back to 1997, of Montreal is a band with an extensive history, so in addition to songs from their new album, expect them to explore the entirety of their discography and throw in some old tunes as well. Joining them will be Yip Deceiver. Doors open at 7 p.m., and tickets are $20.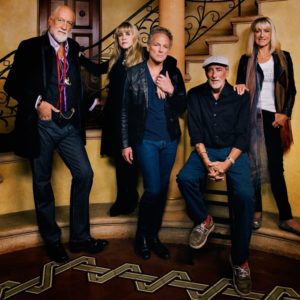 Fleetwood Mac @ Pepsi Center – Wednesday, April 1st

Fleetwood Mac went through a few different members before landing on the perfect rock mix they have today. And though the band's namesake members Mick Fleetwood and John McVie remained constant, it wasn't until Lindsey Buckingham, Stevie Nicks and the now returned Christine McVie joined the group that the band headed for full-throttle to stardom. This balanced combination lead to their seminal album, Rumours. With members such as Stevie Nicks and Lindsey Buckingham, the band has become renowned. Now, with their songbird McVie back in action, the group is ready to again (they stopped through last December) show Denver just how sustainable their melodious sound really is.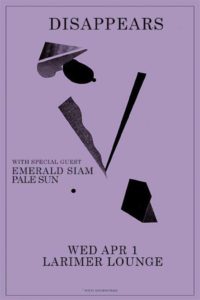 Disappears @ Larimer Lounge – Wednesday, April 1st
A trippy psych show is scheduled for this Wednesday, featuring soundscape crafters Disappears at Larimer Lounge. They will be joined by locals Emerald Siam, and psych favorites Pale Sun, who have been busy working on music and playing a lot of shows this year. The show starts at 9 PM, and costs $10 in advance, and $12 the day of the show.
By Aaron Lambert, Addison Herron-Wheeler and Alex Faubel 
All photos courtesy of event pages or Facebook