Spring is here, and there's no better way to usher in this time of the year than with a new night of live music and fun in an amazing atmosphere. 303 Magazine, in partnership with Riviera at The Breakers, Coral King and Deverick Wilder, present: The Grand Opening of A-List Thursday Night Live.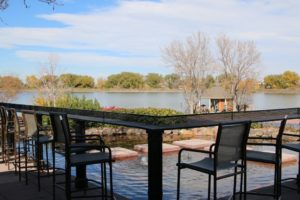 A-List is partnering with Riviera at The Breakers Resort to bring you Thursday Night Live, a brand-new weekly event that gives you all of that and more to help you wind down during the week. The event will feature some of Denver's best up-and-coming bands and artists lakeside at The Breakers Resort.
Start the evening with delicious cocktails and tasty food during happy hour from 3 to 6, followed by live entertainment and extended happy hour from 7 to 11. Yes, that's happy HOURS from 3 to 6 and 7 to 11 p.m. With drink and food specials throughout, plus a DJ spinning music into the mix, you have the recipe for the best place to be on a Thursday night in Denver.
For more information or table reservations, call 303-353-8426
  Below is the rundown on everything you need to know before this Thursday:
When: Thursday Night Live begins March 26 at 5 p.m. and continues every Thursday throughout the year.
Where: Riviera Lounge inside the breathtaking Breakers Resort- 9099 E. Mississippi Ave., Denver, 80247 (enter through the gate on Mississippi and Alton)
What: Each week the Riviera will host a local live band along with featuring happy hour prices and specials. For the musically inclined, this new weekly event is your way to dip your toes into the local music scene.
Thursday Night Live At Riviera Line up:
 March 26th – Greg Goodloe & The Light Years Ahead Band
April 2nd – Tony Exum
April 9th – Danette Hollowell & Vintage 3d Band
April 16th – Coral Thief
April 23rd – Zakk DeBono
Riviera will not only be featuring some of Denver's best local artists every Thursday, but it will be accepting applications and nominations for local bands and artists to play at the event live.  As 303 readers, you get the first chance to nominate your  favorite local band, friends or family to play LIVE at the Riviera by applying here.
Applicants will have the chance to play live at Riviera and could also be selected to play at 303 Magazine's pool parties this summer. Overall whether you're a musician or just love music, Riviera's Thursday Night Live is a must-attend.