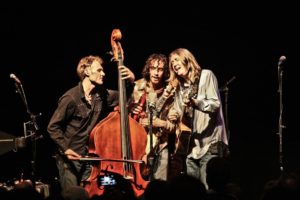 Oliver and Chris Wood were born and raised in Boulder, which is where they will return for a sold out concert this Friday, February 20. The Boulder Theater will host the Wood Brothers, with doors opening at 8pm and the show starting at 9pm. Kristina Train, former lead singer and violinist for Herbie Hancock, will be opening for them.
Oliver and Chris have been playing music all of their lives, inspired by their parent's affinity for classic campfire songs, storytelling and poetry. The brother's musical careers took separate, meandering paths as Oliver moved to Atlanta and played guitar with Tinsley Ellis and then founded King Johnson. Chris studied music at the New England Conservatory of Music before moving to New York City and forming Medeski Martin & Wood in the 1990s. The brothers realized they ought to be playing music together after Oliver sat in during an MMW set in North Carolina and they recorded their first record Ways Not to Lose in 2006.
NPR has described the Wood Brother's first album Ways Not to Lose as "gracious little songs [that] sound like they were born on a front porch during a beautiful sunset."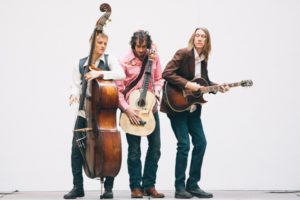 The Wood Brothers boast of fraternal synchronicity, an intuitive ability to create magic together through "dialed-in vocal harmonies, Oliver's gritty acoustic guitar, Chris's virtuosic upright bass, and the warrior poet lyrics." Add drummer and multi-instrumentalist Jano Rix with his shuitar, a "shitty acoustic guitar rigged up with tuna cans and other noisemakers," and you've got a one-of-a-kind drum kit in the mix.
I recently read a quote from Patti Smith: "We feared that the music which had given us sustenance was in danger of spiritual starvation. We feared it losing its sense of purpose, we feared it falling into fattening hands, we feared it floundering in a mire of spectacle, finance and vapid technical complexity." This was a quote from a young Patti Smith during the early 1970s when she was beginning to make music, as inspired largely by Bob Dylan and various poets.
The Wood Brothers' music has sustenance and a sense of purpose. The timelessness of their gentle hymns and the deep soul that their lyrics contain interwoven with their bluesy country vibe generates that alchemy that folk music provided during more trying times. Sounds of the brother's influences like Jimmy Reed, Lightnin' Hopkins, Willie Nelson and Charles Mingus are apparent in their original songs. The Wood Brothers make real music, the way music was meant to be made. Don't miss a chance to see them live.
Although the Boulder Theater show is sold out, The Wood Brothers will also be making an appearance this weekend up in Avon at the WinterWonderGrass Festival.