Last night, the 2015 Oscars awarded some of last year's best films, along with memorable music performances. The 87th annual Academy Awards also showcased some of the year's best gowns thus far, including stand out looks from Faith Hill, Dakota Johnson and Anna Kendrick. Did your favorite star make the best or worst list? Find out below.
The 12 most memorable looks from the 2015 Oscars 
Lovely in Long Sleeves: Margot Robbie + Faith Hill + Emma Stone
Margot Robbie: A sexy Aussie that has curves for days, Margot Robbie is one of our top favorites from the whole night. Instead of showing off too much skin like she does in her films, she went for this low-cut black gown that, although loose, gave her a beautiful shape. It's subtle and a genius gown.
Faith Hill: Looking fab at 47 years old, this gown couldn't have given Faith more justice. The neckline is perfect for her lengthly body and that necklace looks like it was made for this look.
Emma Stone: Always making the "Best Dressed" list, Emma is back on it again for this light green, beaded wonder of a gown. This color is perfect with her hair tone and the slit is perfectly placed and isn't cut too high. And the subtle color of her shoes doesn't take away from the high definition gown, a must on the red carpet.
White Hot Not: Marion Cotillard + Julianne Moore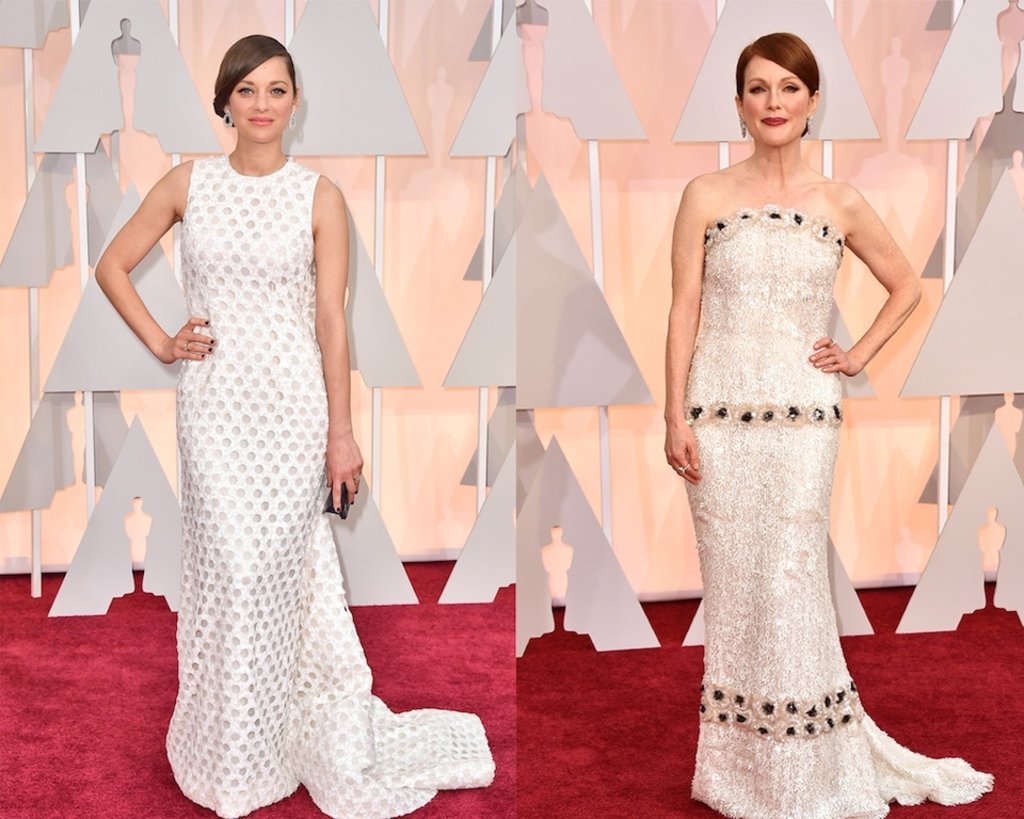 Marion Cotillard: This gown looked aged and bland. The back had more detailing, but the front just isn't enough. Her hair, accessories and makeup look smashing, we just wish she chose something more flattering.
Julianne Moore: This gown was also plain old looking, and the placement of the black beading wasn't flattering. Her hair was astonishing but unfortunately we only liked her look from the neck up.
Red Hot, Hot, Hot: Dakota Johnson + Rosamund Pike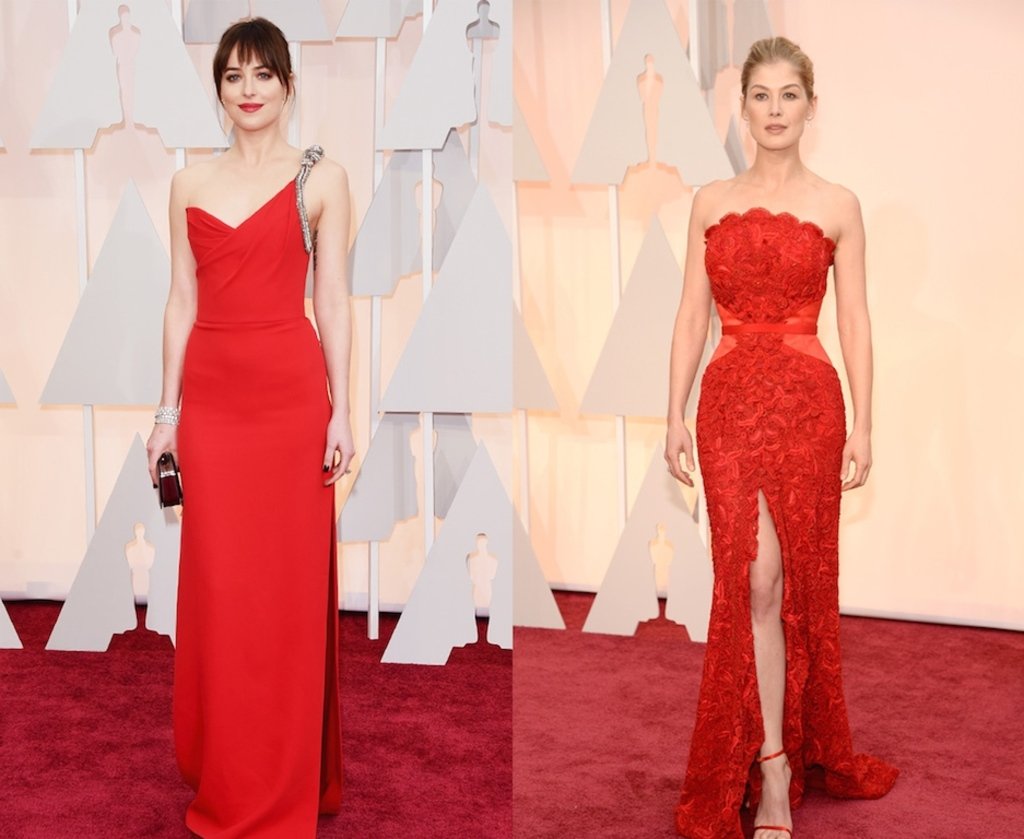 Dakota Johnson: Currently one of the most talked about actors, whether you foiled and watched "50 Shades of Grey" or you're against it, Dakota Johnson did a red gown on the red carpet justice. This gown was perfect for her good girl meets vixen character. It gives her body an incredible shape and the one strap leaves her flawless without the addition of unnecessary jewelry.
Rosamund Pike: Just a few months after giving birth, Rosamund Pike looked stunning in this romantic red gown. The centered slit makes her look lean and the waist gives her a tight form. No jewelry? No problem. The lacy design doesn't need anything to pair with it.
Unique But Not Winning: Naomi Watts + Nicole Kidman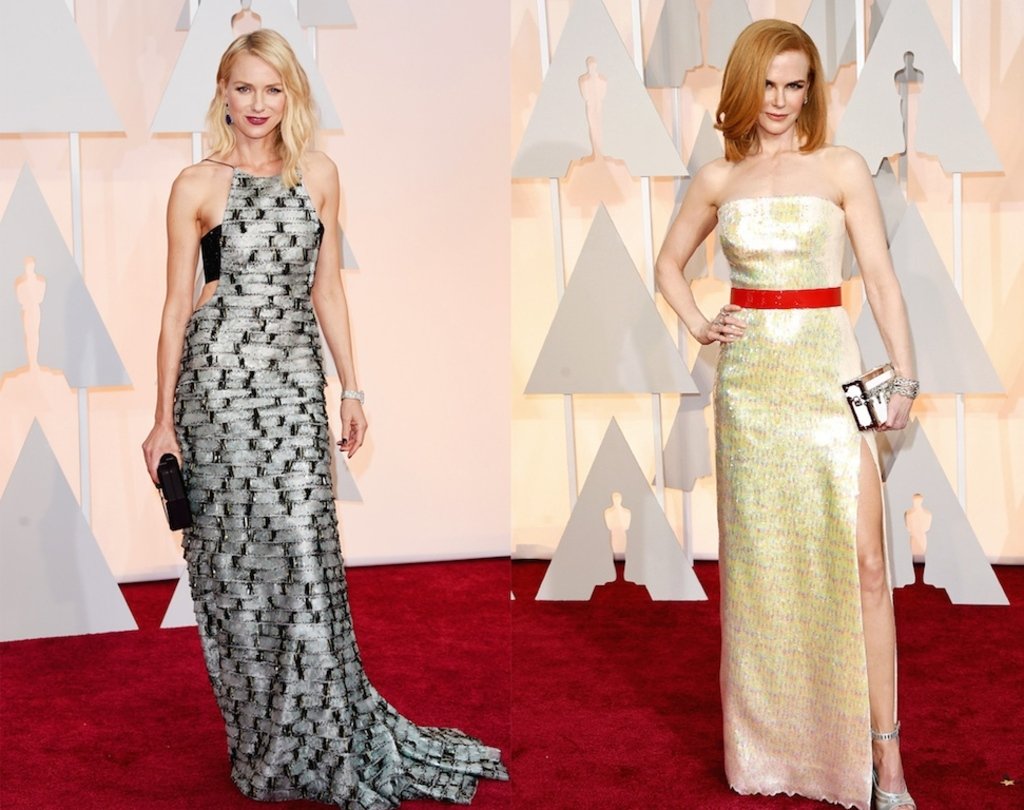 Naomi Watts: Naomi looks smashing in everything she wears, but this gown just wasn't a win. Maybe if the black under layer wasn't there or if it had a different neckline, it could look Oscar-worthy.
Nicole Kidman: Did we go back in time to Nicole's first red carpet appearance? This looked like something she wore in the '90s. The coloring almost blended into her skin and the red belt – tacky and not attracting the right attention. The clutch is great on its own, but definitely not paired with this gown.
The Prettiest in Pink+ Jennifer Lopez + Anna Kendrick + Keira Knightley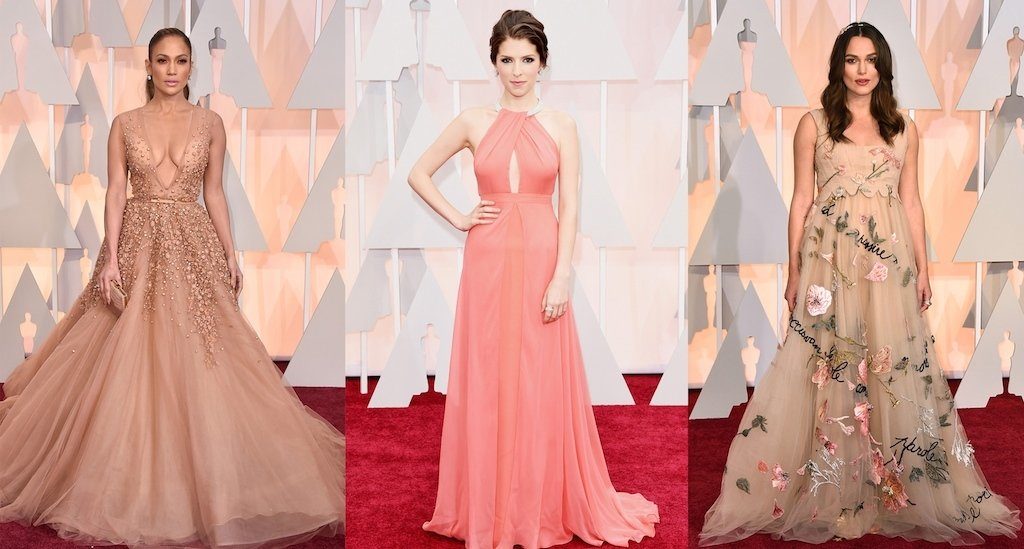 Jennifer Lopez: Her sexy body gives her the right to wear a paper bag on the red carpet and make the "Best Dressed" list, but Jennifer stunned in this beaded pink gown with a plunging neckline that generously showed off her girls from the block. The belt was the perfect addition, giving her a tiny waist.
Anna Kendrick: First of all, Anna Kendrick is just too cute. The charming pink gown gave her thin frame a lovely shape and we the love the subtly of jewelry she added to a sparkly neckpiece.
Keira Knightley: Being dressed for the red carpet has to be hard for someone who's about to pop, but Keira Knightley looked beautiful in this Valentino gown that will definitely get mixed reviews. We like the floral placements, the lettering and how she glowed, even with that big bump underneath.