New York Fashion week took place this past week, and for all us local fashionistas it means that we've been Googling and drooling over the newest collections.
But while there were some notable collections making their way down the runway, what the fashionables bearing the bellowing freezing weather wore for the shows are equally noteworthy. So, here's a recap of the five best street style looks and trends spotted at Fashion Week, as well as how to wear them this spring.
And if you're left craving more fashion week, reserve your seats for Denver Fashion Weekend, and be prepared to rock some of the street style trends to the show.
Fur Here, Fur there, Fur Everywhere
Everywhere, it seemed that the women of Fashion Week were wearing fur. But who can blame them?
The last part of winter can be brutally cold. And while it may seem like spring is here, Colorado is known for having the occasional blizzard in April.
So this spring, be prepared and wear fur. Whether it be on your back or your bag, pick a colorful statement fur to wear this spring, and you'll be surprised how handy a little fluff can be in Colorado's constantly changing weather.
 Color Blocking
The ladies of Fashion Week showed that there is no better way to transition your winter wardrobe into spring than by incorporating color blocking into your look. Whether you choose to pair a black blazer with red and white, or you mix three different tints of the same color, color blocking is a must-try style this spring. But be warned, if you choose to color block make sure you only pick 2-4 colors to play with. Otherwise, you might end up looking like a rainbow and while color blocking is in this spring, looking like a rainbow threw up on you is not.
 Camel, Crème and Green
Normally black is the go-to hue to wear to New York Fashion Week, but it seemed that the women of New York ditched their dark hues and swapped them for all-natural colors. Greens were spotted on coats, crème dresses and blouses seemed to be on the backs of many, and everyone was wearing camel boots. The 'all-natural' colors are not only elegant but they are the perfect transitional colors from winter to spring. Drop your dark coats and  incorporate one, or all of these colors into your wardrobe this spring and you'll be bound to turn heads this spring.
The Hat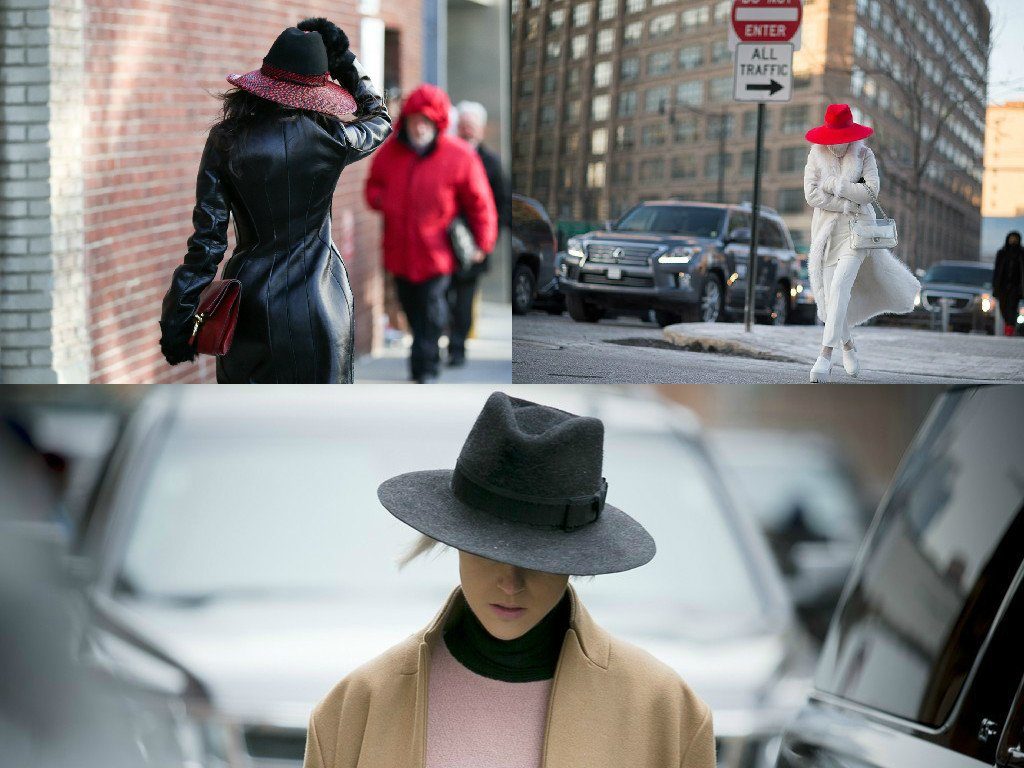 Style means dressing head-to-toe and this spring the best way to stay stylish is not to forget to accessorize.
The most popular accessory at New York Fashion Week wasn't shoes or bags but rather the hat.
From beanies to fedoras, the ladies of New York Fashion Week were wearing hats of all sorts.
You can buy great shoes, and wear slim trousers but true style after all means dressing head to toe, so this spring try a hat on for size.
Statement Coat
Some believe that a coat ruins your ensemble, but in reality a coat can make or break your look. The best way to still stay stylish this spring without overheating or freezing is by wearing a light coat. But don't throw on any old coat, wear a coat that adds a pop to your outfit. Nothing better says you're ready for spring than a colorful trench with a funky pattern. But if you're looking to really make a statement, pick a studded bomber. No matter if your coat is colorful, funky or spikey a statement coat is a must for this spring.