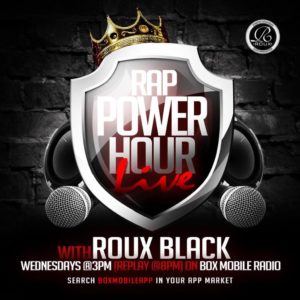 Rap Power Hour has been going mega strong for the past year. We've listened to hundreds (possibly thousands) of songs, watched countless videos and curated songs from some of the best in the scene. Some of your submissions we've loved and other's not so much but that's the business, right? In an effort to continue highlighting the growing artistry in the Denver scene and beyond, we're taking Rap Power Hour live via Box Mobile Radio, an interactive application.
Developed by Leonard 'Graffiti' Johnson, the design of Box Mobile is to enhance the user experience by making the process more interactive and progressive. Rap Power Hour will feature commentary from Ru Johnson along with guest deejays and still house the innovative rap stylings from some of your favorites in the scene. Like the column Rap Power Hour, artists are encouraged to send submissions to [email protected] in order to be considered for the live show. Wednesdays just got a whole lot more interesting.
Here's how it works; you'll download the app from whatever market you use (click on this direct link to download Box Mobile Radio now), and listen in each Wednesday at 3pm with a replay at 8pm. Hip-hop music is forever evolving so it's important to not only move with the trends, but set the trends. The idea is to evolve a written column into a full-fledged show that features commentary on the artists and banter between the deejay and the writer. We'll be covering artists from Denver, of course, but are most definitely interested in new hip-hop music from all over.
Each Wednesday we'll feature new artists along with music news for your entertainment.  Download the Box Mobile Radio app and we'll see you next Wednesday for Rap Power Hour and more than a little hell-raising. The first show airs one week from today on February 25th at 3 p.m. and will feature Ru and Spencer Foreman (there might be an appearance from DJ Wushu as well). In the meantime, check out the Roux Black soundcloud which will showcase a brand new playlist each day. Listen below.
https://soundcloud.com/roux-black