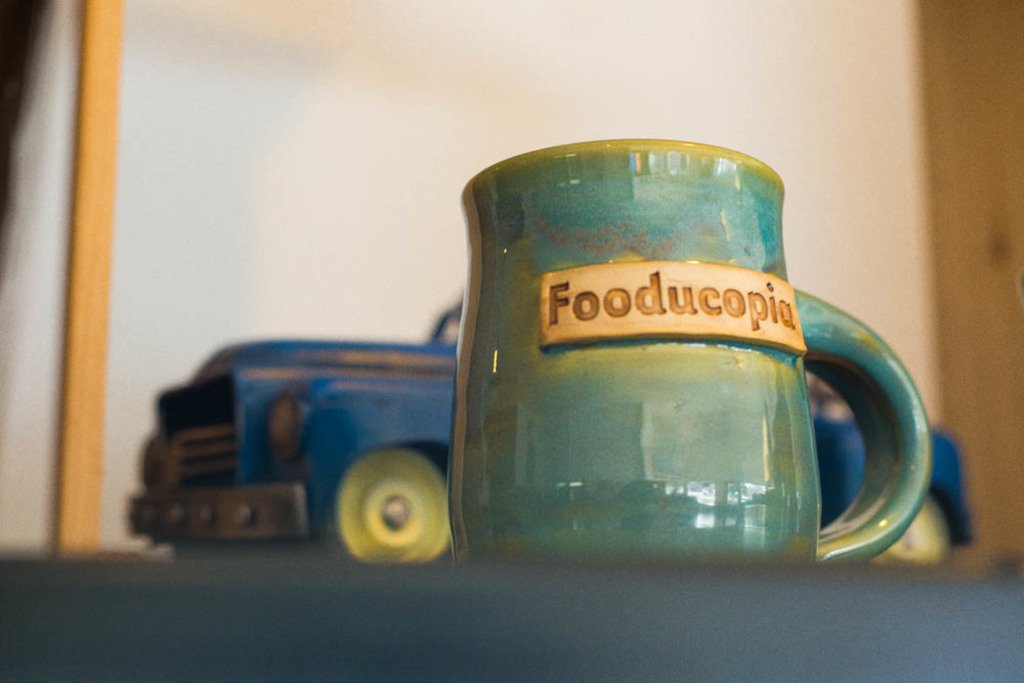 What: A neighborhood eatery that doubles as a small marketplace.
Where: 1939 E. Kentucky Ave., Denver CO
Neighborhood: Wash Park
When: Saturday & Sunday: 7 a.m. -3 p.m
Pro: Fooducopia's ingredients are noticeably fresh, as is the restaurant's dedication to preserving the power of the natural flavors in food.
Con: The dining area is relatively small.
Invoking the symbolic horn of plenty, Fooducopia is a jack-of-all-trades eatery that doubles as a small grocery store. Enter and find two sun-drenched rooms: the first, a simple array of stocked shelves and freezer cases and the second a cozy assembly of small tables and built-in benches signaling intimacy. Wall-mounted speakers hum the melodies of cheering music, such that one feels quite at home. Its sense of community, which is now part and parcel of Fooducopia, has been a developing feature of the restaurant for some time…
The Concept

Owner Tim Lymberopoulos described the evolution of the store as one growing, five years ago, from a concept inspired by the artisans and organic farmers that make farmer's markets distinctive bastions of craft and hospitality. Beginning as an online-only marketplace, Fooducopia further embraced its commitment to locally-sourced products and is now the sort of place where "kids are running in to buy milk for their parents, where locals wander in to buy bacon wearing their slippers," said Lymberopoulos.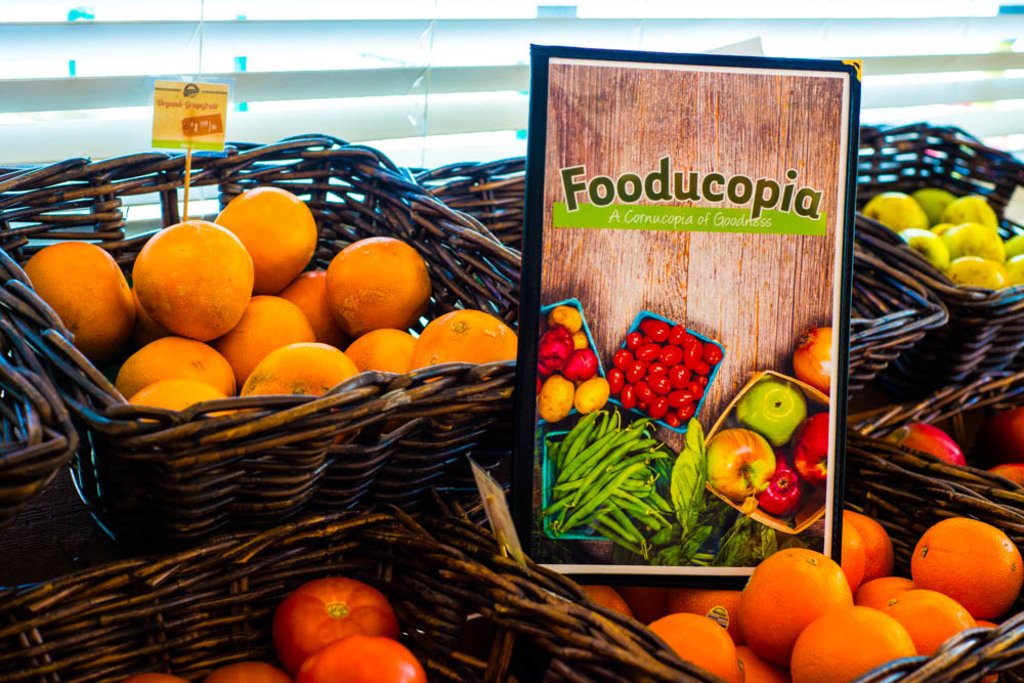 These small-world intersections are not only what defines Fooducopia— but has also built its foundations. Lymberopolous met Richard Glover, Fooducopia's Executive Chef, for example, at a farmer's market where he was promoting his good-tasting and nutritious power bar, the Hulee Super Cookie. Glover, who hails from Botswana, is likewise committed to simple ingredients and good food and has been an essential contributor to Fooducopia's growth ever since.
The store also found one of its produce purveyors through a moment of chance. Debbie Dalrymple, the visionary behind Farm Yard CSA, and Lymberopolous met after she saw Fooducopia's "cargo trike" parked outside the store. The pedicab, which Lymberopolous had in fact bought and repurposed to sell produce, seemed like an ideal mode of transporting the surplus fruits and vegetables that a network of Farm Yard members had grown in their backyards, over a 5-mile radius of Washington Park. The principle of community-supported agriculture (CSA) is less keeping up with the Joneses, more let's trade our tomatoes for their cucumbers. Farm Yard also offers a service of customized garden building and planting for local residents.
Now, thanks to Fooducopia, even more people can enjoy fruits and vegetables that were grown within their very own neighborhoods.  
 The Food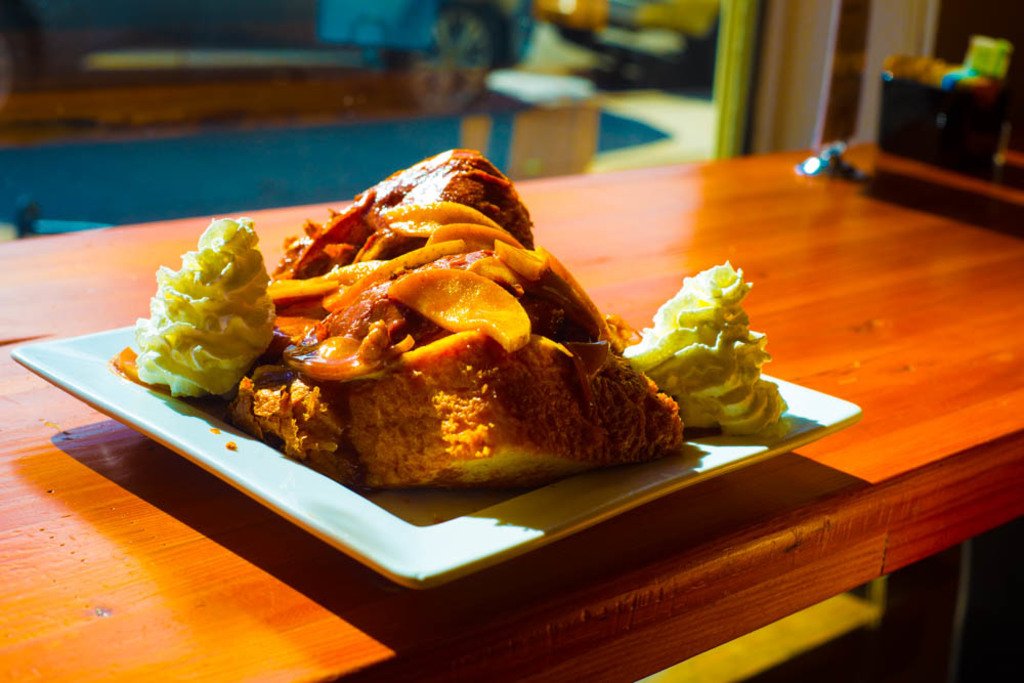 Dishes like the Pork Belly Hash ($13) and Cuban Pork Sandwich ($11) demonstrate the immediacy of Fooducopia's ingredients. The former is served with two eggs cooked to order, hollandaise, crustini toast and a vegetable medley garnish atop a small tower of potato and pork belly. The latter is a delicious rendition also featuring slow roasted pork, as well as Swiss cheese, Anija's Finnish Mustard, and the Real Dill pickles.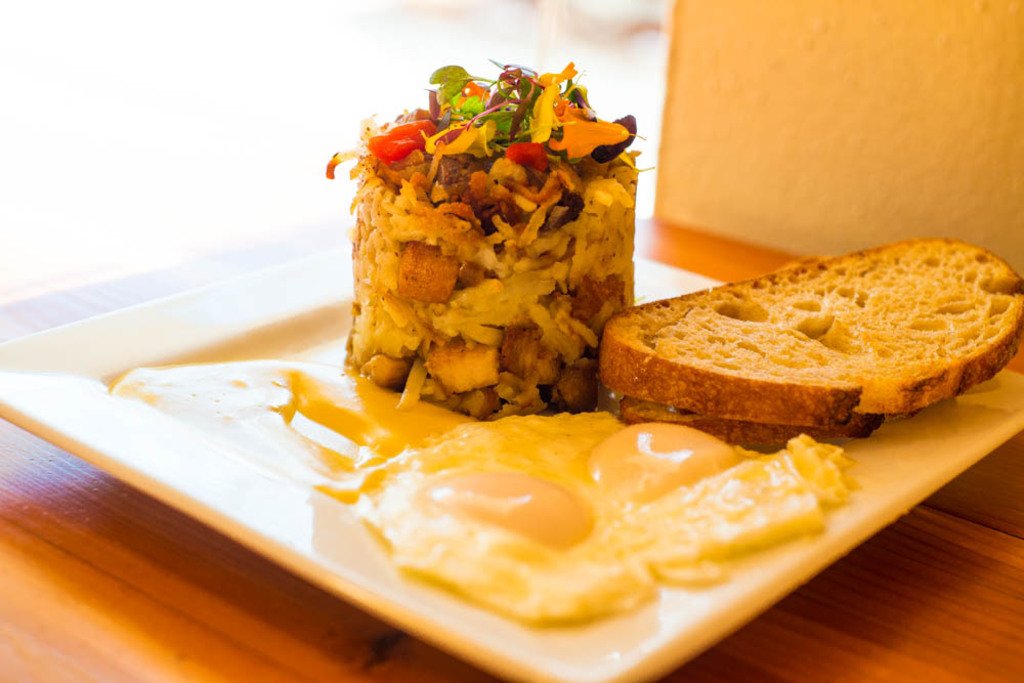 The true frontrunner in my book, however, is the Cinnamon Apple Brioche French Toast ($11). A heaping pile of fluffy brioche bread, caramel cinnamon apples that still have a bit of crunch, toasted nuts and house flavored whipped cream make it a must-have.
Of course, I would be remiss not to mention lighter options such as the parfaits, brulées, and the well-liked Wild Mushroom Omelet ($12) or Pesto Scrambler ($11). No matter you slice it, though, the brunch comes pretty close to unbeatable.
While Lymberopolous admits it's been an uphill battle, he is unflaggingly passionate about his mission to sell "good, honest food that doesn't tease the brain." As far as the store's design is concerned, he feels that the way Fooducopia is set up simply opens "more opportunities to connect the consumer to the little guy who's put his heart and soul into his product."
It's the not-so-secret ingredient that will, one hopes, keep Fooducopia the kind of place where one can sneak in for a cup of coffee in her pajamas and have a dinner date all in the same day.
All photography by Delmy Gooch.