What: An interview with Chris Hill, partial owner of Odyssey Beerwerks. 
Where: 5535 West 56th Ave. #107, Arvada
Pro: A great atmosphere, plenty of delicious beer, and friendly people. 
Con: Out of the way for some. 
Sometimes all you want is a good beer. Other times, what you want is a good story. The best places in the world offer both. Odyssey Beerwerks is such a place.
Odyssey Beerwerks greets you with the soul of a brewery: it smells like malts and grain, the brewery tanks gently watch over the taproom, and if you visit on special days it sounds like a six-person factory line: filling and capping beer cans before they make their way out to the world. We caught up with Chris Hill, co-owner and "chief beer peddler" for Odyssey Beerwerks to talk about the brewery's past, present, and future.
How it all Began
Chris and Josh Van Riper both began brewing like a lot of other people: through homebrewing. "Josh and I have both wanted to own our own business," Hill said. "I had brewed a few times by myself…but this was in the early '90s when not everyone was a homebrewer."
Both Josh (who casually goes by the nickname Tree for various U2-related reasons) and Chris (who you can call Chill if you are, well, chill about it) worked in corporate America long before the t-shirt and jeans attire of being brewery owners.
"We do have…I'll say more life experience than a lot of people opening breweries now," Hill said. "Which I think has worked to our advantage. Having 20 years of experience in the workforce there are a lot of things you don't enjoy, but there are a lot of advantages to it as well. Seeing how businesses work, seeing laws and regulations." But their corporate American plans got all messed up one dinner date in 2011
Because Josh had been brewing on an off for quite a few years, they already had a pretty good idea of some recipes. "Well they have been tweaked," said Hill. "It isn't the same thing that it was 20 years ago. We brewed every weekend, comparing test batch two to the pilot batch — here's the control, here' the next one. When we opened, we were pretty confident we had beer that would appeal to a large number of people."
Why the name "Odyssey Beerwerks?"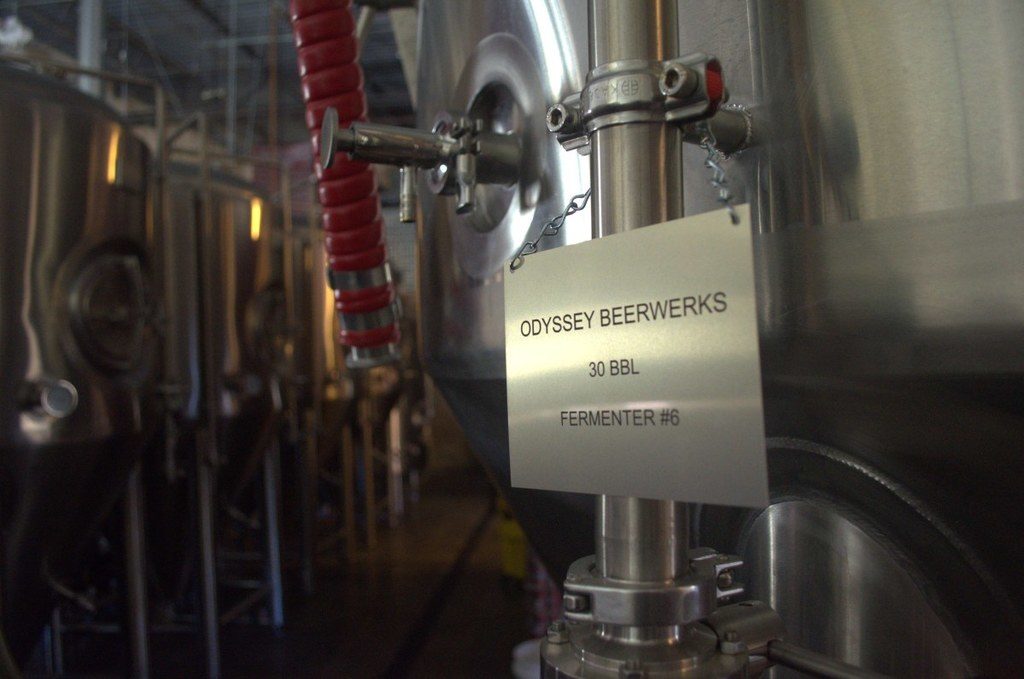 "It took us a long time to come up with the name odyssey. We wanted something that exemplified travel, experience, the journey," Hill said. "Josh and his wife have traveled extensively around the world. I have traveled a bit, not as much as them. So Odyssey just fit with our personality. Our profile."
Once they nailed the Odyssey part down, they needed a second half. Hill wrote down a few iterations — beerworks, beer company, brewery, and maybe one more — and sent them to those most involved in the initial stages of the company. They ended up with Beerwerks, with an 'E.' "No one can spell Odyssey anyway," Hill said. "So we might as well spell Beerwerks funny. If it was Beerworks or Company, 80 percent of people would spell it wrong anyway."
But it's not always the spelling that gets people confused. If people were to tell you to go to an empty field in search of beer, no one would listen to you. That is, unless the person giving you the instructions were Google. "Google has us on the opposite side of the road, which was an empty field," Hill said. "We spent a lot of time giving people directions." It's apparently tough being a beer drinker.
Facts about Odyssey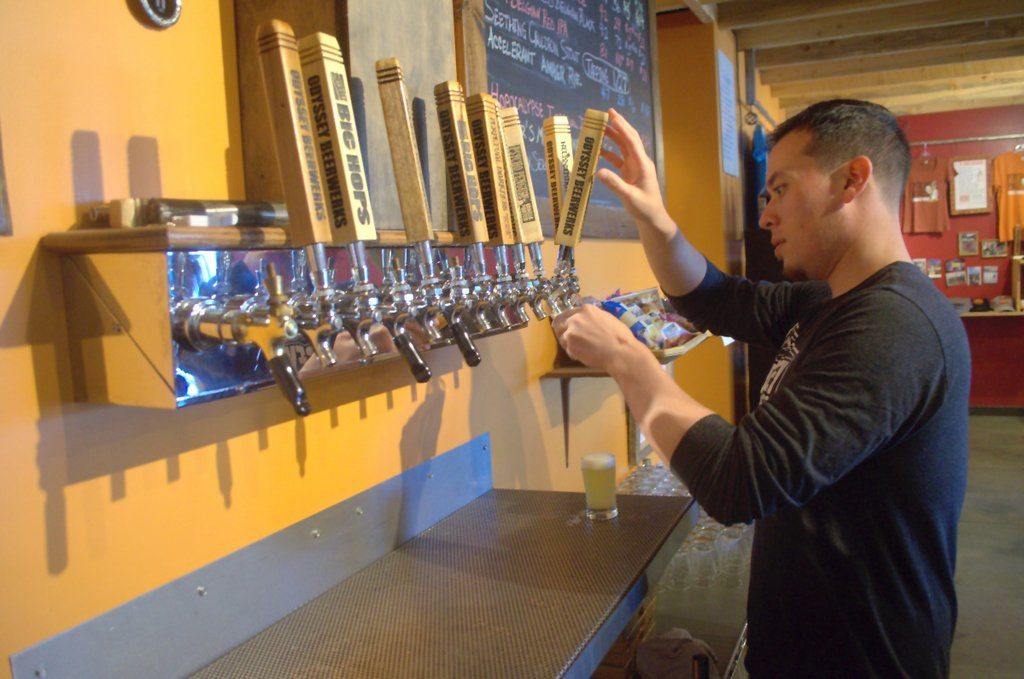 Odyssey is a 15-barrel brewery: with four 15-barrel fermentaters, one 15-barrel brite tank, and two 30-barrel fermentaters. Don't let the smaller-sounding size fool you though. All those tanks means the brewery can cook something new up all the time. Odyssey is working on having five constant beers with an IPA and a stout that gets rotated out for a new recipe about every two months. Currently in the works are a tequila barrel-aged beer, a rum-aged, and something having to do with wine barrels. They wouldn't spill the beans on that one quite yet.
What Beers Odyssey Offers
Although the beers offered rotate frequently, here is a taste of the type of beers you can find at Odyssey:
Helicentric Hefeweizen is the lightest fair, but worth its golden weight. It had some mild banana and clove flavors that made it a tasty all-around versatile beer for either hiking or relaxing. Or just sitting and drinking.
Hunter's Moon Vienna Lager is a pilsner style with dark malts and is a little on the sweeter side. But it again was light and easy to drink.
The Psycho Penguin Vanilla Porter smelled like fresh baked cookies, except if you were to take out everything that wasn't vanilla and flour. "We get a lot of feedback on this one," said Hill. "Some people say all they can taste is vanilla, other people say they can't taste anything. But the middle 80 percent say it's just right." Count us in the 80 percent, because by our measure it tasted just right: sweet and silky.
The Clan Warrior Scotch Ale, which is their newest addition to their canning line-up, is Hill's favorite beer to drink if it's cold out. "It's just so easy to cuddle up with a nice Scotch ale," he said.
Ghost Drifter Pale Ale was, in our opinion, the best smelling beer of the bunch. Something about it brings visions of a Hop fairy flying through an orange orchard. It might be a pale ale, but with four different hops added into it, you get those nippy textures of an IPA without any true commitment.
Axiom Belgian Red IPA was born out of a red style, but is a little on the sweeter side thanks to a bags of malt and Belgium yeast. It also has a ton of hops and over 100 IBU, but don't let that scare you away. It was a feel-good red that felt right at home.
Still not sold? Hill provided these final thoughts on what's really at the heart of Odyssey: great beer.  "The big challenge for a lot of breweries now is anyone can open a brewery with the capital and the desire," he said. "But you have to have good beer. If you don't have good beer, it's gonna come back on you." And fortunately, as we can attest, Odyssey has that covered.
All photography by Lindsey Bartlett