The anticipation of this year's Grammy Award winners for Best New Artist, Best Album and more is all anyone can Tweet about. Tonight marks the 57th anniversary on CBS and also one of the most epic nights in fashion. The red carpet will be dripping with celebrities in their suits and jewels while all of us at home and behind the camera will be waiting to see who takes the cake for most amazing attire.
Picking an outfit for any award show takes time and can be remembered for years to come. The challenge for all celebrities, whether they are performing or just there for the party, is all in the look. In honor of this event, we've compiled a list of some of the most memorable outfits from over the years.
10 Most Memorable Looks from The Grammys
1984: Michael Jackson
The introduction of the glove cannot be easily forgotten, especially when paired with eight Grammys. MJ's sparkle ensemble, gold shoulder pads and signature dance moves made this a night all were thrilled to witness.
Michael Jackson's unique style has dubbed him a style icon in his own right. From red leather jackets to high socks, his style can still be seen today in singers like Bruno Mars and will always be a top pick for Halloween costumes.
1984: Cyndi Lauper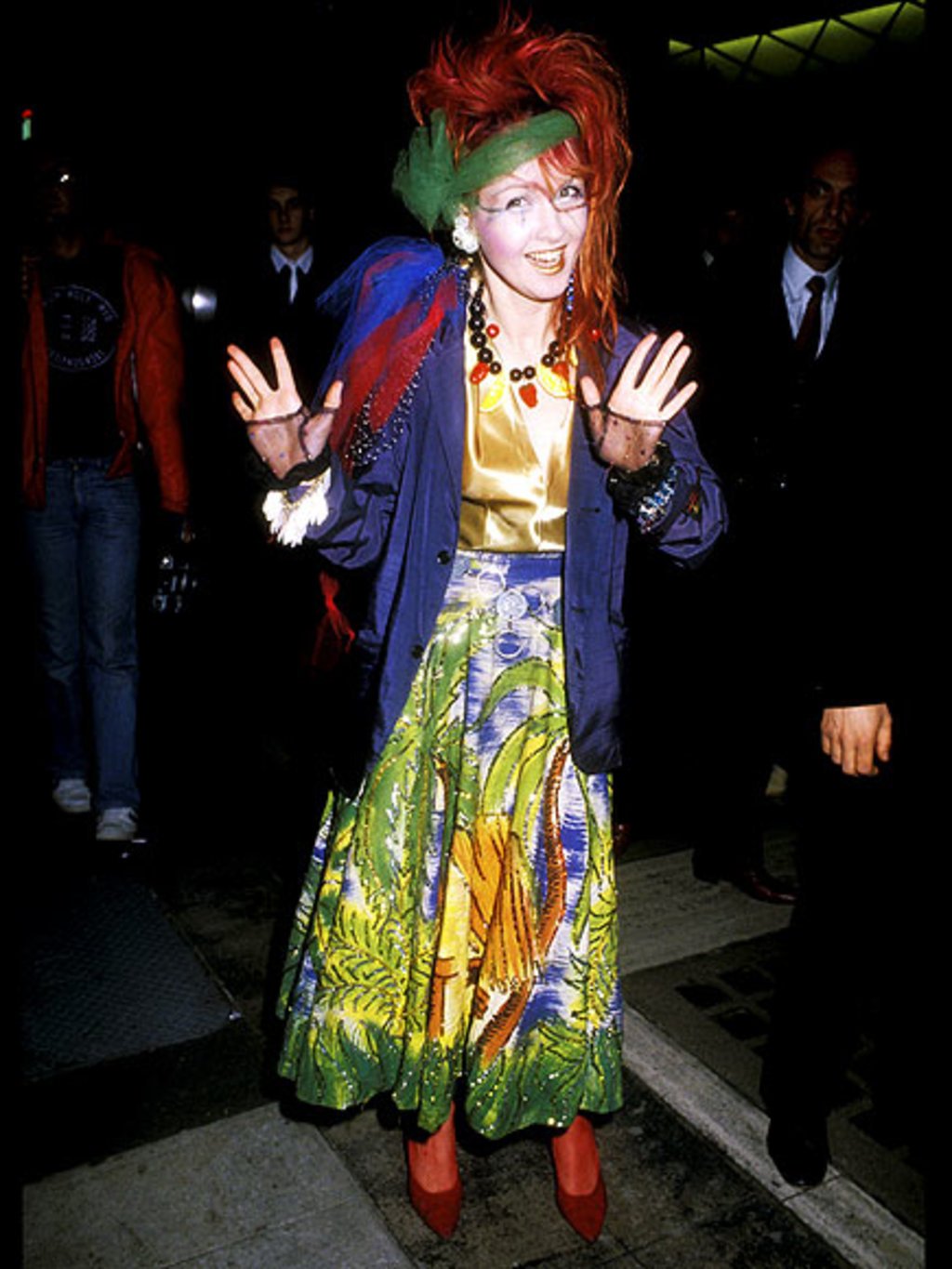 Everything about this outfit is spot-on for her "Girls Just Want To Have Fun" single. Whether it be her pineapple skirt, multi-color hair or looking like she threw on everything in her closet, Cyndi Lauper's win for Best New Artist trumped it all.
Lauper's eclectic style over the years has continued to be unique and a surprise at every special event. Katy Perry's fruit dress back in 2009 is another example of how to take your every day fruit bowl into a Grammy winning outfit.
1986: Cher
No one can wear a headdress quite like Cher, especially one that is two-feet high and made of rooster feathers. This beaded two-piece stood out on the red carpet and continued Cher's unique fashion sense and overall badassness. Not that cropped tops are back in stye…
Cher's midriff-baring tops can be seen all over fashion magazines again and her love of extravagant head pieces has found its way back to the light many years since it's inception.
2000: Jennifer Lopez
15 years later, this plunging green Versace dress is still one of the most well-known outfits from the Grammys. The low-cut silk chiffon dress was a show stopper back when she was still J Lo and she has continued to rule the Grammy carpet ever since.
2001: Christina Aguilera
This look is all braids and a lace-up neckline. The young, double-nominee singer paired her pink dress with a matching bra and temporary tattoo, showing off her thin frame and post 90's sheer evening gown.
The term drab to fab definitely fits Christina's Grammy fashion choices. Though she still managed to look beautiful in corn rows, there is no denying this outfit as one of the most memorable looks of the early 2000's.
2009: MIA
This baby bump-defining dress had no competition, especially if you're crushing it on stage with rappers including T.I., Lil Wayne and Kanye. The polka dot defining dress look left none to the eight months of pregnancy imagination but still managed to work on stage.
MIA's pregnancy attire was a huge hit on the red carpet, where she also appeared in a short blue dress with sneakers. If there is anyone who can pull off a fancy dress and  high tops, MIA would take the award.
2010: Nicki Minaj
Never failing to impress, this animal print look was right up Nicki's level of fun, yet ridiculous outfit choices. Over the years she has continued to experiment with styles and costumes but the addition of the Frankenstein bride hairdo topped off the look and made her stand out amongst the crowd. She is nominated for more awards this year and we can't wait to see what she comes up with.
2010: Lady Gaga
This was the year before the egg but was defining in itself. The ombre yellow hair and multiple nominations kept Lady Gaga on top of everyone's radar while once again delivering a creative look she has become known for.
Her performances have always been completely unique and though she isn't up for any awards this year, Lady Gaga is sure to impress.
2011: CeeLo Green
Ceelo rocked a feather frock to the Grammys and continued this look for his performance later in the evening with Gwyneth Paltrow. As a man of many materials, Ceelo has always brought a little something extra to his wardrobe.
His trademark sunglasses and jeweled headdress brought competition to all outfits of the evening. The only thing better than a man in feathers is a man in feathers playing the piano.
2014- Pharrell Williams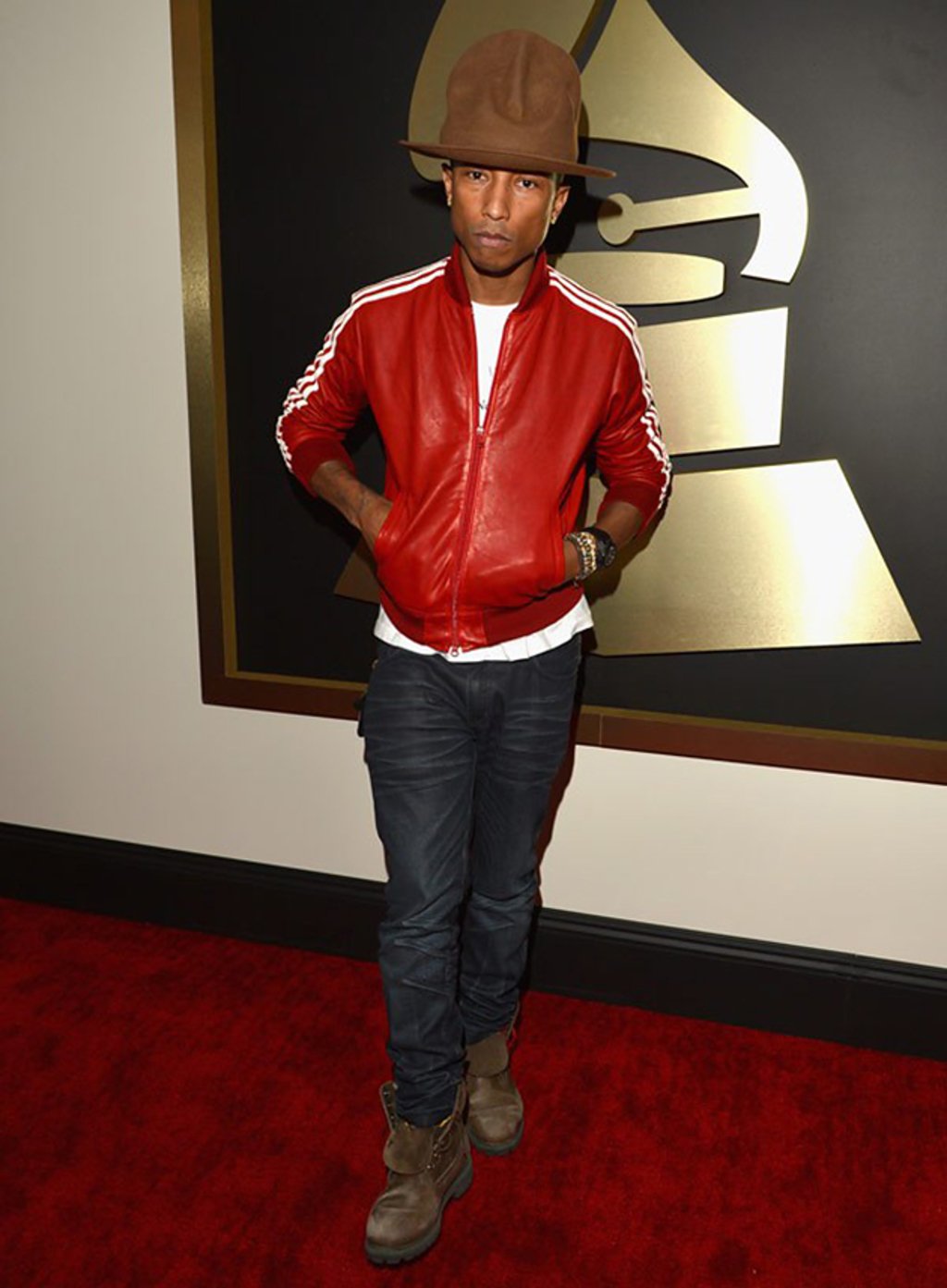 The infamous hat and four Grammy wins made Pharrell, as well as Daft Punk, huge winners last year. He sold the hat to Arby's for $44, 100.00 but we will always remember the hat that made us go "Wait, what?"
What are some of your favorite Grammy looks over the years? We'd love to hear from you! Make sure you tune in this Sunday for the 57th Annual Grammy's.