As usual, this week was riddled with music news–the bad, the good and the ugly. From copyright lawsuits to confusion about current band members, this week is just another in a long line of what the –, courtesy of the music industry. Check it out!
Sam Smith Settles Copyright Suit With Tom Petty
Smith's hit ballad "Stay With Me" bore an eerie resemblance to the chorus in Petty's "I Won't Back Down," written by Petty and ELO's Jeff Lynne. Smith, who agreed to give co-credit to Petty and Lynne, settled the copyright dispute amicably over the weekend. But Smith maintains that the likeness was nothing more than a coincidence. Petty released a statement on the matter earlier this week saying:
I have no hard feelings toward Sam. All my years of songwriting have shown me these things can happen. Most times you catch it before it gets out the studio door but in this case it got by.
Taylor Swift Does More Weird Sh*!
America's once-country-now-pop Princess, Taylor Swift, decided to trademark some phrases from her hit album 1989, which has sold more than 4 million copies in the U.S. Swift decided that it would be prudent of her to trademark phrases like "this sick beat" and "we never go out of style," to ensure the likes of fame-mongers like Miley Cyrus should never be able to use them. Right? Well, not really. The trademarks prohibit others from printing Swift's lyrics on things like t-shirts, purses, puppy clothes and super-trendy-lenseless-hipster-glasses. Sure, the trademark may seem strange to some, but in an era of declining record sales, some artists are relying on their merch to make that skrill. Can you blame them?
Loudwire Music Festival Adds Rob Zombie and Weezer to Lineup
After announcing headliners Linkin Park, Loudwire Music Festival in Grand Junction, CO announced this week that Rob Zombie and Weezer would be joining the ballot as co-headliners. Also announced were Halestorm, A Day to Remember and Hinder. I expect mixed emotions on these announcements ranging from "Shit, yeah!" to "Shit, what?" What do you think? Let us know!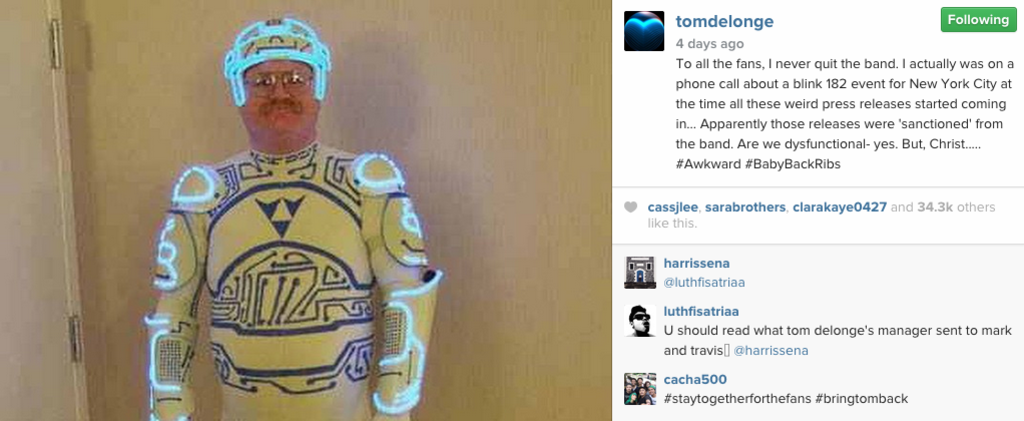 Tom DeLonge Leaves Blink-182, Then Says He Didn't
We're pretty confused on this one. Is Tom DeLonge still a member of Blink-182? Mark Hoppus and Travis Barker seem to think not, in a statement they released saying he had quit the band and would henceforth be replaced by Matt Skiba. Tom then took to his Instagram to dispute the legitimacy of the statement. Well, this interview with Rolling Stone seems to clear some things up. In it, Hoppus and Barker put DeLonge on blast, holding nothing back and attesting to the legitimacy of their claims.
Check back every Friday with This Week in Music for national music news!