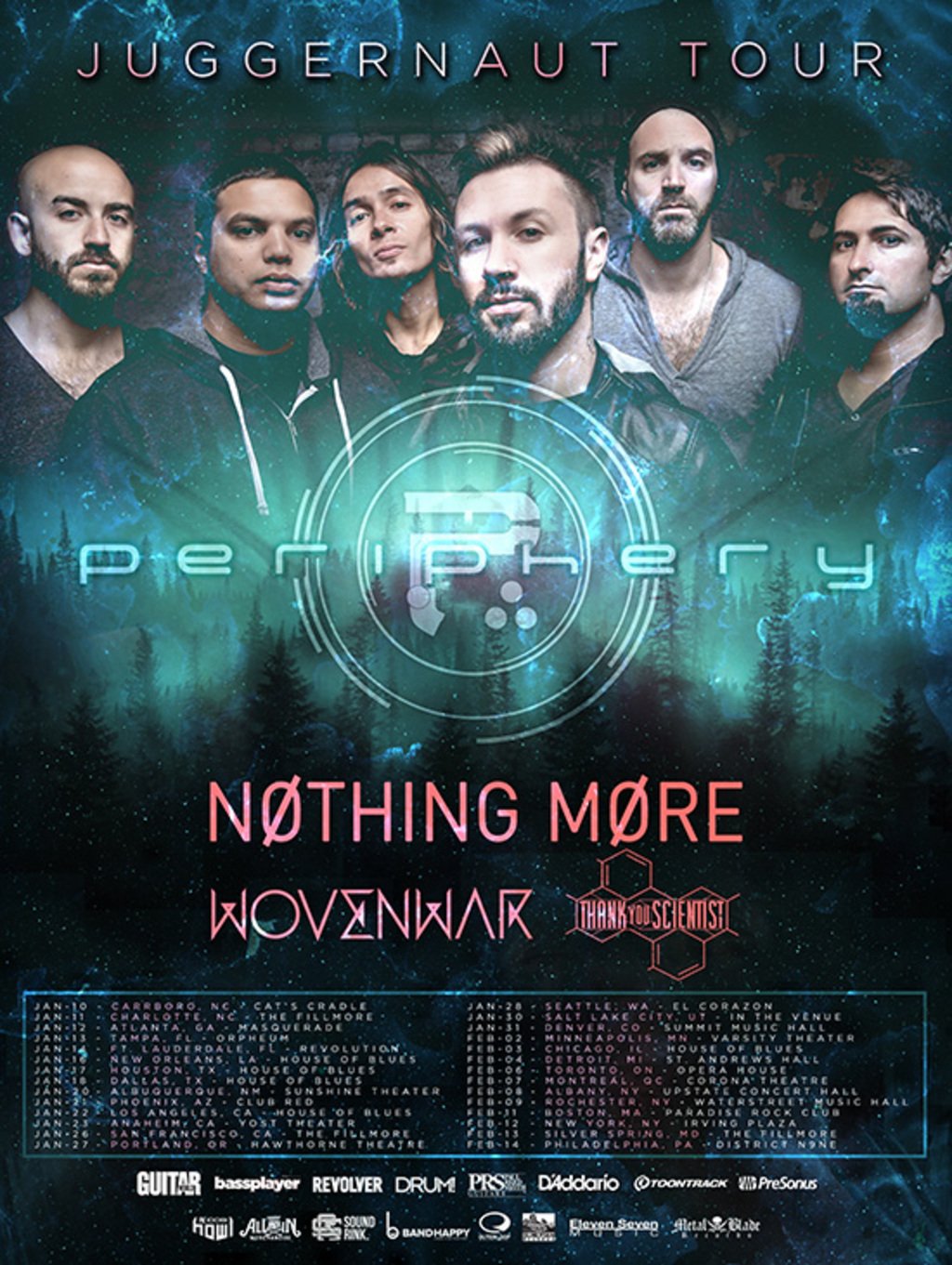 Progressive metal six-piece Periphery roll into Denver's Summit Music Hall this Saturday in support of their recent double-album release (Juggernaut: Alpha / Juggernaut: Omega) on the felicitously named "Juggernaut Tour." Expect a heavy dose of both parts of Juggernaut to be played, but also a hearty abundance of tracks from the highly acclaimed Periphery and Periphery II.
But wait? What's Juggernaut all about?
This "juggernaut" double-album (it's a very appropriate album title) unloads a whopping 17 tracks full of ferocity and aggression, which is sure to please any fans of the progressive metal genre. While Juggernaut: Alpha boasts a majority 10 tracks, Omega makes up in track length what it lacks in overall quantity, as both records run about 40 minutes in length.
Periphery continually exhibit adept musicianship with a multitude of musical intricacies on their records (as well as in performance), and the creation and execution of Juggernaut as a whole is no different. Both Alpha and Omega bring the heat and keep the pedal to the metal for the duration as djent-ridden palm-muted chug patterns come in full on waves of pure terror thanks to guitarists Misha Mansoor, Jake Bowen and Mark Holcomb. And vocalist Spencer Sotello brings his consistent vibrant, dynamic vocal range to the table — his authoritative screams all but move mountains, while his rip-roaring clean vocals counter step-for-step in sheer exuberance, natural ability and determination.
The lead single, "Alpha," makes a run for the best overall piece of work across both records, as it tears across five and a half minutes of a bipolar balancing act that features Sotello at his absolute best, as far as tone and efficacy goes. Omega's "Graveless" is the "Alpha" counterpart that yields baleful screams and devastatingly heavy guitar patterns, but also gives way to a pleasant mini guitar solo and a variety of sinuous clean vocal melodies. Both tracks represent Periphery at their finest.
Periphery stick to what they do best on their double-trouble duo record, and exemplify just how volatile a progressive metal band can be — from moments of pure hell on earth to celestial reprieves that feature a softer, more delicate side. Juggernaut arguably is their top release to date, and may in fact become regarded as their magnum opus as things stand now. (Also, look out for Periphery's vocalist, Spencer Sotello, on the upcoming From First To Last record, as he's also taken over full time vocal duties for From First To Last.)
Pick up both parts to this double-release today, and make sure you get your tickets in advance for what's sure to be an impressive display on Saturday.
Check out Periphery's music video for their single, "Alpha"
Periphery will also be joined by guests Nothing More, Wovenwar and Thank You Scientist.
Doors: 6:00pm
Tickets: Advance – $17 / Day Of Show – $20
Written by Samuel Lang of 303 Magazine.
Photos and video courtesy of Sumerian Records, Periphery and Speakeasy PR