Menswear season is finally here. It seems as if the entire world of fashion revolves around women but in all actually, menswear is heating up the fashion world in Denver and around the world right now.
Menswear collections often get lost in the hype, especially when being presented during award season. Menswear designers are also forgotten about in comparison to their womenswear counterparts. So this FW 2015 fashion season, 303 Magazine is showcasing our top Menswear designers and their shows.
RECAP: Men's Fashion Week – Our Top 3 Favorite Shows
1. KTZ

KTZ was born out of London in 2003 under the direction of Marjan Pejoski and the management of Sasko Bezovski. The two opened up shop in Soho in 1996. The boutique showcased new, cutting edge designers alongside their own brand, KTZ.
Due to their success in New York City the duo packed up shop and traveled across the globe to focus on their own brand. The label now operates out of London and creates men's and women's wear. The identity of KTZ focuses on modernity and the ancestral. It makes reference to the secular and religious, music and art, creating a truly unique label.
This Fall 2015 KTZ made us fall in love with black, gray and splashes of red. Looks were full of labels, art, and patches. Thats right, patches. Punk-inspired labels were thoughtfully placed on suit jackets, t-shirts and pants. Dapper hats gave the illusion of 19th century London while graphic prints reminded us of New York street style. Three words sum up this collection: cool, dark, dramatic.
2. Sibling
Sibling is another London-based fashion brand that creates clothing for the masses. Its message is clear: fashion is for everyone. Sid Bryan, Joe Bates and Cozette McCreery all worked at major fashion houses before joining forces to create what is now, Sibling. They have described their brand as colorful, humorous and sparkly. These aesthetics were definitely presented in its menswear Fall 2015 show.
Testing the boundaries of fashion, Sibling generously used pink for the entire collection. British school uniforms were the main inspiration for this dream-like runway show. Large stuffed animals were featured as accessories and brown paper bag garments littered the runway. It may not be obvious by now but this entire collection was reminiscent of early childhood days. Childhood-like colors made it head-to-toe on the models alongside "sack lunches" and "teddy bears." At the end of the show the models lined up in the same fashion you would a class picture, and the designers emerged among a clad of pink to finalize the finishing touches.
3. J.W. Anderson
Out of all our menswear designers, J.W. Anderson is probably the most established out of the batch. Beginning in 2008, this fashion powerhouse has quickly risen to new heights. His womenswear brand quickly took off and soon his menswear brand would follow.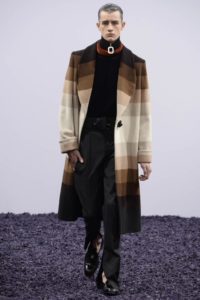 The thing that makes J.W. Anderson so special is the unison between the two brands. The theme of J.W. Anderson is to offer up modern interpretations of masculine and feminine garments with creative silhouettes. His Fall 2015 collection certainly did not shy away from creativity.
Long silhouettes were created through large jackets and coats making for a very masculine look. But in true J.W. Anderson style, large flower-like buttons and pins brought a feminine quality to the show. These buttons continued to be presented throughout the collection, making for a great 3D quality.
J.W. Anderson continued to push gender boundaries as we started to see very long, high waisted pants on the male models. Choker-like scarves and long slits only added to this gender bending, thought-provoking show. If his menswear collection is this good there's no doubt we can expect to see the same from his womenswear show coming up next month.