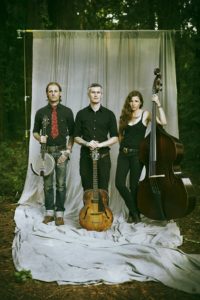 They're dark and dirty, fast plucking and upright bass a-wailing. They'll have you twirling and stomping and smiling. Their unique blend of honkey tonk, punk rock, and garage-y blues-grass attracts fans of all things music. They're the Devil Makes Three and they're taking the Fillmore by storm on Saturday January 24, with doors opening at 8pm and the show kicking off at 9pm. Tickets cost about $30, plus fees.
303 Magazine had a chance to interview Devil Makes Three's guitarist Pete Bernhard on his rare day off. Pete mentioned they will be re-releasing their 2009 album Do Wrong Right on red vinyl during this tour, and there's a catch. Inside one copy will be a golden ticket and whoever finds it will get free entrance to any Devil Makes Three club show for the next year.
Pete mentioned that, "Denver is such a great spot for us, so we're going to make sure to try to get back to people at that show." So be certain to stop by the merch table at the show, whether you're a record collector, music fan, or you're just feeling lucky.
Read on to learn more about Devil Make Three's major musical influences, some of the band's favorite artists to perform with, and why they don't need a drummer.
303: I was just browsing over your tour schedule and you guys are literally playing every night for the next month straight. When do you sleep? 
Pete: (laughs) Oh, it's no big deal.
303: Your latest album I'm A Stranger Here (2013) includes a lot of dark stuff about that "rootless nature" and the "lack of community" because of that constant touring, using this "stranger" character to represent you. Can you tell me about how this sort of lifestyle affects you personally and how it continues to inspire your music.
Pete: Well, yeah. You know, I think it definitely affects all of our lives, just constantly traveling. Whether you want it to or not, it changes your life for sure. Partially the reality of it happening and the tradition of all the other people who did it and wrote songs in that same vein.
Some of my favorite songs are written about traveling and being on the road. It suits me pretty well.
I think that's why I got into it in the first place. I always loved to travel, even before getting into the band. It takes a certain type of person to do it. But that was a big inspiration for that record. When you're traveling as much as we are, it just naturally sneaks in.
303: From growing up in Vermont with "hippie parents" and then migrating to the punk scene in Boston then ultimately making your way our to Santa Cruz, how has the diversity of our country's music scene made an impression on you and your band? What are some obvious differences that you've found in the East versus West Coast music scenes through your migration?
Pete: We're huge fans of a lot of genres of America's music. When people talk about America, people forget a little about the art and music. We have some of the best art and music in the whole world. Our band pays tribute to all the people that we love and the music we've been listening to.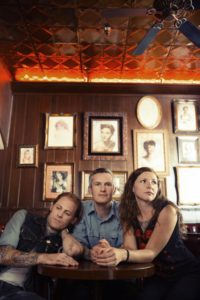 I think that the differences in the scene are very particular. Growing up on the East Coast, you sort of have that Newport Folk Festival thing going on. That tradition exists there. Out West, it's a lot less prevalent. The closest thing is the California country music scene with Bakersfield Sound and stuff like that. Graham Parsons was part of that scene, the Grateful Dead and the Flying Burrito Brothers.
There's also a huge jam scene out in California, which we sort of got lumped into even though we don't "jam" that much. Our songs are typically, like, three minutes long.
On the East Coast, there wasn't this "jam grass" scene at all. We got into punk music in Boston. You know, you had to get into the city to experience that on the East Coast. But so many bands we loved were from California. Santa Cruz has a great music scene for a small town. Plus San Francisco is right there. It was just a natural progression.
303: The Preservation Hall Jazz Band is one of my all time favorite bands to see live. Tell me what it was like recording "Forty Days" with them?
Pete: Man, it was really awesome. Buddy Miller, our producer, is friends with those guys. He gets all the credit. It was really great, that song came out so well. Throughout making the album, we had the opportunity to work with so many great people. Making that record was probably the most fun we've ever had in the studio.
303: Who are some of your favorite bands that you've toured with or been able to collaborate with?
Pete: Oh, well Buddy Miller is great. He's played with us a couple times. He's an amazing baritone guitar player. Asleep at the Wheel was really fun. We play on a tribute album they're doing to Bob Wills and his Texas Playboys, who was their biggest influence. We've had a lot of great bands we've gotten to play with. That's one of the great things about touring. Same with recording projects, and there's definitely more of that I want to do in the future.
303: Bands like Preservation Hall and the Carolina Chocolate Drops and you guys, of course, have such a unique sound because of the way you manage to put yourself into a little time capsule of sorts. Your musical sound is so down-home and rootsy, paying homage to the true blues musicians of the past. Who are some of your musical inspirations?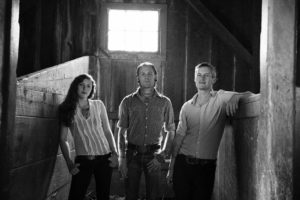 Pete: We have so many. Everything from the country side of things: Buck Owens and Hank Williams and Johnny Cash and all the greats from Sun Records Recordings. But then on the other side, there's a lot of New Orleans Jazz, Django Reinhardt, gypsy jazz.
And a lot of blues influence, which was the first sorta music I got into. Mississippi John Hurt, Robert Johnson, Muddy Waters, Howlin' Wolf. My brother really got me into that when I was a kid. He worked at Berklee College of Music. Blues had a big influence on us. We love that old sound.
I guess I should also mention the Texas singer-songwriters Townes Van Zandt and Guy Clark and Steve Earle, those guys too. Stuff coming from everywhere. Our band is way more influenced- and I do love bluegrass- by blues and early rock and roll.
My goal is to really bring all that great music into the future, and to have the song writing be current so it's actually about things we experienced. The same way those people wrote songs about their experience. We need to bring that into the future. 
303: You read a lot about how you're a "drummerless" band. Why do you think it's so imperative for bands to have a drummer these days? How do you think that lack of a drummer adds to your signature sound? (And who needs a drummer with a bassist like Lucia Turino?)
Pete: Yeah, you know it does kinda throw people. But a lot of those influences, those guys don't have a drummer. If they had a drummer, it would just be a snare drum with a brush. A lot of the stuff we really love didn't have a drum. If you have a great upright bass player, it's not necessary. We get people dancing, so we don't see a reason for a drummer.
303: Any plans for a new album on the horizon?
Pete: I think we're gonna do a little recording in Nashville and print some 45s, some singles like they used to do, that are just tributes to people that we love. Blues music and punk music. We're working on some new material, but not sure about a new album this year. We have about seven new tunes, but we need at least ten. And we'll be putting out some B-sides from our previous recordings with Buddy that will hopefully be out for this tour.