Where: 7745 Wadsworth Blvd., Arvada
Neighborhood: North Arvada
Pro: In-house roastery, new bigger space, quality specialty coffee and food. 
Con: Some might complain it's not close enough to Denver.
Two Rivers Coffee, a well-loved coffee shop in Arvada, has expanded its original location. Taking over the space next door, Two River now includes an in-house small batch roastery, outdoor patio and is offering new food options with a new Executive Chef.  303 Magazine popped in the cafe to chat with Two Rivers Coffee owner Eric Yochim last week on its grand re-opening. 
Yochim, who was born in Long Beach, has lived most of his life in Colorado. He grew up in Arvada and originally began his career in fine dining with a gig as the general manager at the now-shuttered O's restaurant. But when the  struggling Novo Coffee Shop in Arvada asked him in 2010 to take over the business he decided to take a risk. Yochim stepped into the realm of coffee with an intent to serve his community with the best possible products. That certainly seems to be the case today.
The space that now has a capacity of 80 from its previously 40 seats also has an area where you can view the in-house roastery in a small glass-walled room that you can see from afar when you walk in.  Previously Two Rivers roasted its coffee beans off site, subleasing space in downtown Denver.  Having the roastery in-house gives the business an opportunity to show customers visually how roasting happens — bringing them one closer to the quality, production and life of Two River's coffee.
"There's also another significant addition: Two Rivers new executive chef is Chris Teigland, a recent winner of the 2014 Denver International Food and Wine Festival."
Currently, Two Rivers sources its coffee beans from farms all over the world building relationships with buyers with integrity, and direct trade with farms. Currently, one direct relationship is with a Kenyan grocer who coordinates imported Kenyan coffee beans. For other countries such as Guatemala, Colombia and Ethiopia, Yochim and his staff chases the seasons and works with various buyers and farms. Yochim emphasized the need to be transparent about where the coffee beans come from.
There's also another significant addition: Two Rivers new executive chef is Chris Teigland, a recent winner of the 2014 Denver International Food and Wine Festival.  They plan on hosting food-centric events and tastings, to pair coffee with well thought out food similar to pairing food with wine. With a talented and creative chef and produce from local sources like Clear Creek Organics farm in Wheat Ridge, you will find many new food items enticing.  Attention-catching menu items include a Grilled Pork Belly Sandwich, Coconut Carrot Soup and Frittata.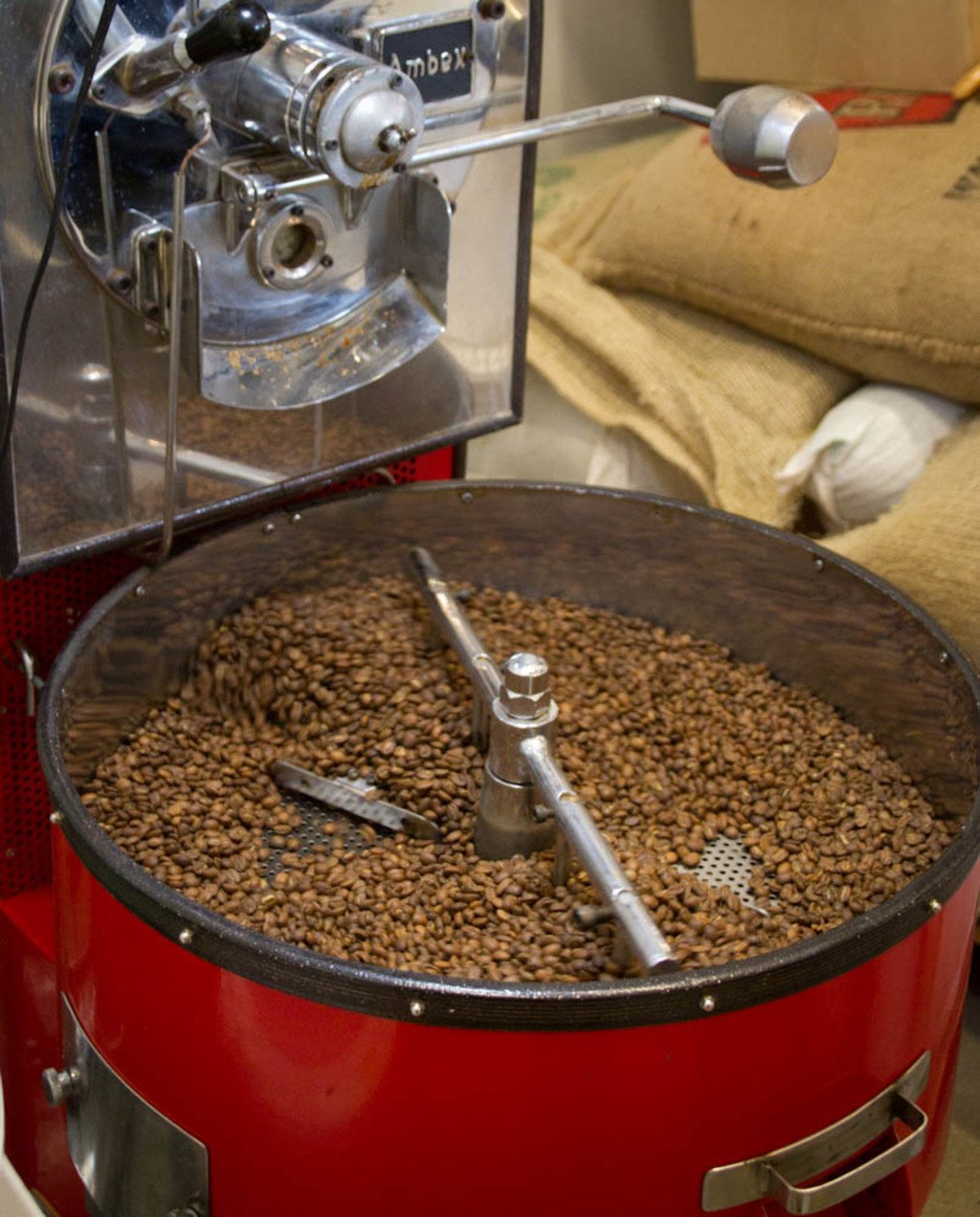 We recommend the lavender shortbread, Two River's own recipe, coupled with a satisfying cortado made with Confluence espresso that is served in a handmade cup made by the artistic baristas. Yochim explained that this particular espresso is a seasonal blend that consists of Colombia, Guatemala, and Ethiopia varietals with tasting notes of Dark Chocolate, Apricot, Graham Cracker, Cherry, and Floral with a Creamy Finish.
Two Rivers with more coffee, a more extensive food menu and with events and offerings looming on the horizon, this cafe and roastery are the ones to visit.  It's clearly a suburban oasis with a passion for specialty coffee, fine dining, exciting experimentation of the two combined and working with and serving its community with quality products. We approve.
All photography by Crystal Rhea