What: Popular Highlands hot spot Linger is now offering a bigger happy hour selection with plenty of food and drink choices for $5 or less.
Where: 2030 W. 30th Avenue, Denver, CO
When: Available in the bar area Tuesday-Friday,  4-6:30 p.m.
The Food
Since 2011, Denver has been crushing hard on Linger's macabre attitude and playful street-food inspired cuisine. With their new happy hour offerings, that crush is sure to become a full blown love affair. Linger is known for incorporating quirky nods to its space's former occupant, Olinger Mortuary, so it's no surprise that their new happy hour offerings are printed on a coffin-shaped menu. But this is one coffin that you'll want to get into. The entire menu is low-cost with lots of variety, featuring:
13 small plates, $5/each
8 cocktails, $5/each
All wines by the glass, ½ price
5 Colorado craft beers on tap, $4 each

River North Belgian White
Dry Dock Amber
Fate IPA
New Belgium Dubbel
Grimm Bros Dunkel
So with so many choices, what should you order? It's hard to go wrong, but one stand out item is the Honey Sriracha Duck Wings. Whether you think you love or hate duck (or anything in between), you'll have to try these. Super crispy on the outside and coated with a sticky, slightly spicy sauce, these addictive wings are served with refreshing salted cucumber slices and togarashi (a Japanese chili powder) ranch.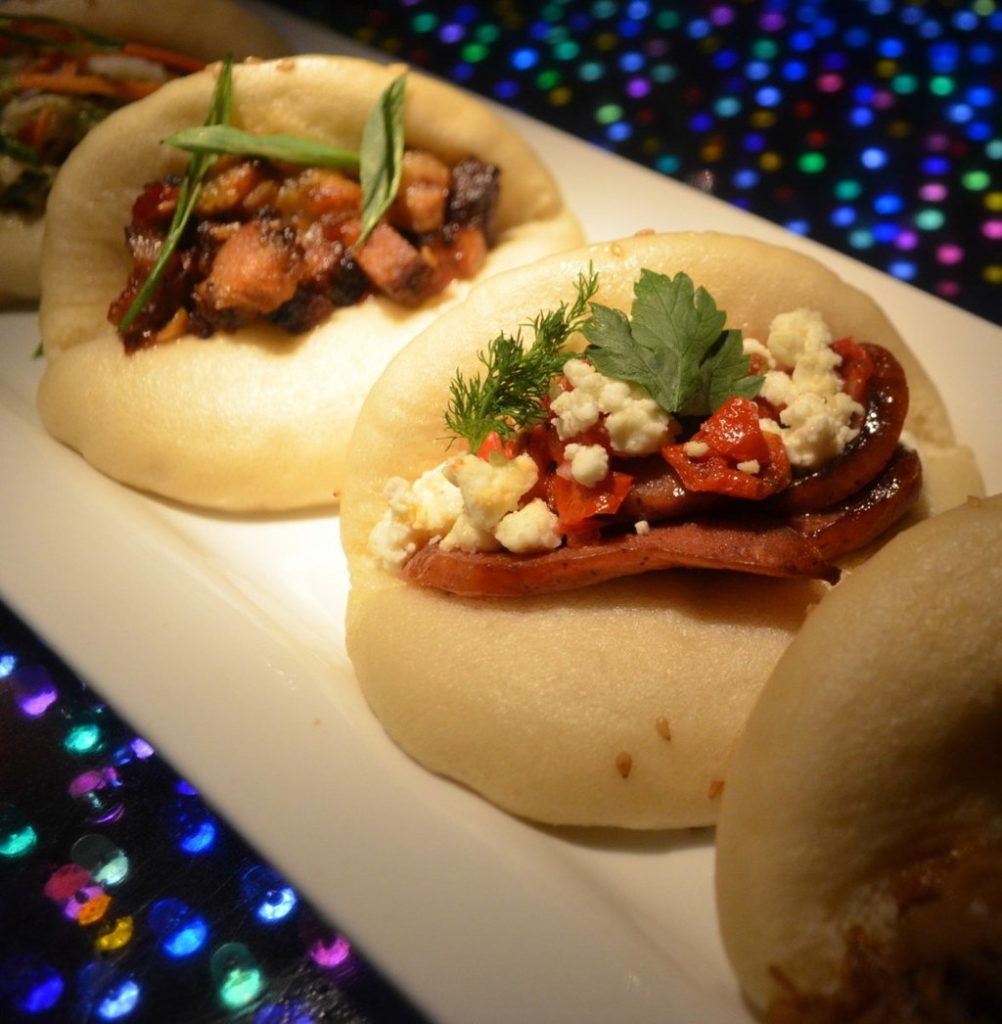 One of the more popular items, and rightfully so, is the Fried Cheese & Roasted Shishito Peppers.  With a liberal serving of tempura battered cheese curds, mild but flavorful peppers blistered from roasting alongside a sweet and spicy orange habanero jam, this is a delicious deal.
The only dish that fell short flavor-wise was the Sesame BBQ Tacos. The meat was more chewy than tender and it was saturated with the salty flavor of soy sauce which covered up the flavor of the locally sourced wagyu short ribs. This miss was made up for, though, with the Wagyu Slider, a simple, juicy burger with peppered bacon, aged cheddar and curried sour cream. Both of these dishes featured meat from Callicrate Beef, a Colorado Springs based supplier that provides Linger with grass-fed, organic (and tasty) beef – just one of the many ways this restaurant promotes eating local and sustainability.
The rest of the highlights from the happy hour food offerings are:
Pork belly, mu shu chicken, or Mongolian BBQ duck served on puffy pillows of expertly made steamed buns.
Pierogies stuffed with potatoes and cheese and served with pickled beets and tangy horseradish chive cream.
Devils on Horseback a.k.a. bacon wrapped dates stuffed with goat cheese, the ultimate sweet, salty, tangy, creamy flavor combo. Don't forget to squirt a little lime on before eating.
A jar full of Roasted Beet Salad. The jar isn't really practical, but if you pour the mixture on a plate you'll get the full crunchy, slightly spicy, earthy flavor all accented by a creamy yogurt-based raita sauce.
The Cocktails
So what about the drinks? There's something for everyone. Love bubbly? Get the La Rosa. An effervescent treat with aperol, lemon, bitters and sparkling wine with fresh rosemary for an herbal touch that's perfect for this time of year. Spicy cocktails are one of my personal weaknesses, and the New Saigon is a spicy cocktail done right. With gin, cucumber, thai basil, jalapeño, lime, and a dash of black pepper, this drink is a slightly savory, citrus-spiked beverage that's just hot enough to wake up your taste buds while still going down smoothly.
Other cocktails options include:
The Marrakesh Express with Jamaican Overproof rum, pomegranate shrub, lemon, absinthe, and mint, another fresh-herb spiked option.
The Old-Old Fashioned, a reimagined throwback with bourbon, demerara sugar, and angostura bitters.
The Ginger Collins, a Moscow-Mule like libation with vodka, ginger, lemon, sugar, and sparking water.
Every selection on this menu exhibits Linger's effort to take familiar food and make it their own. Plus adventurous eaters will love being able to sample so many unique flavor combos for such a low price. But if all of the exotic-sounding ingredients filling this menu are a bit intimidating to you, I recommend you just grab a chair at the Lite Brite covered bar, close your eyes and trust your mouth.
All photos by Lindsey Bartlett.