The Colorado fall has been surprisingly warm but we all know there's a storm brewing. Soon enough the winter snow will arrive and our beauty habits will have to change.
For some of us dry skin is a major problem during the snowy season which we can combat with some surprising oils. You can also use oil to keep your hair on-point by slicking it back for an easy look that wont go out of style. And we should never neglect our nails. Popular colors for this season include pastels that you can easily transition on over to spring. Keep your look fresh this  '14 winter season by staying up-to-date on these top beauty trends. 
Top Five Beauty Trends of the Season
1. Moisturize with Oils
Many of us may find the idea of adding more oil to our face a bit strange but the results can be truly amazing. If you find your skin to be extremely dry and flaky, just any moisturizer won't will cut it. Why not try moisturizing with 100 % Pure Argan oil?
It may be surprising to learn that oils can help nourish dry skin and can even balance out oily skin. Oils are also used to help treat acne prone faces. They are rich in vitamin E and essential fatty acids. You can use it to treat split ends, moisturize skin and soften tough cuticles. You be the judge, try out this oil from Jose Maran and see results right away.
2. Charcoal Supplements
There's a new trend in the skin care industry that may just blow your mind. Charcoal is all the rage and is now be ingested through juices and pill supplements. Charcoal is known for its ability to draw out toxins and can now be used as part of your detox routine. Unlike other supplements, charcoal is not absorbed by the body. Rather, it clings to the toxins and poisons that we have in our system and moves them out. The charcoal acts as a super strong sponge as soon as it hits the digestive tract due to its activated carbon. Charcoal can now be found in select juice bars across the country. But if there's not one in your local town, try charcoal capsules instead. You can usually find them at your local Whole Foods or online here.
3. Violet Lips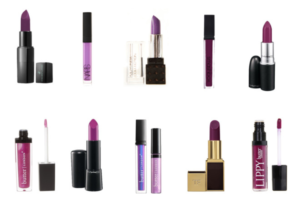 If there's a season where you wear violet lips and get away with it, that'd be winter. Many of us are going to opt for all black looks anyway so why not play up the lips with a bit of color. A popular look on the Fall/Winter 2014 runway shows, violet lips can be applied in dark or colorful shades. Pair a dark lip with a leather jacket and black beanie to let the other girls know you don't want to be messed with. Or mix that color up with some glitter to make for a stand out beauty statement. However you choose to wear it, there's no way you can go wrong with a fierce violet lip.
4. Sleek Hair
It's all about smooth hair this winter season. Low, parted and slicked back, we hope this trend is here to stay. It's an easy, simple, minimalist look that just about anybody can copy. Pull the hair apart to reveal a stark center to make your face look long and lean. Or create a part to the side making for a much more feminine frame. There are a variety of looks you can achieve through this hair style. Pull it back into a pony tail for a day of errands or put it up in a bun for those messy hair days. Not sure which look will work for you? Take a cue from your favorite celebs red carpet looks and adapt it into your own personal style.
5. Pastel Nails
Denver Fashion Weekend is a great way to watch for new trends and from the looks of it, pastels are in for winter. Many of us may associate these colors with the spring season but they fit amazing well with the ice cold weather. Opt for cloudy blue that will give your nails a bit of color. Or go for a slate gray that will emulate the dark sky. You don't have to send major bucks to get great results. Check out your local drug store for these great winter colors.