The Brothers Comatose press rep reached out to me a few weeks ago while I was in California covering the Hangtown Halloween Ball to see if I'd like to interview the boys from the band. I was intrigued by the unfamiliar and ironic band name and made a point to catch the San Francisco band's set during the festival.
It was love at first sight. This gaggle of undeniably good looking young men blew me away with their high-energy afternoon explosion of strings and enthusiasm (plus they were dressed like Woodstock hippies, with facial hair appropriately coifed in preparation for their upcoming Halloween show in Santa Cruz).
Their music was fun and upbeat and the Brothers certainly injected an air of youth into the festival's scene, where the more seasoned veterans of funk and bluegrass were very prevalent (The Meter Men, Leftover Salmon and even the Railroad Earth guys could almost all qualify for senior citizen discounts).
I had the pleasure of interviewing Ben Morrison, one of the founding brothers of The Brothers Comatose this week to preview their upcoming show in Denver. The Brothers Comatose will be opening for Hot Buttered Rum this Saturday, November 15 at the Gothic Theatre at 9pm. They will also be playing in Ft. Collins on Friday, November 14 at the Aggie. And if you can't catch either of this weekend's shows, fear not: The Brothers Comatose will be back in February for WinterWonderGrass in Avon.
Read on to learn more about how the Morrison brothers got their start as musicians, gain some insight into the bluegrass scene in San Francisco, hear about some of The Brothers Comatose's favorite festival moments from this summer and fall, and to learn how you can win a free pair of tickets to their show this weekend.
303: You guys first got started playing music together at good ole Morrison family house parties. How do your shows now compare to those "inclusive and rowdy" house parties?
Ben: Our parents used to throw these music parties when we were younger. Everybody could be a part of it, lots of sing-a-longs. Most people that were there could at least play a little bit of an instrument, so everyone would join in and play. It was a great environment to learn and play music. I think it was an important part of our music learning career when we were younger. We like the idea of keeping people involved, so a lot of times at our shows we get people to clap, etc. We sometimes pass out chopsticks to people in the crowd to play along to the beat. We just try to get the crowd involved and participating. It's more fun for us and them.
303: What do you like best about the music scene in your hometown of San Francisco?
Ben: There's actually a very good folk and bluegrass scene here. There are a lot of cool bands around and venues that support that kind of scene. It's great, I really enjoy it. Hardly Strictly Bluegrass Festival started about thirteen or fourteen years ago and has done great things for the local scene, too. Because it's a free festival, it exposes a lot of people who normally wouldn't go to see that type of music. It's awesome.
303: What was the highlight of your recent tours with Devil Makes Three and Yonder Mountain String Band? Were you guys able to learn anything important from touring with these bluegrass powerhouse bands?
Ben: Well, the fans are all awesome, so crazy and vastly different. Devil Makes Three was such an interesting experience because, while they are obviously both string bands (YMSB and DM3), their crowd was so different. We played a lot of the same venues with both bands in, pretty much, back to back tours. DM3 has more of a whiskey drinkin', rock and roll, in-your-face, foot stompin' and yelling, super-into-it crowd. Something about the more punk kind of aspect of their (DM3) music brings out the people who leave their empty whiskey bottles all over the bathroom floor. And they sort of started in Santa Cruz so we saw them a lot around the Bay Area. We've seen them really progress. Then the Yonder crowd was so much more of a laid back, dancing with their arms up in the air sort of crowd. Totally different scenes. We learned a lot about live performance from both bands and music in general. It was a great learning experience.
303: I was just at the Hangtown Halloween Ball, which is when I first saw you guys play live. Bringing out Allie Kral and Timmy Carbone for the "triple fiddle" was an exciting move. What did you guys enjoy the most about the Hangtown Ball, other than the fact that it was practically in your own backyard?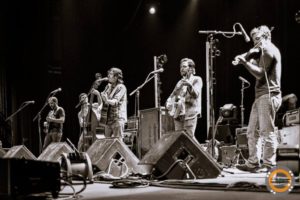 Ben: Well, that part was pretty great. We got to see a lot of friends there. Seeing our friends The Dead Winter Carpenters, Poor Man's Whiskey, the Shook Twins, and, of course, running into Allie (Kral) wherever we go is always great. She's filled in for fiddle with us before in many shows in the past, so we always try to get her up there to double fiddle. She knows a lot of our music. And Tim (Carbone) is just so cool. We hadn't done the triple fiddle thing before, so we had to try that out.
303: What was your favorite festival that you played this summer?
Ben: We did Outside Lands in San Francisco, which was pretty weird. We're used to more folk and bluegrass oriented festivals. This one had, like, Kanye West and Tom Petty and the Flaming Lips… all these massively different bands. It was great to be exposed to a different audience. But it's our hometown crowd, too, so lots of familiar faces.
At the end of our set we decided to hop down into the crowd and play acoustic. There were some hay bales at the back of this meadow that we played in, so people gathered around and clapped and danced. Went from the big stage to back down to acoustic, which was cool.
And things like Hangtown where you know all these other bands and there are so many great musicians. You can get other people to join in and that makes it more fun for us. Getting Tim Carbone and Allie Kral to play triple fiddle with us, wow. It's exciting for us and the crowd, too.
303: What can we expect from your upcoming album that you're planning to release next year?
Ben: Well, we haven't recorded it yet. But we're getting set up for recording, probably early next year, to release in the spring or summer. And we're excited to put out some new music. I think it's gonna be fun.
303 Magazine will be giving away

a pair of FREE TICKETS

to The Brothers Comatose (with Hot Buttered Rum) concert at the Gothic Theatre on Saturday, November 15.
Visit 303's Facebook page this afternoon for details on how to win.