As usual, this week is brimming with news coming from all angles, corners and shadows of the music industry. From leaked Queen Bey tracks to hilarious teeny-bop missteps, 303 Magazine's This Week in Music has you covered.
Two Tracks from Beyonce's Newest Album Leaked
And what a shock. Not necessarily the leak, that sh– happens all the time, but the fact that track "7/11" sounds like it was recorded with a shoddy autotune system in a 7-11 bathroom. The songstress ditches her pipes in favor of a rap-esque take on the tune, which creates something kind of confusing. Leave the brag-rapping to Jay, because Bey you're just better than that. The track sounds like it should be playing alongside a Lil Jon hype anthem in some South Beach nightclub. Fortunately, the second leaked track, "Ring Off" gets us back to the Beyonce we know. The song is a (maybe) poignant dive into her parents' divorce and while the tropical beats backing the track seem lost, they somehow take us through a How Stella Got Her Groove Back story line of a woman learning to love again. And I'm diggin' it.
Letting go is never the end, mama.
Listen to the tracks here.
Run the Jewels Release Hilarious Music Video
Killer Mike and El-P are back with a music video for "Blockbuster Night Part 1" where they play hilariously unfit EMTs. In the video, directed by Trevor Kane, men ignore their EMT duties in favor of diner coffee, cigarettas and true DGAF attitudes. While you wouldn't ever want them as your emergency medical personnel. I think we can agree that this video is pretty great. Check it out below.
Yoko Ono and The Flaming Lips Collaborate on Christmas Song
While many are hating on The Flaming Lips' renditions of the Beatles, Yoko Ono doesn't seem to be one of them. The Lips and Ono collaborated on Ono and Lennon's "Happy Xmas (War is Over." The track is part of an Amazon Prime compilation of holiday songs titled All is Bright. What do you think of their rendition?
Interpol Cancels Tour Dates Due to Snowstorm
Bands Interpol and Hundred Waters found themselves in a wrong time/ wrong place sort of situation this week when the bands found themsevles trapped in their tour buses while on the road in Buffalo, New York, which was slammed with over 6-feet of snow over the week. The bands remained stranded in their tour buses for over 40 hours. If that doesn't give you cabin fever, I don't know what will. I'm also picturing some snowy horror sequel to Almost Famous. Get on it, Cameron Crowe!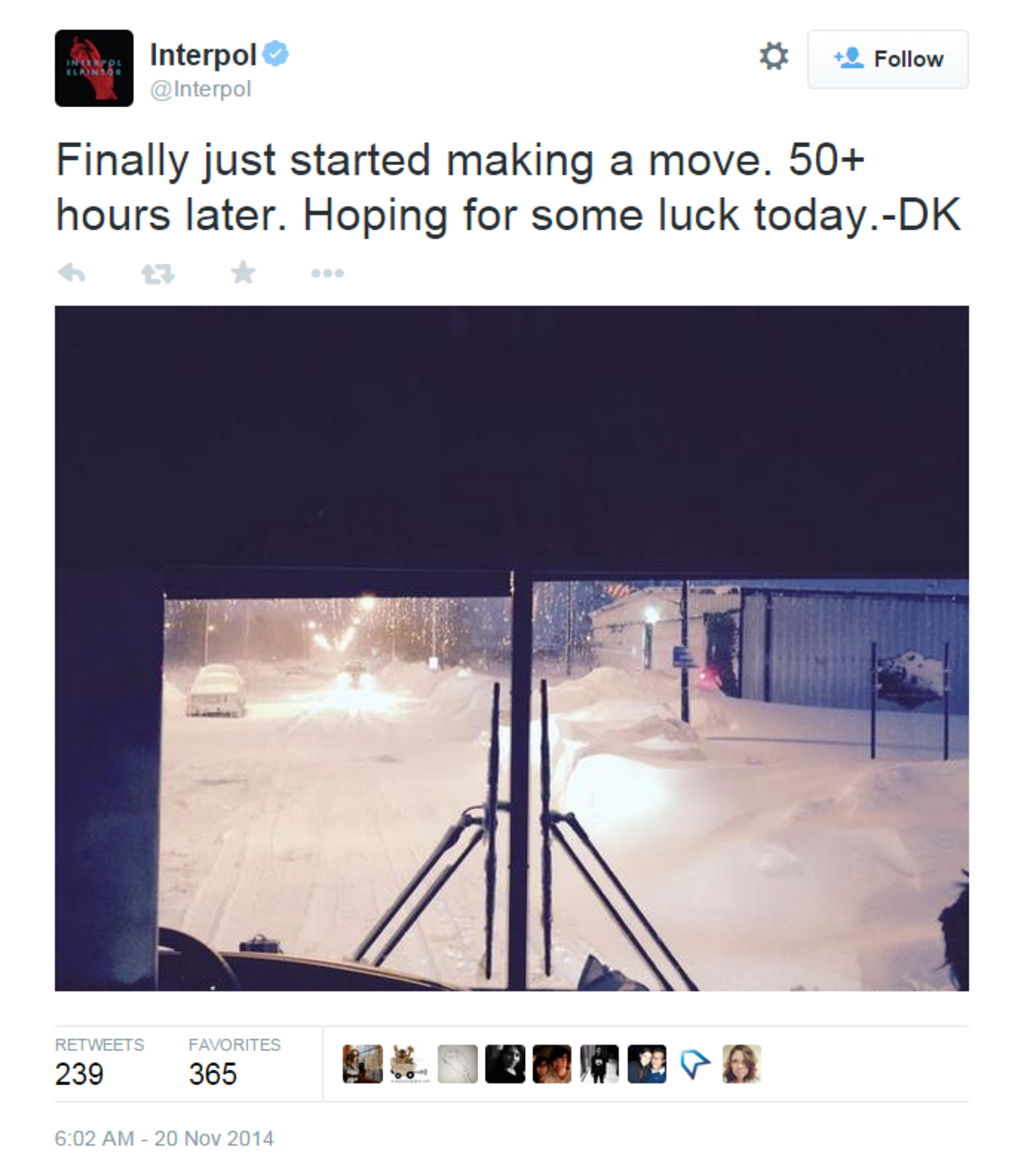 Stay on top of all the current music trends and news with 303 Magazine's This Week in Music, out every Friday!