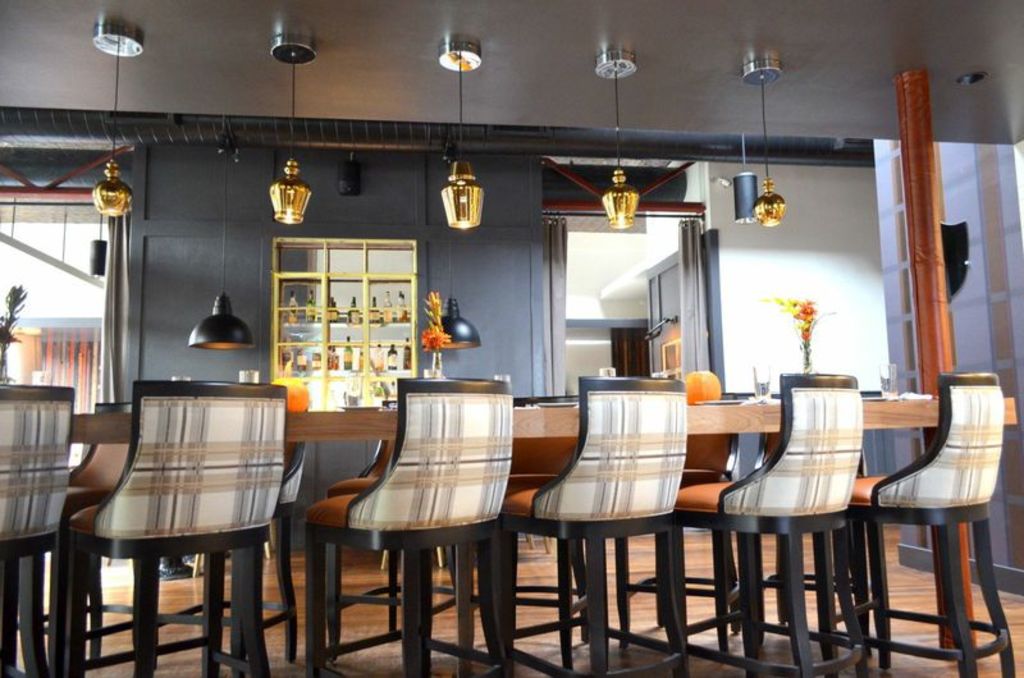 What: English and American cuisine with stiff drinks in an immaculate, modern, yet historically informed space.
Where: 1035 E. 17th Ave. Denver, CO
When: Brunch service Saturday and Sunday at 10 a.m. – 3 p.m.
"Drink slowly, speak warmly" beckons the Argyll Whisky Beer brunch menu–encouragement carried over from the Old World, where the city's taverns and pubs have always been its nuclei. Proprietor Robert Thompson's family hails from the western region of Scotland known as Argyll, hence the unique spelling of the restaurant's name. Envisioning this concept as homage to his ancestral Clan Thompson, he pointed out, "Many of the fixtures and interior aesthetics of the gastropub are based on a deconstruction of the [Clan Thompson] crest."
While some Denverites may lament the shuttering of Las Margaritas after 25 years of service, Thompson's repurposing of the location has provided an entirely new and unique atmosphere: worn wood floors that howl with historicity, big comfortable booths and an off-set private room adorned with stylish wall and floor flare all befit such an ideal space.
"a veritable pond-crossing experience"

The close confidence into which the décor and the Thompson history draws its patrons is an invitation to a veritable pond-crossing experience, one further empowered by the strength of Argyll's drinks. Share with a friend the Scottish Tea for Two ($11), a citrusy mixture of blended scotch, black tea, honey, lemon and spices, or go solo with a Pimms Cup or Working Man's Breakfast ($8 each). Any drink from this short list of Anglo-inspired cocktails will pair well with a Scotch Egg ($8), a dish that requires soft boiling an egg, and then coating it in delicately spiced pork sausage, breadcrumbs and parmesan.
Argyll also covers their cultural base with a well-done English Breakfast ($13) of sausage, fried egg, tomatoes, mushrooms and beans—a bit dry to my taste—and the beloved Corned Beef Hash ($13), which matches two medallions of the salty meat and potato mixture with a poached egg, mustard sauce and greens.
Originating from a recipe that is as long as you'll want to savor the dish is The Buttermilk Pancakes with Marmalade ($12), which is the brainchild of Chef John Broening's wife, Yasmin. With the addition of chocolate chips and a side of ham, the dynamic team of sweet and savory has no equal. In order for the latter to achieve its winning flavor, the chefs stuff pork shoulder with rosemary, cure it in salt and sugar water for five days, then smoke the ham over fruitwood and slice it thin to order.
Argyll Whisky Beer is clearly an endeavor close to Thompson's heart. "I hope the food, service, and overall character of the place reflects that," he explained.
A poem on Argyll's drink menu, which Thompson wrote himself, extrapolate on the above mentioned directives to drink slowly and speak warmly. In it, he describes the restaurant as "a grandfather and brother / someone you trust without ever / knowing why."
Enough said.
All photography by Lindsey Bartlett.