What: The Third Annual Denver Bacon And Beer Festival
Where: 1405 Curtis St, Denver
Pro: Amazing food. Great way to showcase Denver's ability to cook good food and brew good beer. 
Con: Felt cramped when things got going. Having the limited table space turn into garbage trays was a letdown.
The Bacon and Beer Festival started with a warning: "Don't lose these." Event-goers were handed their own reusable personal cups and sporks as they entered the event hall. The goal was to cut down on waste which perhaps helped ease the minds of the more eco-friendly attendees. Some chose to wear the spork behind their ears, as if plastic utensils had become fashionable. Certainly someone lost theirs before the evening was over.
The third floor of the Curtis building greeted tasters with hazy sights from frying bacon and the hoppy smells of preparing taplines. There was even a bacon costume to try on — if you were feeling adventurous in your clothing as well as your tastebuds. But despite the costumes this wasn't an amateur's bacon and beer festival. This was a bacon and beer festival steeped in Denver's culinary knowledge and fermented with its brewing prowess.
The beer cups were small in stature, but with over 50 beer options, there was no reason your cup should have been empty. The brewers were local: AC Golden Brewery, Colorado Cider Company, Grimm Brothers Brewing, River North Brewery, TRVE Brewing, and Wynkoop Brewery were just a few of the 20 to visit. Dark brews were the majority of the options, but among them were apple ciders, a red or two, and even some rouge IPAs.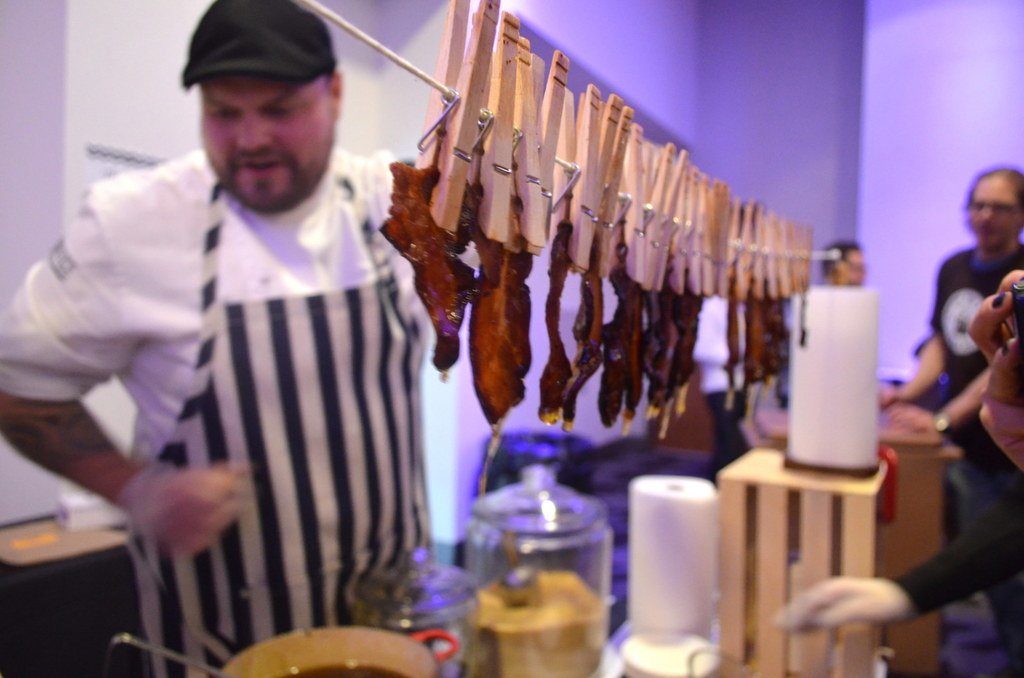 Unlike the cups, the sporks were regular sized. At a festival you want to try everything, but you can't go filling up too fast. Getting small portions doesn't mean you can't taste the flavors. The opposite is usually true, and these small portions were packed. The most amazing part about the food was the desire to use bacon in as many ways imaginable, and this was the place to find them. Canadian bacon wrapped in fried bacon topped with bits of bacon? Very tasty, if not elementary. Chocolate cupcakes topped with bits of bacon?
Alright, that could work. A bourbon waffle topped with beer-battered sausage and bacon-infused syrup? Bring it on. Brussel sprout salad tossed in bacon vinaigrette topped with goat cheese? Beyond most people's general cooking abilities.
Because of the event layout  there were no official pairings or apparent partnerships between vendors and brewers — folks were left to their own pairing ideas. What would go best with the honey-jalapeno glazed smoked bacon? Perhaps a lighter Sun Drenched from Denver Beer Co.? Or maybe the more robust sweet vanilla flavors of their Graham Cracker Porter? Those made a very good pair. Maybe you were there for the micro-brew. Our Mutual Friend had you covered with the Brown Ale with Cocoa Nibs and Orange Peel which paired well with vanilla bacon ice cream. But perhaps the Copper Kettle's Mexican Chocolate Stout is more your style. Hopefully you got it with a side of the exuberant B.L.T.A.–a take on the traditional B.L.T., but with a bacon fat crostini, whiskey bacon jam, bacon beer mustard, roma tomato, and avocado.
All that bacon and beer is nothing to scoff at and there were definitely some winners. This year the festival decided to crown a "Beast in Show," a people's choice of the best bacon and beer dish. This year's champions were Former Future Brewing Company and EDGE Restaurant. Former Future served the Salted Caramel Prim & Porter and Wine Barrel Aged Strong Ale whereas EDGE dished out stout waffles with hazelnut spread, EDGE bacon sausage and bourbon glaze. The winners were also given the chance to choose one charity to donate a $750 prize. They selected Denver Animal Shelter and Volunteers of America's Meals on Wheels.
Hopefully you tried out both of these vendors and if not there's always next year. Maybe in the meantime you can even test out your own bacon and beer pairings at home now that you have some inspiration. But for now the countdown has begun for the next fest…Let's see if Eat Boston and Denver Off The Wagon pull this stunt off again next year.
All photography by Lindsey Bartlett