Looking around the Paramount Theatre on Saturday, October 25, nearly all patrons were 60 years or older. The Glenn Miller Orchestra has been playing music since the 1940s when Glenn started the band. After he went missing in action during World War II, they continued to play, carrying his memory on and entertaining each new generation with the swing classics written by Glenn Miller and his contemporaries.
According to their website, the Glenn Miller Orchestra is:
"The most popular and sought after big band in the world today for both concert and swing dance engagements. With its unique jazz sound, the Glenn Miller Orchestra is considered to be one of the greatest bands of all time. The present Glenn Miller Orchestra was formed in 1956 and has been touring consistently since, playing an average of 300 live dates a year all around the world."
During the performance, the band played timeless classics like "Get me to the Church on Time" from My Fair Lady, "Moonlight Serenade" and "In The Mood." Special dedications were made during the performance, to a woman in her nineties who saw the Glenn Miller and his live army band during the war in England and to a couple celebrating their 70th wedding anniversary. The mood could be characterized as all-around joyful and celebratory judging by the many happy faces in the audience.
Some might write this off as senior citizens' night out starring dated songs and a goofy atmosphere, but I believe the fact that this band is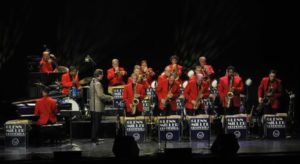 still touring today says something about the timelessness of music itself. The same thing is starting to happen with classic rock as well, with tribute bands and older bands featuring only a few original members touring and playing, not because they want to try and be current and make new music, necessarily, but because the originals are so classic that no one wants them to die out.
By Addison Herron-Wheeler
Photos Courtesy of Facebook