What: Piece, Love & Chocolate
Where: 805 Pearl Street, Boulder
Pros: This is the Front Range destination for the chocolate lover. Shelves overflow with artisan chocolate bars and quirkier items like chocolate linguine and balsamic vinegar. The real treats are the house made truffles, as well as the goodies in the pastry case. Don't miss the double chocolate croissants or the cookie tortes.
Cons: The shop is tiny, so you may want to grab your goodies and go enjoy a picnic near Boulder creek. Also, since the shop doesn't have a liquor license, the chocolate and booze pairings are only available for private, off-site events.
As a devout chocolate lover, I have adored Piece, Love & Chocolate since the day it opened in 2011. The shop is tucked away on Pearl Street's West End in Boulder. Walking in, the rich aroma of chocolate hits you immediately, as well as the colorful explosion of decorative elements in the tiny space. Whimsical touches abound—like the support beam disguised as a cacao tree, the multicolored umbrellas hanging from the ceiling, and the stunning model wedding cakes, decked out with white chocolate roses. The shop has the feel of a playful European pastry shop meets a Candy Land rainforest.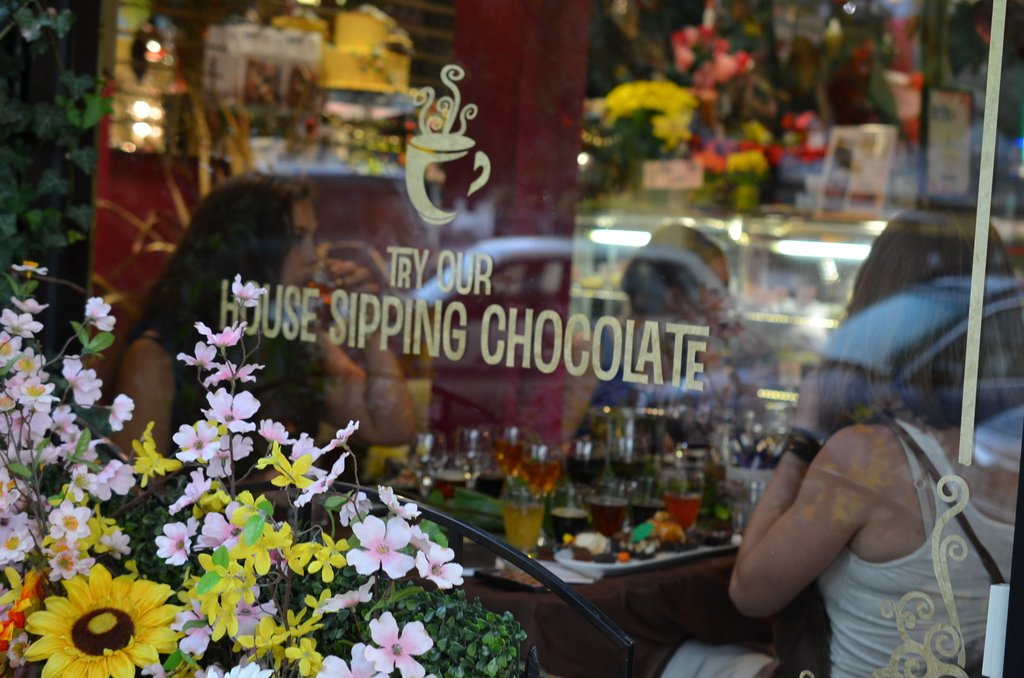 Owner Sarah Amorese has always done an amazing job of curating merchandise for her "chocolate boutique." There is something to please every chocolate lover here, from adventurous to classic. An entire wall of artisan chocolate bars, chocolate beauty products, chocolate linguine from Pappardelle's in Denver, and house made chocolate infused balsamic vinegar are just some of the items sold at Piece, Love & Chocolate.
The real draw for me, however, are the rows and rows of eye-catching chocolate truffles, as well as the pastry case filled with cookie tortes, cupcakes, and double chocolate croissants. The cookie tortes, two chocolate cookies sandwiching a mousse filling, come in an array of seasonal favorites and are always amazing. At a recent media event, I got the chance to try my hand at shaping the chocolate croissants as well as enrobing and stamping (using colored cocoa butter transfers) some truffles. PL&C has begun to offer classes and workshops in the small kitchen to teach the art of great chocolate desserts that can be replicated by home cooks. Check out the website for an updated list of class descriptions (past classes have included topics like flour-less chocolate cake or chocolate soufflés, etc.).
Working in the tiny kitchen alongside the passionate staff, it was clear that ingredients are paramount: Cacao Barry and Luker Chocolate are used in conjunction with as many local ingredients as Amorese can find. Truffles at PL&C are infused with Left Hand milk stout , Suerte Tequila, and Stranahan's Whiskey. My personal favorite truffle that I sampled was the maple walnut 'veganache'. Toasted walnut butter, maple syrup, almond milk and dark chocolate ganache and a maple pate de fruit made for one toasty, delicious, and surprisingly vegan bite.
Chocolate + Booze = Love
I sampled this truffle and many others as part of a pairing experience of seasonal chocolate truffles and desserts with Colorado beers and wines. Amorese has been working on these exciting, cutting-edge pairings of booze and chocolate with beer expert Jeff Mendel, a co-founder of Tabernash Brewing Company and the Colorado Brewer's Guild, and Doug Caskey, executive director of the Colorado Wine Industry Development Board.
Pairings of booze and chocolate have been gaining steam nationally, and Amorese wanted to be at the forefront of that movement. How Amorese, Mendel, and Caskey devised the pairings was very fascinating. "We started out just tasting the chocolate, with no added flavor components, with different wines and beers," Amorese explained. "After we had established a few different chocolate pairings that worked well together, we were able to find pairings for the flavored truffles, like salted caramel or strawberry, and go from there."
If you've got plans to attend the Great American Beer Festival this October, make sure to catch Piece, Love & Chocolate at the chocolate and beer pairing event. Unfortunately, due to strict liquor license laws, it's highly unlikely that the shop will ever have a liquor license (and probably a blessing, as it's simply too small a space). That being said, Amorese, Mendel and Caskey are available to provide a full compliment of beer, wine and chocolate pairings for private, off-site events.
The maple walnut truffle I loved so much was paired with Creekside Cellars Colorado Moscato Arancio and Avery Brewing Company's Hog Heaven Barleywine, for an experience that really shed some light on the different flavor components of chocolate. While both of those pairings were sweet, I actually preferred the complexity and carbonation of the Barleywine to the Moscato.
The experience of pairing chocolate with beer should definitely be on your bucket list. While many restaurants pair port wine or Moscato with chocolate desserts, dessert and beer pairings are just beginning to gain a foothold. Both myself and my guest, who isn't much of a beer drinker, were both skeptical of the idea. I often think of beers as being too filling to enjoy alongside a rich dessert, though the pairings Mendel devised with Amorese's seasonal desserts were enough to change my mind. Mendel explained to me that carbonation acts upon the brain in a similar way to the capsaicin in chili peppers, waking up and invigorating the palate. The effervescence of the beers came off as a light and refreshing foil to the silky richness of the chocolates. I especially enjoyed the pairing of the Left Hand Brewing Company Smoke Jumper Imperial Porter with the Dark Chocolate salted caramel truffle–the smoked porter brought out the salty sweetness of the caramel and made the dark chocolate pop. The experience certainly opened me up to the entire world of beer and chocolate pairings.
Whether you choose to spend an afternoon at Piece, Love & Chocolate enjoying a rich sipping chocolate on the small patio, or picking out treats to gift or bring home, you can't go wrong. The team here will make sure that you have an amazing experience no matter what, just remember to pick up some beer to drink with your chocolates on the way home.
All photos courtesy of Piece, Love & Chocolate.